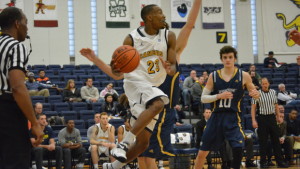 By PAUL GOTHAM
BUFFALO, N.Y. — One can not find emotions in the box score. But make no mistake feelings play a role in the game. Case in point Saturday night at the Koessler Athletic Center when two teams with differing results from the previous night met.
Canisius coming off a spirited win over a surging Monmouth club. Quinnipiac suffering a double blow falling to Niagara and losing a team leader.
It was the latter and not the former that channeled its emotional energy in a positive manner.
"We're kinda floating," Canisius coach Jim Baron said about the Golden Griffins win over a Monmouth team carrying the national recognition of knocking off three schools from Power 5 conference. "I was worried about it. We had such an emotional game last night. Played our hearts out. I told our guys 'we got to learn to play back-to-back and be ready to go.'"
The Golden Griffins connected 16 time from behind the arc Friday night in the win over Monmouth. That number was cut in half 24 hours later against Quinnipiac.
"We had opportunities," Baron said. "We had shot after shot. Last night they went in. Tonight they didn't. That's what happens in this game. You got to step up, and you got to make shots."
Using a 1-3-1 defense, Quinnipiac held the Griffs 13 points under their season average.
"The 1-3-1 might have put them on their heels a little bit a few times," Quinnipiac coach Tom Moore explained. "We tried to use it against the reserves. Over the years usually I'm a 100 percent half court man guy, but I feel with this team we need something different. We threw in a 1-3-1 at the start of the season. We've used it very rare so far in the first couple games. When we've gone to it it's been pretty good. Our guys are playing it with a lot more energy. If you're active enough in it, you get 'em a little off-balance. I thought our activity on that was really good."
The defense held Canisius under ten made threes for just the third time this season.
"If you don't handle it the right way, it could be a problem," Baron said of Quinnipiac's defense.  "It was a problem because we turned the ball over a number of times against it. It's really not that difficult. We got to get better at handling that. It's their length, but it's just them standing in the way. It's just a zone. The other thing, too, is when you reverse the ball you got to step up and make shots. That's the key."
Traditionally strong on the boards, Quinnipiac outrebounded Canisius 45-33 on the night and outscored the blue and gold 18 to 14 on second-chance points.
"We knew it was going to be a dog fight," Baron stated. "They're a really good team. They can really rebound the basketball. I thought they did a great job of doing that. We had a lot of tough moments to try and stop them."
Canisius looked in rhythm early outscoring Quinnipiac 10-4 to take a double-digit lead less ten minutes into the game. Phil Valenti connected along the baseline. Malcolm McMillan converted a steal and dunk. Coming out of a timeout, McMillan drew contact as he nailed a pull-up jumper just inside the three-point arc. One free throw later and Canisius led 21-10. The Griffs would extend the lead to 12 when Isaiah Gurley drove baseline for two and a 30-18 advantage.
But it was short-lived.
Daniel Harris scored six straight as Quinnipiac made it a one-possession game. The Bobcats took their first lead of the game when Ayron Hutton banked home a 65-foot heave at the buzzer for a 35-33 Quinnipiac edge going into the locker room.
The play was not without controversy as Hutton caught an inbound pass with less than a second (0.9) on the clock and took one dribble before releasing the shot. Though it appeared the game clock was not started on the touch, game officials did not reverse the call. A stop watch was not used when reviewing the play.
After falling to Niagara on Friday in a game where Quinnipiac also lost starter Chaise Daniels to injury, the Bobcats continued to respond with an inspired effort.
"I'm really proud of our guts and our toughness," Moore stated. "Last night was a rough night for us. Not only did we lose an emotional game, we lose Chaise for what could be a long time. We don't know until we get the MRI on Monday. He's really well-liked in the locker room, very-well respected. A terrific player. To see the emotional toll it takes on these guys 'cause they're like a family. To see him go down. He went down right in front of our bench five minutes into the game. It sits in the back of everyone's mind."
Donovan Smith scored back-to-back baskets to start the second half. Quinnipiac eventually stretch the lead to 11. Giovanni McLean nailed a pull-up three from the top and followed with one of two free throws. Quinnipiac led 78-67 with 50 seconds on the clock.
The Golden Griffins would eventually have three chances to tie or take the lead.
"We made a gallant effort," Baron said.  "We still had a chance to win the game. We had an open look. Wide open for a shot. We just missed it."
Kassius Robertson connected twice from the free throw line. A full court press created a turnover. Valenti grabbed his own miss and scored. After Quinnipiac missed the front end of a one-and-one, Robertson went the length of the floor for a layup cutting the deficit to five at 78-73.
"The way we handled the end of the game was not good," Moore said. "That reflects on me. That's not our kids. We have to be better and more organized at the end."
Another Quinnipiac miss at the charity stripe, and Robertson drew contact going to the basket. He made the first, but missed the second. Jamal Reynolds was there for one of his six offensive rebounds on the night. His putback made it a two-point game.
"I felt like we weren't getting second shots," Reynolds explained. "Coach Baron said the difference at halftime was 'we weren't getting a lot of second shots.' I made an emphasis for myself to attack the glass. I had to step up for my team."
The Griffs caused a turnover on the ensuing inbound play and took possession with 8.9 remaining trailing 78-76. The Canisius got an open look from behind the arc and two offensive rebounds and shots but no basket to tie the score.
"When they threw that pass (out of bounds), I thought we were going to tie it for sure," Reynolds said. "It was a big momentum swing. I just have to make that play next time. We had our chance, but we have to start the game better than that so that we're not in position to be down two with ten seconds to go."
Reynolds finished with his third double-double of the season scoring 11 points to go with 10 rebounds. Valenti led all scorers with a career-high 25 points. Robertson added 15. McMillan dished out a game-high six assists.
Smith led four Bobcats in double figures with 14. James had 13. McLean added 12 and Hutton had 10.
Canisius falls to 3-4 on the season and will travel to Penn State to take on the Nittany Lions on Thursday.
Quinnipiac improves to 3-4. The Bobcats travel to Hartford on Wednesday.