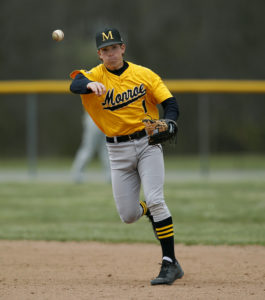 Courtesy of MCCTribunes.com
ROCHESTER – Former MCC star Danny Mendick was chosen by the Chicago White Sox in the 22nd round of the Major League Baseball draft on Wednesday.
Mendick recently capped a stellar two-year stint at UMass Lowell, where the 5-foot-10, 180-pound shortstop was a 2015 America East First Team All-Conference member.
Mendick excelled for Monroe Community College during the 2012 and 2013 seasons.  In 92 career games, he batted .316 with 12 doubles, three triples, two homers, 66 runs scored, and 44 RBI.
Mendick led UMass Lowell in a number of offensive categories this past season, including RBIs (30), doubles (16), total bases (71) and slugging percentage (.455). The River Hawk shortstop was also tied for the team lead in hits with 50.
Mendick is the first Tribune to be drafted since 2010, when Cory Brownsten (University of Pittsburgh) was taken in the 15th round by the Atlanta Braves.