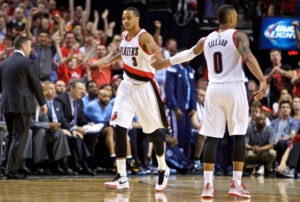 By PAUL GOTHAM
C.J. McCollum netted seven of his 18 points in the fourth quarter as the Portland Trail Blazers erased a 10-point deficit to remain alive in the NBA playoffs with a 99-92 victory over the Memphis Grizzlies in game four of Western Conference first round action.
McCollum's three-pointer with 1:20 remaining gave Portland a lead it did not surrender at 91-88.
The second-year player pointed to teammates LaMarcus Aldridge and Damian Lillard for motivation.
"You see that look in their eyes," McCollum said. "They don't want to go home. You don't want to lose on your home court. You got to step up for them and be available. You just got to play your game."
McCollum's layup capped a 12-2 run and tied the score at 82 with 4:50 left on the clock.
"I've been able to watch a lot of late-game situations over the course of my two-year career here," McCollum said. "When you get a chance to step up, you make sure, you relish the opportunity to knock it down."
McCollum and Meyers Leonard combined to score 31 off the bench for the Trail Blazers.
"C.J and Meyers really had an impact on the game," Portland's Terry Stotts said. "C.J. made some big shots."


McCollum hit 8-of-12 from the floor including both of his attempts behind the arc. The former Lehigh Mountainhawk grabbed five rebounds and handed out two assists.
"When I was in college, it was my show.End of the game I was taking every shot."