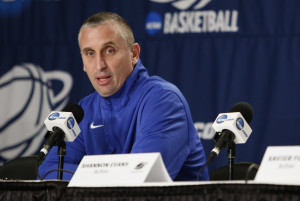 In what can be categorized as "just a matter of time," Bobby Hurley left the University of Buffalo and Mid-American Conference for Arizona State.
Hurley accomplished in two years what could not be done in over 40 at UB: earn a berth in the NCAA Tournament.
Hurley inherits a Sun Devil program which has won just one NCAA Tournament game since 1980.
As a player he led St. Anthony's High School to four New Jersey Class B State Titles before going on to star at Duke University where he was part two national champions. Duke lost in the national title game during Hurley's freshman season. He is the NCAA's all-time assists leader.
Here is Bob DiCesare's (Buffalo News) take on Hurley's departure: UB's Hurley heads West.
Johnathan Snyder (WNY Big 4 Talk) weighed in here.
Yours truly weighs in here.
From AZCentral.com:
What to know about Bobby Hurley at Arizona State.
Twitter reacts to ASU's hiring of Bobby Hurley.
ASU delivers just like Bobby Hurley did so many times.
New ASU coach Bobby Hurley: We will 'set a new standard.'
Video footage from Columbus: ASU Hires Bobby Hurley.