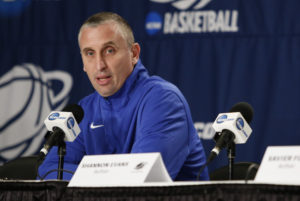 By PAUL GOTHAM
COLUMBUS, OH — Bobby Hurley has spent his lifetime around basketball courts.
The Jersey City native played for his hall-of-fame father, Bob Hurley, Sr. at Saint Anthony's High School before attending Duke University. The NCAA's all-time assist leader eventually earned a first round pick in the NBA draft before he served as an assistant under his brother, Dan, at Wagner and Rhode Island.
Yet with all that experience the second-year Buffalo coach needed something to feel comfortable when he took his Bulls to Lexington, Kentucky earlier this season for a showdown with the juggernaut Wildcats.
He looked no further than the championship ring he received after the Blue Devils won back-to-back NCAA titles in 1991 and '92.
"When we went to Kentucky before that game I said, 'I think I need something extra here for my confidence to go into that place,'" Hurley recalled during Thursday's press conference.  "And so I put it on as a subtle reminder of like what I used to be capable of doing to try and build my confidence and boost it as much as I could for my team."
The Bulls led by five at half before falling to the current No. 1 Wildcats, 71-52. Hurley has stayed with the ring.
"When we played well there, I said, all right, let's stick with it," Hurley added.  "And since then I've worn it for every game and every road trip. I just want the kids to keep seeing it, too."
UB set the tone early in that game. Shannon Evans and Justin Moss combined on a pick and roll that Moss finished with a dunk over UK's Willie Cauley-Stein.
"I just think that was a signature play for us this year," Hurley stated. "I think it shows that our players don't back down. They don't get intimidated."
"I tried to get a picture of it and I can't anywhere because I wanted to put it on the wall," Hurley explained. "We just redid our locker room. No one could find the picture."
Kentucky outscored UB 38-14 in the second half for the second of what is now 35 wins without a loss. To understand what it would take to beat Kentucky, UB's Xavier Ford referred to Space Jam – the Warner Bros. movie where Michael Jordan joins the Looney Toons in a battle versus alien slavers.
"It's like playing against the Monstars," Ford said. "You gotta do everything right against a team like that. Everything right. You can't have no mistakes. It's basketball. Any team could get beat on any given night. But a team like that you would have to be doing everything right. I don't know if anybody can answer that question."
UB (23-9) opens the 2015 NCAA Tournament against the No. 5-seed West Virginia Mountaineers (23-9).
"I think we have pretty good balance on offense," Hurley said. "Things usually start with Justin Moss and his physicality inside and his versatility to score inside and out. Our guards are kind of unpredictable in how they attack you and are very good off the bounce trying to create offense for us."
The game is scheduled to tip off at 2:10 pm. TNT will televise UB's first appearance in the NCAA Tournament.