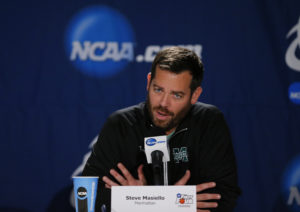 By PAUL GOTHAM
DAYTON, OH –Hampton (16-17), winners of the Mid-Eastern Athletic Conference, and Manhattan (19-13), champions of the Metro Atlantic Athletic Conference, tip off the NCAA Tournament Tuesday night.
The one topic they can't avoid is the prospect of taking on the Kentucky Wildcats in the next round.
"The media has it out there, 34-0," Manhattan's Rashawn Stores said. "But after we got picked Coach told us just focus on Hampton. That's all we can do take it as any game at a time like any other tournament style."
Hampton, the only team in the tournament with a losing record, knocked off the top four seeds in the MEAC for their first NCAA Tournament appearance since 2011.
"Right now Kentucky is a side note, something in the back of our heads, but it's not the focus of us right now," Hampton's Deron Powers commented. "We're focusing on Manhattan. Once we get past that we can think about the big game of Kentucky."
The potential matchup with his alma mater doesn't sit well with Manhattan head coach Steve Masiello.
"Listen, it's obvious what they do," Masiello said when asked if the NCAA Selection Committee makes decisions based upon interesting story lines. "They want stories. And they want that. I don't know if we can get past Hampton. But if we do I'm sure the media is going to have a blast with it. I don't like it. It's not what I'm about. It's not what I want to see. But I think it hurts our kids. I want this to be about my kids. I want my kids to enjoy playing the tournament."
The Jaspers faced Louisville and Masiello's former boss, Rick Pitino in last year's NCAA Tournament.
"The unfortunate thing is they love story lines, and they've done it for years," Masiello continued. "They've always done it. And that's what they do. Unfortunately, I have zero say. I wish I did. But I'm not in a position to change that."
For Masiello and Manhattan the approach is simple.
"We are right now obsessed with Hampton," Masiello stated. "If Hampton was our girlfriend, there would be a restraining order on us, that's where we're at. We're eat, sleeping, breathing Hampton. That's all we know. At dinner it's Hampton, at breakfast it's Hampton. When we go to bed it's Hampton. That's where we are."
KenPom.com has Hampton as a one in a billion chance of winning the national title.
"We got one shot," Hampton head coach Edward Joyner said. "We got that one in that billion. Too bad we can't bet. But, no, again right now I feel good because we got a team full of juniors. And, one, I'm happy that they get this experience to play in the NCAA Tournament."
Manhattan forces more than 16 turnovers (4th in the nation per BBState) with a turnover rate of 23.
"They play exactly like Louisville," Hampton's head coach Edward Joyner noted. "They're a scrappy team. They're going to try to get you to rush the things that you do…I think if we can come out and play the way that we want to play and we can protect the ball and understand what defense they're running, because the zones and things that they run, they may be trying to do two or three different things each time up the court. So if we can protect the ball, I think we'll have a chance."
Hampton averaged 81 points during their four wins in the MEAC Tournament.
"If you're not ready they will exploit you," Masiello said. "So we're going to get after them and we're going to force rotations. They're going to attack that, and if we don't react and if we don't scramble with great urgency, they'll have success against us."
Reginald Johnson (11.6 ppg) leads three Hampton starters in double figures.
Emmy Andujar (13.5 ppg/7.6 rpg) paces Manhattan. Maryland transfer, Ashton Pankey adds 13.5 points and 6.7 rebounds per game.
Game tips at 6:40 pm.