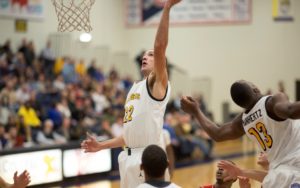 By Paul Gotham
ALBANY, N.Y. — Phil Valenti dressed and available Saturday afternoon brought to mind that all too familiar yet frustrating question: What could have been?
There was Valenti on the Canisius Golden Griffins bench ready to play for the first time since dislocating his ankle more than a month earlier. Valenti averaging 10.6 points, 4.9 rebounds and more than two assist per game. But Canisius fans knew not to expect that level of production on this day.
He played 14 minutes. His coach hoped for 18.
The Griffs season unraveled in 4:29. Eight empty possessions, that was it. The Monmouth Hawks erased a five-point deficit, took an eight-point lead and never trailed again. Canisius fell 60-54.
"I give him a lot of credit for making the effort of coming back to try and make it for the conference tournament," Canisius coach Jim Baron said of Valenti.  "That takes a lot of determination and desire as well as getting yourself healed."
That's the microcosm of a season, the Griffs' season.
One bounce here, a call there. In this month when so many victorious coaches attribute a triumph in some degree to good fortune, Canisius found luck in short supply all season long.
Sure there were a pair of overtime victories. Canisius needed a Jeremiah Williams jumper with 11 seconds remaining in the extra period to beat Stony Brook. Siena fans will point to the nine free throws attempts their Saints took when the Griffs won at the Times Union Center on February 19.
Yes, the Griffs received sprinkles of luck, but the year end ledger shows a table heavy on credit and lean on debit.
"We grew, we learned, we developed, we never put our heads down, and we kept looking forward," Baron said. "I can't be more proud of these guys."
After graduating four seniors Canisius struggled to find consistent traction early in the season. Then December brought five wins in six games. January and a return to conference play delivered three setbacks in four outings. Canisius recovered to take four of the last five games to close the month and looked to have momentum. The final win came at the expense of losing Valenti.
Jermaine Crumpton replaced Valenti in the starting lineup. The Griffs dropped the next three, but showed signs of figuring it out.  All losses came by single digits. Again, momentum seemed within grasp. Then Crumpton went down with a season-ending foot injury.
Another loss – 60-59 to second-place Rider – followed.
Then the Griffs found a rhythm, won three straight and four of five to close the regular season (insert momentum comment here).
But they did it with two centers playing regular minutes and not a forward to be found.
Monmouth seized on the chance Saturday, went to a four-guard lineup and exposed the Griffs. After going more than 13 minutes without hitting from behind the arc, Monmouth connected three times from long range in a 2:50 span.
"They went with four guards," Baron explained. "We played two centers, the last three weeks of the year.  I don't know how many teams caught that.  But you play two centers, let me tell you how undermanned you are when you're going to play other teams.  These guys went with five guards sometimes, so now you have to make adjustments with getting your bigs to play their guards and plus they can take it off the dribble so that presented [problems], and we knew that coming in."
Valenti scored three points, grabbed a rebound, handed out an assist and provided a presence. He also could have matched up with the Monmouth guards and made it difficult to shoot over him. Baron knew to expect only so much.
"Any time a guy comes back you're kind of leery of how much he can take and working with the training as far as putting him, different situations.  It's tough for him. I mean it's tough for him because he plays so doggone hard and to try and get back.  I mean I look at it, he might have been 60 percent."
The official announcement of Valenti's availability, coming just hours prior to tip-off, surprised most. It didn't catch Monmouth's King Rice off guard who knew Valenti's AAU background would have him prepared for the MAAC quarter-final game.
"I didn't tell my kids," Rice said.  "I knew Phil was going to play. Reason I knew? Phil is from the same AAU program with Mickey Walker as me. You don't be hurt and then not try at the end. Okay, so I knew Phil. I walked in (the building today) when he was walking in. He didn't see me. So I walked next to him for about ten steps. He still didn't see me. He had his headphones on. He's up here (using his hands to show the difference in height) and I'm down here.
"So then I nudged him a little bit, and he kinda looked real quick. He started laughing. He's like 'what's up, brother?' I said 'how you doing, man?' I said 'Phil I knew you were going to play,' and he just started laughing. We're from the same cloth. Phil Valenti is my man…I knew he was going to play."
Canisius had their chances over the remaining 8:21 but came up short. There was the maddening sequence with the Golden Griffins trailing by three when game officials went to the monitor and awarded the Griffs the ball. But a turnover on the subsequent possession spoiled the opportunity. Then came a missed lay in on the next trip down the floor.
Still, Kassius Robertson drilled a catch-and-shoot three-pointer from the left corner with 23.2 left on the clock to make it a two-point game. That was the last sniff. Scratching and clawing to the end, this group Baron referred to earlier this season as "junk yard dogs" never knew how to give up.
They reflect the attitude of a coach who is not afraid to roll up his sleeves.
"They see me hustling to develop this program.  Not a lot of people know that.  How many 28-year head coaches are going to be a Fuller brush man, selling the program in the dining hall?  No, I'm being honest with you.  But I love doing it.  I got to show the community that I'm not afraid to hustle.  I'm not afraid to let them know that were in this together, and that's the beauty of it."
The Griffs' future holds possibility. A healthy Crumpton and Valenti return to a lineup with Zach Lewis, Robertson, Kevin Bleeker and Jamal Reynolds.
"We got a great nucleus of kids coming back," Baron noted. "We red-shirted a number of guys the last two, three years, so we got a really good class that's in front of us, but I told the guys just like I told them the last two years, you guys that are sitting around that are youngsters, you got to be ready, and you got to work your tail off to understand this culture because I think some of our guys it was a deer in the headlights."
Have to wonder if the future doesn't include a sponsorship from Fuller paint brushes.