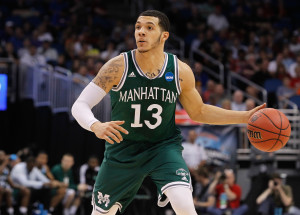 By Paul Gotham
ALBANY, N.Y. — Emmy Andujar scored 14 of his game-high 24 in the second half and added 10 rebounds as the No. 3-seed Manhattan Jaspers defeated the No. 11-seed Marist Red Foxes and advanced to the semi-finals of the Metro Atlantic Athletic Conference Championship.
Andujar had a hand in each of Manhattan's first ten points coming out the locker room.
"It's my last go around," the senior captain said. "There's no next year for me."
He scored on a pair of layups and assisted on a Shane Richards three-pointer as the Jaspers secured a double-digit halftime lead.
Andujar converted four straight free throws, and the Jaspers pushed their lead to 14 at 49-35.
Manhattan will look to advance to Monday's final and back-to-back MAAC championships.
"I want to have that great feeling like I had last year," the Bronx, N.Y. native said. "Of course I'm going here and try to give it my all."
The Jaspers overcame a rough start which saw the Red Foxes score 11 straight to take an early 16-11 lead.
"I thought we came out and didn't play typical basketball in certain fashions, certain manners, missing easy bunnies" Manhattan coach Steve Masiello said. "We turned the ball over a little bit."
Trailing 5-0, Khallid Hart put Marist on the board with a layup. Phillip Lawrence followed with a tip in. Manny Thomas cut the deficit to two with a three-pointer, and Chavaughn Lewis made it an 11-10 game with a layup.
"I thought we had some kind of first-game jitters," Masiello continued. "Which I think takes place."
Another Lewis layup gave Marist a 12-11 edge. K.J. Lee pushed the lead to three with a jumper. Lewis got to the basket for another layup and a 16-11 lead.
"I thought what happened was they had three breakouts off live turnovers," Masiello explained. "We gave them some easy run outs which they earned from their good defense."
The field goal was the last the Red Foxes would hit in the first half as Manhattan went on a decisive 19-2 run to take a commanding lead into the locker room.
"I thought we did a really good job of taking the intent away from the three-point line," Masiello said. "We didn't give them many looks, and that was the key to the game. We did a good job of eliminating second shots."
Andujar's one-hander as the shot clock expired gave Manhattan a 19-16 edge.  The Jaspers forced a shot-clock violation, Ashton Pankey tapped in his own miss, and Andujar's up and under in the lane made it 23-16 game.
"I thought we settled in nicely and we started to get a rhythm defensively," Masiello added. "We started funneling things to the sidelines and the corners. We took away the middle of the floor. They made some tough shots in transition. Once we took away their transition, and forced them to play us kinda five on five I thought we had some success."
Richards  pushed the lead to double-digits with four free throws when Lawrence was assessed both a personal and technical foul.
Rich Williams scored four as Manhattan took a 38-22 lead at half.
Richards finished the game with 18. The junior forward, who came into the game 14th in the league averaging 12.9 points and hitting 2.7 three-pointers per game, was left off the all-league team earlier in the week.
"It's an ugly embarrassment to our league," Masiello said of the omission. "That one of the best shooters in the country, a guy who walks off the bus and is almost double-teamed. He's switched on every set we run, he gets more attention than any player on our team. That's just absurd to me. It's not emotion. It's just factual from where I stand.
"Unfortunately in life sometimes, bad things happen to good people. Unfair things happen to people who don't deserve it. It's not the first time. It won't be the last time. All you can do is put it in the back of your head. We know who did or didn't, whatever, We'll handle it and move with business as usual for us."
Pankey added 16 points and nine rebounds.
Andujar handed out a game-high five assists.
Lewis led Marist with 22 points and seven rebounds.
Manhattan will face No. 7-seed Saint Peter's on Sunday. A 7 pm tip time is scheduled.
No. 1-seed Iona and No. 4-seed Monmouth will meet in the other semi-final match. That game is scheduled to start at 4:30.