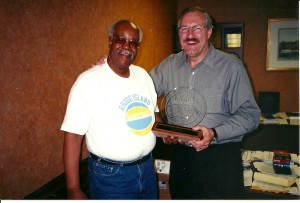 By Paul Gotham
John Graham: 5/18/41 – 10/21/14
There are those for whom a plaque, trophy or brick on a walk of fame can't accurately portray their lives. The meaning of their existence is better measured by the impact they leave upon family and friends.
John Graham's passing last fall left a lasting impression of love and friendship. He also gave a model of inspiration.
"He believed in hard work and dedication, and he believed in family," said Graham's friend and current Canisius College men's basketball coach, Jim Baron. "He valued friendship. Not one ounce of negativity. Not one ounce. He was just a tremendous, tremendous man."
Baron and Graham met in 1978 in Rochester, New York. Baron had just finished his playing career at St. Bonaventure University. Graham worked at the Monroe County Children's Center.
"He was a giant, a giant in his day," Baron continued. "Anybody who knew him they respected him. They had great love for him."
The two formed a friendship which grew throughout the decades. In Graham, Baron found a person who respected him for who he was, not what he was. The bond grew as Baron moved through the coaching ranks first as an assistant at University of Rochester to the University of Notre Dame to head coach at St. Francis (Pa.), St. Bonaventure, Rhode Island before landing back in Western New York at Canisius.
"I've never met anybody like him, so genuine, so real. He respected you. He cared about you. He helped you. He was like a mentor. He valued people. You just don't see that in people. He really cared."
Maybe it was Graham who saw himself in Baron – the young coach working his way up from the bottom.
Graham left his hometown of Lake Wales, Florida at age 17 and moved to Rochester. He took a job working evenings in the adolescent division of the Rochester Psychiatric Center. Four years later, he started during the day at the Monroe County Children's Center. For 31 years he worked two full-time jobs.
"He epitomized the working class. He had two full-time jobs for over 30 years. Some people can't keep one job for 20 years, never mind two. He had two full-time jobs working with children. Good Lord."
Graham started as child worker. He was promoted to Assistant Supervisor and later Assistant Director. When the Children's Center decided it was time to award an employee of the year, they looked no further than Graham for the first recipient.
"He started at the bottom and worked his way to the top," said friend and colleague, Jack Rosati. "All he knew what to do was work."
Rosati, also a St. Bonaventure alum, along with Baron and Graham formed a tightly knot group.
"There are some people who no matter what they can fit in," Rosati said of Graham. "That's what he was. He had that rare ability. He had such a strong personality."
Graham and Rosati organized Brick House – a senior league men's basketball team in the late 70s. Baron, who led St. Bonaventure to the 1977 National Invitation Tournament Championship, starred on the team along with other local stars like Carlos Armstrong, Norman Bounds, Dave Everett, Glenn Hagan and Ernie Kittleberger. They traveled throughout New York State playing tournaments.
"That was his pride and joy," Baron said. "We had guys who worked at the children's center."
When Baron left Rochester and embarked on a coaching career which lasts until this day, he never lost touch with Graham. Time and distance could not get between the friends.
"He came to a ton of my games," Baron recalled. "He sat right behind the bench. I put him on the bench. He was part of my family."
In recent years, Graham dedicated his time to projects like the Teddy T three-on-three basketball tournament. Proceeds from the outdoor event went to Camp Good Days and Special Times for childhood cancer patients and their families.
"He sacrificed so much of his life to help young people," Baron added. "You don't hear and read enough of that in this day and age."
One of Graham's proudest moments came with the election of President Barack Obama.
"He cried because he could not believe that that could happen in his lifetime," Baron said. "He was so honored."
John is survived by his wife, Annie Mae, and three children, Renee, John R. and Marcus, his nephew Erick A. Myrthil and two granddaughters.
And he left behind an inspiration which Baron won't forget.
"He was just so positive and optimistic. I wish there could be more people like him. That's what the world needs. It just needs that kind of value and integrity, discipline and what he stood for. He's a giant. He was a man's man. Just genuine guy. When he died, it broke my heart because he stood for something that I valued as a person. He had it hard. He grew up in the south. He had to work his tail off."