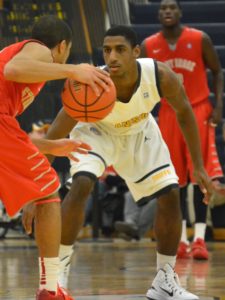 Courtesy of GoGriffs.com
ALBANY, N.Y. – Canisius scored seven-straight points in the final 2:00 of overtime, with redshirt-freshman Kassius Robertson accounting for four of those points down the stretch, to help lift the Golden Griffins to a 69-63 victory in overtime at Siena Thursday night in Times Union Center. The win, Canisius' second straight, moves the Blue and Gold to 14-12 overall and 9-8 in MAAC play, while the Saints fell to 10-16 overall and 7-10 in conference action.
Canisius had four players score in double-figures in the win, led by senior guard Jeremiah Williams, who had 18 points after he went 5-for-6 from 3-point land in his first career start. Fellow senior Josiah Heath was good for 14 points, a game-high nine boards, three assists, three blocks and two steals, while junior Kevin Bleeker added 12 points and five rebounds to the Griffs' winning effort. Robertson scored 12 points in 26 minutes off the bench, as the Griffs ended the night shooting 52.1 percent from the field, 41.2 percent from 3-point land and 80 percent from the free-throw line.
"This is a tough place to play and we knew it was going to be a battle," Canisius head coach Jim Baron said. "They've got 7,000 fans behind them and they are a good team. We knew they were going to come out with a lot of energy in their building, and they did. Our kids executed the game plan tonight and we made shots when we needed to. This is as good of a win as I've had here at Canisius. This was a great team effort from the start."
In overtime, Canisius trailed 63-61 after Siena forward Lavon Long scored on a lay-up with 2:30 left to play in the overtime period. From there, the Griffs took over, scoring the game's final seven points, with Bleeker getting the run started with a drive through the lane and a lay-up that knotted the score at 63-63 with 2:00 left to play. After Canisius got a defensive stop, the Griffs came down the floor and worked the clock. Out of a timeout with two seconds left on the shot clock, sophomore Zach Lewis found Robertson on the baseline, and the Toronto native knocked down a jumper as the shot clock horn sounded to put Canisius up 65-63 with 1:07 left to play. Siena missed a 3-point field goal try on its next trip down the floor, and Robertson grabbed the rebound and was fouled. He made both ends of the 1-and-1 at the free-throw line with 36 seconds left in overtime to put the Blue and Gold up 67-63.
Canisius led 54-52 with less than 3:00 left in regulation time before Siena reserve guard Ryan Oliver scored five-straight points in the span of 1:19 to give the host Saints a 57-54 lead with 1:24 left in the second half. Canisius answered right back and knotted the game at 57-57 with 1:11 left on the clock when Williams rose up and banged home a 3-point field goal from the top of the key. Canisius got a defensive stop on the ensuing Siena possession and had a chance to win the game in regulation, but Lewis' jumper with 2.9 seconds left came up short and the game went to an extra five minutes.
Oliver ended the night with a game-high 23 points in the loss for the Saints, while junior Marquis Wright added 12 points and eight assists. For the game, Siena shot 45.3 percent from the field and 40 percent from 3-point range while going a perfect 9-for-9 from the charity stripe. Canisius held a 27-26 advantage on the glass, led by Heath's nine rebounds, while Siena ended the night out scoring Canisius 26-18 in points in the paint.
Canisius will play its final road regular-season game of the 2014-15 season on Saturday, Feb. 21, when the Griffs meet Quinnipiac. Game time in Hamden, Conn., is set for 1 p.m.
Game Notes: This was the 94th all-time meeting in this series, with Siena holding a 51-43 lead… Canisius has now defeated Siena in six-straight meetings after winning just six times in the previous 24 contests… This was the second-straight year where Canisius and Siena played an overtime game in Times Union Center, and this was the 11th all-time overtime contest between the two schools, where the Griffs are 7-4… Canisius improved to 84-43 all-time in overtime games… Williams played a career-high 41 minutes and his five makes from 3-point land are also a career-high… Bleeker has scored a season-high in three-straight games since joining the starting line-up Feb. 13 against Rider… Robertson averaged 11 points per game in the team's two meetings this season against Siena… The win was the 1,235th all-time victory for Canisius in 111-years of varsity basketball.