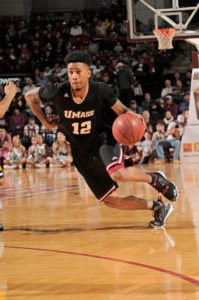 By Paul Gotham
On January 21, the UMass Minutemen lost for their second time in three games. One year after opening the season with 10 straight wins en route to a 16-1 mark including triumphs in their first three Atlantic 10 games and an eventual at-large bid in the NCAA Tournament, Derek Kellogg's Minutemen were 3-3 in conference with a 10-9 record overall.
Since then UMass has rattled off six straight wins and at 9-3 (ironically a better record than a year ago) sit in a four-way tie with Dayton, Rhode Island and VCU atop the A-10.
It's no coincidence that Trey Davis has averaged 15.5 points with 3.16 assists while committing just 1.16 turnovers per game over that stretch.
"He's starting to get in a good spot of knowing when to score and when to distribute," Kellogg said during this week's Atlantic 10 tele-conference. "As he's matured some, that's really helped our team."
The 6-0 junior spent his first two seasons playing the off-guard spot in Kellogg's offense with All-Conference selection Chaz Williams running the point. This season Davis has been asked to take over the primary ballhandling responsibilities. He has responded netting 11.9 per game with an assist to turnover rate of 2:1.
But it hasn't been without a learning curve.
"He's traditionally been a scorer for us," Kellogg noted. "It's hard to change roles to try and facilitate and also score. It's taken a little bit of time, but I think he's done a good job of facilitating."
Learning to pick his spots Davis has orchestrated the Minutemen offense. No two games represent this better than last week's victories. The Texas native scored eight of his team-high 12 points in the game's final ten minutes as UMass won at St. Bonaventure last Wednesday. Three days later he connected four times behind the arc and poured in 26 in an 82-74 win over Duquesne.
"He's still got that scorer mentality to an extent," Kellogg said. "If he gets it going a little bit, I think he looks for his shot more."
Davis finished a layup in transition and knifed through the Bonaventure defense on two more occasions for finishes at the bucket as UMass erased a six-point second-half deficit. He was fouled in the paint after getting a steal and converted both free throws on another occasion.
When it came time for the game-winner, though, Davis chose to make the extra pass. Trailing by one, teammate Derrick Gordon stole an inbound with 21 seconds remaining and reset the offense, putting the ball in the hands of Davis. Instead of forcing the shot, Davis recognized the Bona defense keying on him and feathered a pass to Jabarie Hinds who connected from behind the arc for a 55-53 win.
"He's done a better job of trying to feed it to the other guys," Kellogg added. "I think that's part of the maturation process of when to score and when to pass the ball."
Three days later Davis took just nine shots hitting four of seven from behind the arc against Duquesne's 2-3 zone.
"He's doing a great job of taking over that leadership role and running that team," Duquesne's Jim Ferry said. "They have a lot of weapons. He's obviously the leader of that group. He's done a fantastic job."
With Davis connecting from long range, UMass big men Cady Lalanne and Maxie Esho took advantage combining for 10 offensive rebounds and 24 points.
"Within our zone we were really aggressive and keeping it tight and crowding their area," Ferry explained. "Trey made some shots. We had to extend on him which opened up offensive rebounding opportunities."
"If you have a point guard who can knock down some shots, that helps out Cady and Maxie inside," Kellogg stated. "Now teams just can't pack it in on those two."
The Minutemen face probably their biggest week of the season with games at Rhode Island on Wednesday and No. 25 VCU on Saturday. UMass pulled out a 60-56 win over URI on January 17 at the Mullins Center. Davis scored just three points on five shots that night, but he dished out seven assists while not turning over the ball.
Rhode Island's Dan Hurley knows his team has to respect Davis and his ability to score.
"He's obviously a guy who can score in a variety of ways," Hurley said. "He can shoot the three. He's got a pretty good mid-range floater game. He's got a knack around the basket as well as being an outstanding free throw shooter. He's played in some big games over the course of his career. He's a clutch player. He's got a knack for making very difficult shots at the end of games and at the end of the shot clock."
A 7 pm tipoff is scheduled tonight at the Ryan Center.
"He's really playing well right now," Kellogg said about his leading scorer. "I think he still has some room to grow and get better."