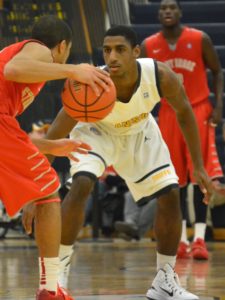 Courtesy of GoGriffs.com
POUGHKEEPSIE, N.Y. – Canisius senior guard Jeremiah Williams scored a career-high 17 points to go with five assists and senior forward Josiah Heath chipped in a career-high 15 points to go with a season-best 13 rebounds as the Golden Griffins went on the road and snapped a two-game losing skid with a 67-52 win at Marist. The Griffs improve to 8-6 overall and 3-2 in MAAC play with the victory, while the Red Foxes fell to 1-14 overall and 0-5 in league action.
Williams scored his 17 points after he went 5-for-8 from the field, 3-for-4 from 3-point land and 4-for-4 from the free-throw line. Heath went 6-for-10 from the floor and 3-for-4 from the charity stripe and he ended the night with five offensive rebounds and eight caroms off the defensive glass. Sophomore Zach Lewis chipped in 12 points and fellow sophomore Phil Valenti was good for nine points as the Blue and Gold shot a season-high 50 percent from the field.
"In the locker room I told the guys we needed guys to step up and our two seniors did," Canisius head coach Jim Baron said. "Josiah [Heath] with 15 points and 13 rebounds – he played hard and we can't ask for much more. And Jeremiah [Williams] did a really good job off the bench. We played good defense without fouling, which was the key tonight. We made some shots and really did a nice job of sharing the basketball. We did what we had to do to get a league win tonight."
Canisius led 30-29 at the break, but Marist took the lead at 36-34 just 2:21 into the second stanza, capped by a jumper from senior Chavaughn Lewis. On Canisius' next possession, a dunk by Valenti off a pass by freshman Jan Grzelinski knotted the game at 36-36 and the Blue and Gold took the lead for good at 38-36 with 15:05 left in the game on a lay-up by redshirt-freshman Kassius Robertson. That hoop by Robertson started an 11-2 run by the Griffs, capped by back-to-back 3-pointers from Lewis, that put Canisius up 49-38 with 10:58left to play.
Down the stretch, the Red Foxes got within six points at 58-52 with 4:47 on a lay-up by Chavaughn Lewis, but that would end up being Marist's last points of the night as Canisius closed the game on a 9-0 run with all nine of those points coming from the free-throw line. Lewis led all scorers with 19 points in the loss for Marist, which shot 37.5 percent from the field and 30.8 percent en route to its 10th consecutive loss.
Canisius will return to action Saturday, Jan. 10, in New Rochelle, N.Y. Tipoff is set for 2 p.m.
Game Notes: This was the 40th all-time meeting between Canisius and Marist, with the Griffs holding a 24-16 lead… Canisius now leads the series 9-8 in games played in the McCann Arena… The last time Canisius shot 50 percent or better from the field was March 18, 2014, when the Griffs shot 51.4 percent from the floor in a CIT loss to VMI at home… Heath has now scored in double figures six times this season and 11 times in his career… The 15 points for Heath bested his pervious career high of 14 points, which came Dec. 16, 2011 at UMKC… Williams has five assists in each of the last two games and his three steals tonight set a new career-high… Junior Jamal Reynolds had seven rebounds in the win, the eighth time this season he's had seven or more rebounds in a game… The victory is the 180th MAAC win in school history.