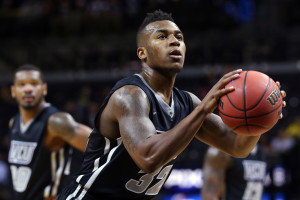 By Paul Gotham
Surveying the Atlantic 10 men's basketball schedule for the weekend.
VCU (7-3) at Cincinnati (7-2) Noon ESPNU
VCU looks to make it three in a row against the Bearcats who on Wednesday defeated No. 19 San Diego State in overtime. Cincinnati is 10th in the nation allowing just 53.8 points a game, including a double overtime loss at Nebraska where they surrendered 56. To keep the score in the 50s, the Bearcats will need to handle VCU's defense which forces 17 turnovers a game (9th in the country) and converts those opportunities into points. Troy Caupain is the only Bearcat scoring in double figures with 10.1 game. Melvin Johnson scores 14.9 for the Rams and hands out 2.3 assists a game.

Video courtesy of VCU Athletics.  
UMass (6-4) at Providence (8-3) 1 p.m. CBS Sports Network
Two NCAA Tournament teams from a year ago struggling to find traction. UMass stopped a three-game skid with a win over Canisius last Saturday. Providence has dropped three of five. Get the dessert tray ready. There will be plenty of turnovers to go around. UMass averages 15 miscues a game. Providence, 12 (Hey! At least the Friars are within the top 100 nationally). Providence's LaDontae Henton (18.9 ppg) is worth the price of admission. Cady Lalanne scores 14.5 and grabs 9.7 rebounds.
Detroit (6-5) at Rhode Island (6-3) 4 p.m.
Seems like a lifetime ago since URI knocked off then No. 21 Nebraska. The Rams have gone 3-3 since. Detroit has lost two straight, but the Titans led then No. 11 Wichita State with 5:40 to go before the bottom fell out in a nine-point setback. Any game now URI's Hassan Martin (11.1 ppg/6.3 rpg) figures to have his coming out party. Won't necessarily be this weekend, but it's coming. Juwan Howard Jr. (20 ppg/ 4.3 rpg/ 2.1 apg) does little bit of everything for Detroit.
Davidson (8-1) at College of Charleston (5-5) 4 p.m.
Davidson is third in the nation averaging 88.6 points a game. The Cougars had won three straight before falling in overtime earlier this week at Charlotte. Tyler Kalinoski leads four Wildcats in double figures and hits better than 47 percent (31-of-65) from long range.   Joe Chealey scores 11.9 and hands out 3.4 assists a game for College of Charleston.
Boston U (3-6) at Dayton (7-2) 7 p.m.
Archie Miller's club will take to floor for the first time since the recent dismissals of Devon Scott and Jalen Robinson. The two forwards combined for more than 12 points and nine rebounds a game. The Flyers are left with a lot of guards which isn't a bad thing when considering the likes of Dyshawn Pierre and Jordan Sibert. The Flyers have struggled from long range (27.1 percent). Sibert will need to find his rhythm. Pierre averages 11 ppg and 6 rpg. Cedric Hankerson (18.3 ppg/ 4.7 rpg/ 2.9 apg) leads Boston U. Dayton is 4-0 at home this season.

Video courtesy of Dayton Athletics.