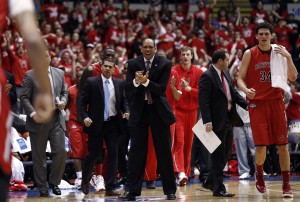 Compiled by Paul Gotham
Counting down to tipoff and previewing the incoming freshmen of the MAAC with a look at the first-year players of the Fairfield Stags.
The Stags went 7-25 (4-16 MAAC) and fell to St. Peter's in the first round of the 2014 MAAC Tournament.
Sydney Johnson and his staff welcome four freshmen to campus: Kevin Degnan, Jared Harper, Tyler Nelson and Jerome Segura.
Kevin Degnan Fr. F/C 6-9, 220 Pearl River, NY/ Pearl River
Degnan comes off a stellar senior season at Pearl River High School where he helped the team finish with a 13-7 overall record. The forward finished his senior campaign with a 23.0 scoring average and completed a season double-double with 12 rebounds per game. He scored his 1,000th career point in his senior season, one of the 43 points he tallied against Nyack that particular night. He became the first Pearl River student-athlete to earn a Division I scholarship when he signed his National Letter of Intent to attend Fairfield University. His efforts did not go unnoticed by his peers or basketball coaches as the 6-8, 215-pound forward was named Mr. Basketball for Section I by the Lower Hudson Basketball Coaches Association. He also collected All-Country honors as well in his senior campaign.
What they're saying about Kevin Degnan – Jamie Shaw/ Phenom Hoop Report: "Degnan is a skilled big. He has touch beyond the three point line and comfort handling the ball in multiple situations. A willing rebounder and high-motor player."
Jay Gomes/ NJHoops.com: "He's a big, strong hard-nosed forward/ center. He's physical kid, not afraid to bang and use his strength on both sides of the floor. He can post up and score as well as step and hit the 15 footer."
Steve Keller/ National Recruiting Report: "He has good size and a little bit of a finesse guy. He knows how to play, and he can shoot. He's liable to be a pretty tough matchup for other teams."
Jared Harper Fr. G 6-1, 190 Beverly Hills, CA/ Campbell Hall
 A multi-sport athlete in high school, Harper comes to Fairfield University as a preferred walk-on after spending last season at Suffield Academy. The guard attended Campbell Hall High School before joining Suffield Academy. He showed his all-around ability at Suffield last season, averaging six points, four assists,five rebounds, and two steals per game. The team ended the campaign with an 11-5 record and advanced to the New England Class B Quarterfinals. Harper played football, basketball, and baseball while at Campbell Hall. In his final season at Campbell Hall, he helped the basketball team post a 16-12 record
Tyler Nelson Fr. G 6-3, 185 Bradford, MA/ Central Catholic
Nelson joins the Stags basketball program after securing the Massachusetts Gatorade Player of the Year award in 2013-14. He is an All-Conference player who scored 1,443 career points while attending Central Catholic High School. He took his high school team to the state championship game with a 22-6 record before falling four points short. Nelson averaged 22 points and six rebounds per game as a senior and netted 70 three-point field goals. He ended his career with 230 three pointers, averaging better than two made per game. He was named the Lawrence Eagle-TribuneMost Valuable Player for the second straight year following the 2013-14 campaign. He was a two-time Merrimack Valley Conference (MVC) Player of the Year and a two-time ESPN Boston All-State player. As a junior, Nelson averaged 16.2 points per game and was named to the All-MVC Team. He helped the Raiders win the MVC Large and Division 1 North sectional title. Nelson also was the MVC Most Valuable Player as a golfer, winning a conference individual championship during his career.
What they're saying about Tyler Nelson – Jamie Shaw/ Phenom Hoop Report: "Nelson is a high IQ guard. He makes good decisions on the ball and can really shoot it with range and a quick release."
Jerome Segura Fr. G 5-11, 175 Houston, TX/ Langham Creek
Segura finished his final season at Langham Creek High School as an All-Region and an All-District player. He led his team to a 17-15 overall record in 2013-14 and a 9-4 mark in the District. He enjoyed one of his finest seasons as a Lobo, tossing in 16.9 points per game. The guard also added 3.5 rebounds, 3.4 assists, and 2.0 steals per game. Over his final three seasons with the program, Segura tossed in 1,153 points and averaged 12.4 points per game. In his final season at Langham Creek, Segura dished off 103 assists and recorded 60 steals in 30 games. He showed his three-point range with a career-high 22 long-range jumpers in 2013-14, and added a personal-best 105 rebounds.