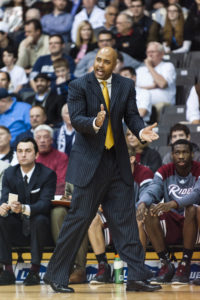 Compiled by Paul Gotham
Counting down to tipoff and previewing the incoming freshmen of the MAAC with a look at the first-year players of the Rider Broncs. The Broncs finished 14-17 (9-11 MAAC) in 2013-14 and fell to Iona in the MAAC quarter-finals.
Kevin Baggett and his staff welcome three freshmen to campus: Anthony Durham, Kenny Grant and Josh Williams. 
Anthony Durham Fr. G 6-3, 195 Philadelphia, PA/ Abington
At Putnam Science Academy: Led the Connecticut Prep School to a 29-5 record and a national ranking of fifth among Prep Schools…averaged 16.6 points, 5.8 rebounds and 4.6 assists as well as a team-high 2.0 steals per game last year, playing alongside three teammates who are also on Division I teams now.
At Abington: Twice a First Team All-Suburban One, All-Area and All-District selection…scored over 19 points per game as the team MVP as a junior…as a senior captain led Abington to the District AAAA semifinals and to the PIAA playoffs, with team-high 14.5 points and 7.3 assists per game.
What they're saying about Anthony Durham – Steve Keller/ National Recruiting Report: "He's a combo guard who can play the point. He's physical. He's pretty talented. He's got ability with that size to handle and get to the rim."
Allen Rubin/ Hoop Scoop: "He's a very good combo guard. He's athletic. He's a very good player going to the basket where he draws fouls, finishes or dishes. He's developed a good outside shot, and he's a very good defender. He can defend both guard positions."
Jay Gomes/ NJHoops.com: "A shooting guard who can also play some point with a nice-looking shot. He can bury it from three-point range. He's good off the bounce with one or two dribbles creating his own shot. Good scorer. Will give good backcourt depth."
Kenny Grant Fr. F 6-9, 240 East Orange, NJ/ Hyde
Led the Woodstock, Connecticut Prep School to the Class C NEPSAC semifinals last year, averaging 10.2 points and 5.7 rebounds while shooting 50 percent from the field to earn NEPSAC Player of the Year honors.
What they're saying about Kenny Grant – Steve Keller/ National Recruiting Report: "He has got a real chance. This kid has legit size, and he's really come on as time has gone on. He's athletic. He's gotten big. He has a chance to be a good rebounder in the league."
Allen Rubin/ Hoop Scoop: "He's a good power forward. He has the potential to be one of the better players in the league. He's a good rebounder. He can score inside. He steps out to about 12 feet and is a decent shot blocker."
Jay Gomes/ NJHoops.com: "A big, strong, tough, physical kid. He's a good athlete, a very good rebounder. He will carve himself a front court role this season as a freshman."
Josh Williams Fr. G/F 6-6, 180 Trenton, NJ/ Notre Dame
At St. Thomas More: Helped his 26-8 team reach the National Prep School Championship game last year, averaging 10.0 points, 7.0 rebounds and 2.5 blocks per game.
At Notre Dame: Averaged 17.5 points, 10.6 rebounds, 5.1 assists, 3.8 blocks and 2.1 steals per game as a senior, leading the Irish to a program-best 24-5 record and a second Mercer County Championship.
What they're saying about Josh Williams – Steve Keller/ National Recruiting Report: "He is somebody who can really shoot. He's never played against a lot of tough competition, but he's got the ability to shoot, handle and put the ball on the floor. He's got good speed. We'll have to see if he can move up to the level of competition."
Allen Rubin/ Hoop Scoop:  "He's a very athletic wing who is a good scorer right now but needs work on his outside shooting. He's very good in transition and likes to defend."
Jay Gomes/ NJHoops.com: "Long and athletic. He's somewhat of a sleeper coming out of high school, but being in Rider's back yard they had him pegged for a year or so. He's a slasher, a very good athlete. A good shot blocker for his size and settles in well with the transition. He rebounds well for his size."