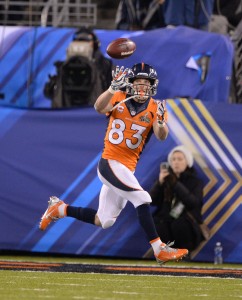 By Paul Gotham
Ray Ciancaglini doesn't know Wes Welker personally, but he understands the battle going on inside the head of the Denver Broncos' wide receiver.
Welker suffered his third concussion in 10 months during Saturday's pre-season game with the Houston Texans.
Coming 15 days before the Broncos' season opener on September 7th, the question is whether the All-Pro will be in the lineup against the Indianapolis Colts.
Ciancaglini begs Welker to ignore the short-term gains and consider lifelong consequences.
"It is time for him to retire before he buys the long-term farm of agony," Ciancaglini said recently by phone. "I really am concerned for his long-term well-being and the burden and hurt his family will also suffer."
Ciancaglini lives the consequences. Once an up-and-coming contender, he now battles memory loss and headaches and other symptoms associated with chronic traumatic encephalopathy (CTE).
"I only wish I could talk to this young man and take him on a walk through my progressive Dementia farm. A farm that as a young boxer I put a purchase offer on that I can never rescind."
Ciancaglini suffered two concussions within one week in 1968.  When abnormal results on his electroencephalogram (EEG) caused the New York State Boxing Commission to suspend his license, Ciancaglini turned to a common and overlooked practice in the fight world at the time.
"I left New York to continue my career in states with less regulations and some no regulation or no boxing commission at all."
The young boxer manipulated a system put in place to protect him and other fighters. He fought under a variety of aliases until 1974. Today, Ciancaglini suffers from Pugilistica Dementia and Parkinson's Syndrome.
"A national boxing commission would have protected me from myself. The NFL has to protect players from themselves."
Welker suffered his first concussion last November. He returned one week later. A second concussion followed 22 days after that.
"I understand his determination and grit, but he's not thinking clearly. This is when an athlete needs help."
Ciancaglini uses his Glass-Jaw Theory to explain Welker's situation.
"It's a boxer's theory. After your first concussion, the second is easier to get, and the third is easier yet."
Welker's third concussion occurred when he went low after catching a pass. His head bounced off the shoulder of Houston's D.J. Swearinger.  The play resulted in a 15-yard penalty on the Texans safety.
"If Mr. Welker continues playing in the NFL, he is taking a gamble where the wager and risk far exceeds the prize.  When an athlete has had several diagnosed concussions, and seems to receive them more frequently or easier, it's time to call it a career."
During the mid-70's, Ciancaglini suffered from severe depression which forced him to seek professional help. He tried to go to college, but because of difficulties with his memory, he had to withdraw. He worked for Eastman Kodak through the 80's, but consequences as a result of his brain injury dictated an early retirement. He has since founded the The Second Impact – an organization dedicated to concussion awareness for athletes and in particular young athletes.
"If he were to do the right thing and retire, it would send a powerful role model message to all the young athletes: make the smart choice."
The New York State Boxing Commission currently suspends a fighter's license at least 90 days after a knockout or a severe beating as determined by the ring doctor.
"Boxing is way ahead of football," Ciancaglini noted. "They could learn a lot from the gladiators of the ring."
Ciancaglini points to the difference between an NFL player and a boxer who depends upon his next fight for income.
"Because of long-term contracts, they have the financial stability to make the right decision."
There are no reports of Welker planning to retire.
Ciancaglini cautions the 11-year veteran.
"I challenged a concussion, and I got beat. Now, I battle an invisible opponent every day."