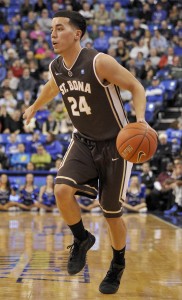 By Paul Gotham
BROOKLYN, N.Y. – Before Jordan Gathers nailed the shot that shook Flatbush, a pair of daggers came from Matthew Wright. In the process, the Toronto, Ontario native reminded fans of his exploits from the not-so-distant past and offered hope for the remainder of the weekend.
Matthew Wright. The senior guard who has a history of putting Saint Bonaventure in position to win looked comfortable again in that role Friday afternoon at the Barclays Center.
Yes, it was Wright who made it possible for Gathers to splash an exclamation point on the Bonnies' dramatic win.
Trailing by double digits early in the second of the Atlantic 10 quarter-final match-up with the top-seeded Saint Louis Billikens, Wright and Bona scratched their way back into the battle.
Youssou Ndoye took a Charlon Kloof dish and scored in the lane. Wright fed Ndoye on a two-on-one. Marquis Simmons finished in the paint.
Then Wright staked Bona to its first lead of the game with 9:14 on the clock when he took a dropoff pass from Kloof on the break and drilled a three.
After not getting a chance to connect from behind the arc in the first half, Wright found the bottom of the net from long range for third time after the break.
And no one knew it before him. He didn't wait for leather to find twine. He turned and started down the court while the ball was in flight.
"As a shooter, you're the first person who knows if the ball is going in or not," Wright said. "It just felt good. I got into my shot. I stepped into it. I didn't want to be too cocky. I stayed a little bit just to make sure. But I knew that was going down."
Wright added two more treys before the end of the game. His 3-ball with 38.2 on the clock gave SBU a 68-65 edge.
"Charlon did a great job of finding me in transition, especially in transition," Wright stated.
The shot that gave Bona its first advantage was similar to one Wright hit two years ago at the end of regulation as the Bonnies rallied and defeated St. Joseph's in double overtime. That win clinched a top four seed in the A10. Once there, SBU knocked off St. Joseph's, Massachusetts and Xavier for the school's first conference title and its first NCAA bid in more than a decade.
After Dwayne Evans tied the game for the Billikens, Gathers landed the game winner at the buzzer.
Wright, who leads Bona with 16.7 a game, netted 22 against the league's best defensive team on 8 of 15 shooting including 5 of 8 behind the arc.
"Saint Louis is a very good team, give them credit," Wright said. "But they beat a lot of teams out of fear factor. A lot of teams are intimidated by them. They're big, physical. They get up inside you. I feel like a lot teams they beat don't feel like they have a chance. I just want to give my team courage."
"Matthew Wright didn't have a scholarship offer from any school," Bona coach Mark Schmidt said of senior captain. "We got Matthew Wright in June, might have even been early July, and he had nothing.  I don't think anybody knew Matthew Wright.  I certainly didn't.  For him to come from not having one Division I scholarship and probably played in some small school in Canada to what he is now, just speaks to his work ethic.  He's just been tremendous.  His skill level has improved, his strength.  You saw him as a freshman, he was a little skinny‑‑ he looked like he was 12 years old, and now he's a man and he has a chance to play for money after he graduates."
The Bonnies tip off against that same St. Joseph's on Saturday afternoon in the semi-finals. It marks the first trip to the semis since that magical run.