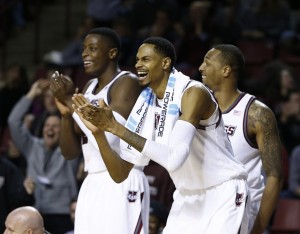 By Paul Gotham
BROOKLYN, N.Y. – Nothing defines a struggle better than a team having to defeat a conference foe for the third time in one season.
The Massachusetts Minutemen learned that first hand Thursday night.
And their leader delivered right on time.
Maxie Esho led three in double figures as the UMass Minutemen erased a double-digit deficit to defeat Rhode Island, 65-61 in the first round of the Atlantic 10 Championship at the Barclays Center.
Shooting less than 32 percent (17-54) for the game including 20 percent (3-15) the Minutemen found their stride at the right time.
"Once again Rhode Island played us tooth and nails," UMass coach Derek Kellogg said. "We're excited for the chance to keep playing."
Chaz Williams capped a decisive 15-1 run with his first 3-pointer of the night – a step-back dagger from 23 feet.
"We were just trying to find a basket," Williams said. "Once I made that shot it was like finally."
Williams finished the night 1 of 6 from long range. The senior came in averaging 15.8 a game but scored 11 on 3 of 12 shooting.
"That's one of the best players in the conference stepping up in winning time," Rhode Island coach Dan Hurley noted.
Trailing by nine with less than 10 minutes remaining, Derrick Gordon  started the run with an and-one. Trey Davis followed with a baseline drive. After Raphiael Putney stepped in a passing lane for a steal and layup, Davis went baseline again to give the Minutemen their first lead since 20-19.
"He created for himself," Kellogg said of Davis. He needs space. That play was set up to get it into the post for Sampson (Carter)."
Rhode Island briefly tied the score when Gilvydas Biruta hit one of two from the free throw line.
But Williams took over from there hitting two from the free throw line before drilling the eventual game winner with 1:49 left on the clock.
"It was big," Gordon said of his teammate's shot. "It was definitely a crucial shot."
"My teammates kept faith in me," Williams said.
It was the third time this season UMass defeated their rival by single digits with the Minutement winning 70-67 on February 26th and 73-68 , February ninth.
"We've been in these types of games," Hurley said. "It's a little bit like groundhog day for us. We're just not me yet. We just played against men."
URI shot 14 of 23 in the first half to take an eight-point lead into the locker room.
Xavier Munford sparked the Rams as they outscored UMass 10-3 over the final four minutes of the first half to take an eight-point lead into the locker room.
The senior guard hit a free-throw line jumper over Derrick Gordon giving URI a 29-26 lead. His two free throws pushed the advantage to four before Ifeanyi Onyekaba completed an and-1. Munford crossover and drive in the lane gave Rhode Island a double-digit lead at 37-27.
Munford scored 18 of his team-high 24 points in the first half.
"In the first half I was able to turn the corner," Munford explained. "Second half they took it away from me."
Munford and Williams battled head to head for much of the evening.
"It's a great rivalry," Munford said. "We both just want to win."
Maxie Esho converted a pair of free throws for the halftime score of 37-29.
E.C Matthews scored four and Munford drilled a catch-and-shoot three for an early 12-6 URI lead.
UMass scored six straight to take its first lead of the game at 20-19.
Esho started the run. Sampson hit one of two from the free throw line, and nailed a trey from the left corner when Williams drew the defense with a drive in the lane and kickout.
With the win UMass advances to play George Washington in Friday's quarter-finals. Tip time is scheduled 9 pm.
"There's no celebrating," Williams said. "God willing we're celebrating on Sunday."