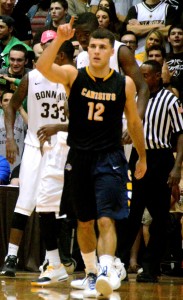 By Paul Gotham
LEWISTON, N.Y. – There are things which one can control, and those that can't be controlled.
Wise is the man who understands the difference.
Friday night Jim Baron faced plenty of factors out of his control. Senior forward Chris Manhertz didn't make the 20-mile trip with teammates. Less than five minutes into the game the Griffs' starting front court of Jordan Heath and Phil Valenti sat on the bench with two fouls apiece. The first six possessions of the second half? Canisius came away empty-handed. Add to that one of the nation's best free throw shooters was less than his best from the line.
Somehow, someway the Blue and Gold managed to turn a double-digit second half deficit into a lead.  Jim Baron made it last.
Billy Baron and Chris Perez combined for 51 points as the Canisius Golden Griffins (17-9/11-4 MAAC) rallied to defeat Niagara's Purple Eagles (6-20/3-12 MAAC), 71-65 in Big 4 action at the Taps Gallagher Center.
When Perez knotted the score at 63 with just under two minutes remaining, Jim Baron took advantage of a Niagara timeout to adjust his defense. He got the desired result.
"Coach Baron decided to go 3(-2) zone on them because they haven't seen it all year," Perez explained. "We kinda threw 'em off, and they didn't know what to do."
With the Griffs's guards extending on Niagara's shooters, the Purple Eagles struggled and were forced into a shot clock violation.
"We went zone, and they really couldn't get any rhythm," Baron said. "Against the 2-3 zone, they were trying to hit the middle and play off the middle, but once we took that away by putting a guard up top, it looked like they really didn't have a passing angle to go there. Our guys really made good adjustments for that, and they didn't get a shot."
"Adjustments mean a lot," Jim Baron said. "We made a couple of adjustments. We went back and forth with man and zone. I thought it was a big part of taking them out of any continuity that they could [have] against us. I thought that was a big part of it."
Canisius took possession and after a deadball offensive rebound at the other end, Perez drove across the lane and finished off the window to give the Griffs a lead they never surrendered at 65-63.
"I told Billy at the end 'give me a shot with the ball. I'm gonna try and score,'" Perez stated. "Billy trusted me. He gave me the ball, and I was able to score."
Billy Baron sealed the win when he converted all six of his free throw attempts in the game's final minute.
With the win Canisius swept the regular season series for the first time since the 1994-95 season.
"I can live for the rest of my life saying you know we got 'em twice here," Billy Baron stated. "Chris Perez really bailed us out tonight. He said he wanted the ball. He got it, and he scored. He took his man. Chris is going to allow me to think highly of this game tonight."
The nation's leading scorer, Antoine Mason, drilled a three at the 17:01 mark to give Niagara its largest lead of the game at 44-33.
The Griffs quickly responded.
Perez took a Kevin Bleeker feed and nailed a jumper. On the next trip, Perez corralled an offensive rebound and kicked out to Baron for a trey. After a media timeout, Baron split a trap on a ball screen and finished at the rim. Billy Baron's old-fashioned three-point play made it a 50-43 game with 13:24 to go.
"Billy's not afraid," Jim Baron said. "He takes it and goes different ways. They stop him right; he goes left."
Perez converted a pair of free throws on one possession. Baron drove the lane and finished a scoop shot on the left side of the rim on the next trip to make it a 52-49 game. Baron tied the score for the first time since the game's opening moments when he used a Josiah Heath ball screen at the top for a trifecta.
It appeared NU would take over from there.
Marcus Ware hit two free throws. Rayvon Harris grabbed a loose ball and led a three on one break which he finished with a slam to give the Purple Eagles a four-point edge.
But Dominique Raney answered for Canisius with a pull-up jumper just above the free throw line. Jordan Heath hit a pick and pop three from the left corner to give the Griffs their first lead of the second half.
Niagara regained the lead when Marvin Jordan connected for three and Mason hit a floater in the lane.
The win was the third straight in the series for Canisius.
"I'll tell you what," Jim Baron said smiling. "I know two guys, (former Canisius players) Tony Masiello and Dennis Misko, they're the happiest guys on this planet right now."
It was the third time this season, Canisius erased an 11-point second half deficit. The Griffs beat UB on Dec. 11 and Elon on in the NIT Season Tip Off after trailing by double digits. Billy Baron scored at the buzzer to beat Elon.
Baron finished with 34 points on 10 of 16 shooting including 3 of 8 behind the arc and 11 of 14 at the free throw line. He has scored 30 or more on six occasions this season. It was the first time he missed three free throws in one game this year. He has only missed two in a game twice. He came into the game hitting 89.8 percent from the charity stripe.
"Any time you can take down your arch-rival on their home turf, it's a great win," Billy Baron stated.
Perez netted 17 points on 6 of 13 shooting.
Mason led Niagara with 17. The redshirt junior entered play scoring more than 26 a game.
Ware added 13, and Wesley Myers chipped in 10 for the Purple Eagles.
Niagara outrebounded Canisius, 45-38.
Niagara outscored Canisius in the paint (40-36), off turnovers (18-14), on second-chance points (13-12) and the fast break (14-4). Niagara's bench outdid their counterparts 14-6.
Canisius held a 17-9 advantage at the free throw line.
Mahertz missed his second consecutive game as the result of a broken nose he suffered in the Griffs' loss to Manhattan on February seventh.
"I talked to Chris Manhertz before we came down," Jim Baron said. "This one's for him. He's been a big part of this program…He said 'Coach, you gotta try and bring this one home.'"
"This game was for Chris all the way," Perez said.
Niagara leads the head-to-head series 96-78.
Of the rivalry and comeback Jim Baron joked: "You have more control as a player."
From the looks of things, Jim Baron is doing well with what he can control.
Canisius travels to Siena to take on the Saints Sunday afternoon. Tip time at the Times Union Center is scheduled for 2 pm. The game will be broadcast on the Time Warner Sports Channel.
Niagara plays at Manhattan on Sunday. A 2 pm tip time is also scheduled at Draddy Gymnasium.
Paul Gotham is the founder, owner, editor and lead writer at Pickin' Splinters. Paul is the Communications and Media Director of the New York Collegiate Baseball League.  He is a contributor at USA Today and member of the USBWA. You can follow Paul on Twitter @PickinSplinters.