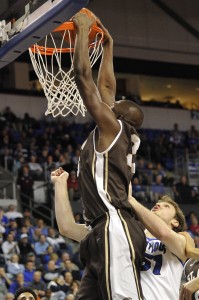 By Taylor Nigrelli
ST. BONAVENTURE,  N.Y. — If you've attended enough St. Bonaventure men's basketball games this year, you've probably begun to notice a pattern.
The Bonnies (13-10, 3-6) take an early lead, begin to falter around halftime, regain their step in the second half then ultimately fall apart down the stretch and lose by five points or less.
The team followed this formula to a tee Saturday in its homecoming game as it fell to Dayton (16-8, 4-5) 72-69 in front of a Reilly Center crowd of more than 5000 fans.
The Bonnies are now 2-8 this year in games decided by six points or fewer. The team has lost three of its last four games by a combined seven points and, despite holding just a 3-6 conference record, the Bonnies have only lost by more than six once (by eight to George Washington).
The Bonnies seem to be plagued by an inability to close out games, especially against Atlantic 10 opposition.
"In the Atlantic 10, it's always going to come down to one possession," St. Bonaventure Head Coach Mark Schmidt said. "We have to continue to work, we're right there. It's one or two possessions. Four or five games could be different. Hopefully we can start to make that one play."
The Bonaventure defense came out hot Saturday as it held Dayton, one of the nation's best shooting teams to just 37 percent shooting in the first half.
Much of this was likely due to the absence of Dayton's leading scorer through much of the first half. Senior forward Devin Oliver picked up a couple fouls early on and sat through most of the first half. He played only three minutes and failed to score any points.
But he came out firing in the second half, scoring 15 points including six of his team's final 10 points. The Bonnies fouled Oliver twice late in the game, only to watch him sink all four of his foul shots to put the game away.
"He had one of the rougher games you can go through as a player," Dayton Head Coach Archie Miller said. "He picked up a couple fouls early. As a player, you can cash out right away. But, to his credit, he didn't. He stuck in there and kept battling."
Junior center Youssou Ndoye provided a minor bright spot for the Bonnies. He scored 17 points on 6-6 shooting with seven rebounds and five blocks. He played 32 minutes and seemed to affect nearly every shot the Flyers took from close range. He, along with fellow big men redshirt senior Marquise Simmons and sophomore Dion Wright, gave Dayton trouble in the paint throughout the game.
"Their front line is one of the more physical front lines in the country," Miller said. "They did a very good job of throwing the ball in there and then spreading us out at times."
Senior guard Charlon Kloof matched Ndoye with a game-high 17 points but sported an uncharacteristic two-three assist-to-turnover ratio.
Senior guard/forward Matt Wright also reached double figures with 12 points.
Dayton senior guard Vee Sanford tied his teammate Oliver with a team-high 15 points.
The Bonnies will look to snap their two-game losing streak when they head to New York City to take on Fordham Wednesday night.