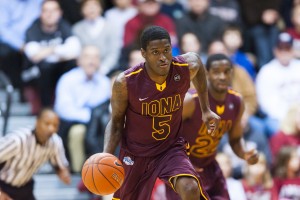 By Paul Gotham
BUFFALO, NY – A weekend which started with promise ended in disappointment. The Canisius Golden Griffins had the chance to grab that end-of-the-season cliché and control their own destiny.
With the third-place Manhattan Jaspers and Iona Gaels, whom they shared first-place, coming to the Koessler Athletic Center, the Golden Griffins could have put distance between themselves and the rest of the Metro Atlantic Athletic Conference.
Instead they tumbled from first into third and with the injury of their best inside threat, the Griffs' near future may carry more urgency than what seemed possible just a few days ago.
A.J. English led five in double figures as Iona (15-8/12-2) outlasted Canisius (16-9/10-4) 101-91, Sunday afternoon.
English netted a game-high 32 on 10 of 17 shooting including 4 of 6 behind the arc.
The sophomore guard scored 14 and handed out four assists after the break as the Gaels erased a seven-point halftime deficit en route to their seventh straight victory. Iona's last defeat came at home to Canisius on January 17th.
"Last time they came out in zone," English said. "Coach got on us a lot saying that when 'they come out zone in the second half, be ready to make shots and to be ready to share the ball.'"
English took a relocation pass from David Laury early in the second half and drilled an open 3-pointer from the left wing. By the time he scored five straight with 5:10 left on the clock, the Gaels had an 80-75 edge they never surrendered.
"I'm really proud of my guys for the comeback against a really talented team in Canisius," Iona Head Coach Tim Cluess stated. "I thought it was a heckuva game. If you're a basketball fan, you probably enjoyed the game of runs and all the shots that were being made by both teams."
Iona scored eight straight to start the second stanza.
With the Griffs looking to trap in the half court, English found Isaiah Williams for an open three.
English grabbed a defensive rebound at the opposite end and led Sean Armand into the open court. When Armand's layup rimmed out, Tre Bowman was there for a follow-up dunk.
Laury converted three of four free throws on the next two trips, and the Gaels had their first lead since 14:03 mark of the first half at 51-50.
"The way that everything has been set up we've been basically playing first-place games in a row," Laury commented. "Every game is important. We knew this was to put us ahead for first. It's going to be important playing Canisius because they're a great team. Like coach said, 'they get up and down.' They've got great players."
Iona took the lead for good at 73-71 when DaSahwn Gomez led Williams with a lob for a layup.
"Iona played well," Canisius Head Coach Jim Baron said. "They deserved to win."
Canisius outscored Iona 7-2 going into the break.
Zach Lewis got loose on the baseline for a drive and lay in. After Bowman scored at the other end, Lewis set up Billy Baron for a trey in transition.
With 19 seconds remaining in the half, the Gaels took a timeout. But when Armand's shot caught back iron and kicked out, Baron corralled the rebound, went the length of the floor for a layup at the buzzer and a 50-43 advantage.
Canisius played without senior forward Chris Mahertz who broke his nose less than four minutes into Friday night's loss to Manhattan. Manhertz returned to the game Friday wearing a protective mask but was less than 100 percent. The Bronx, N.Y. native averages 8.1 points and 6.4 rebounds. He averaged 12 points and more than nine rebounds in the four MAAC games leading to Friday night.
More importantly, Manhertz provides a defensive presence in the floor. In his absence, Laury took advantage and tallied 23 on 7 of 10 shooting.
Williams added 18 while Armand and Bowman chipped in 10 apiece.
Armand dished out a game-high nine assists.
Iona hit 47 percent (31 of 66) from the floor but connected on 51.7 percent (15 of 29) in the second half including 9 of 16 (56.3 percent) behind the arc.
"They shot the ball really well," Billy Baron said. "It wasn't just one guy who contributed from the outside for them. That was the issue there. They had a number of guys. Usually, Armand's the guy getting off."
Phil Valenti got his first career start in place Manhertz. The redshirt freshman responded with 15 points on 7 of 13 shooting, nine rebounds and four assists. He paced an 11-2 run late in the first half as the Griffs took their largest lead of the game.
Valenti grabbed his own miss in the lane and scored at the rim. On the next trip, Valenti led Dominique Raney for a catch-and-shoot trey. Jordan Heath drilled a 3-pointer on the break. Valenti grabbed a defensive rebound, led the break and found Zach Lewis for three and a 41-32 Canisius lead.
"I was very pumped to get the start," Valenti said. "I couldn't sleep last night."
Chris Perez led the Blue and Gold with 25 points on 8 of 14 shooting. Billy Baron followed with 24. Baron has accounted for 20 or more in 12 of the last 13 games.  The nation's fifth-leading scorer handed out a team-high six helpers.
Jordan Heath chipped in 16 points.
Canisius led 63-60 when Lewis was fouled in the open-floor by Williams. Game officials reviewed the play on the monitor and assessed a Flagrant 1 foul.
Canisius travels a few miles along the 190 to take on the Niagara Purple Eagles Friday night, Valentine's Day. The game will be televised nationally on ESPNU. A 9 pm tip time is scheduled.
Manhertz's status is to be determined.
Iona hosts St. Peter's on Wednesday.
Canisius closes the regular season at Manhattan on Sunday, March 2nd.