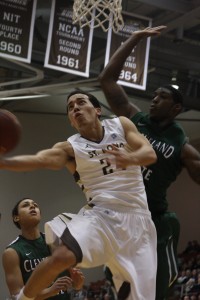 By Ryan Lazo
RICHMOND — St. Bonaventure had their plan working to perfection from the moment the ball was thrown up toward the ceiling during the opening tip-off. Knowing Richmond had announced the departure of Derrick Williams, a rugged 6-foot-6 forward, Bona aimed to attack their front court.
Just 77 seconds into the game, there was Youssou Ndoye spinning in the paint to get free for a two-handed slam to open the scoring. Then, it was Marquise Simmons putting in a lay-up after rolling off a screen near the top of the key. It was just the start of the Bonnies' onslaught of physicality in the paint.
In fact, Bona's first 16 points would come via the interior as Richmond struggled from the field. Yet, two Terry Allen 3-pointers later would pull the Spiders within four, 16-12, setting off an alarm on the St. Bonaventure sideline.
The Bonnies answered the run with a 14-to-4 spurt, including an 8-0 individual effort from Matthew Wright to open up a 13-point lead which would grow to a 14-point advantage with 3:57 remaining in the first half. As Chris Dees' right-handed hook went through nylon, Richmond head coach Chris Mooney called for a timeout as Bona players fist-pumped each other after seemingly having the game in their control.
Then, they didn't.
The Spiders would go on 15-4 to end the first half, utilizing 3-pointers from Kendall Anthony, Wayne Sparrow and ShawnDre' Jones to pull within five, 36-31. It was in that three-minute span, Bona lost all momentum and eventually all hope in winning.
Over the final 20 minutes, it was Richmond executing to perfection, shooting 43 percent from the field while Bona shot a brutally cold 17 percent. With numerous chances to take the lead in the final moments, Bona could not buy a bucket before Anthony nailed two of his game-high 28 points to put them out of their misery in the 64-62 loss.
"We had some open shots and we just didn't make them," St. Bonaventure head coach Mark Schmidt said after the game. "You have to make them on the road."
Yet, that is where Bona has struggled all season long.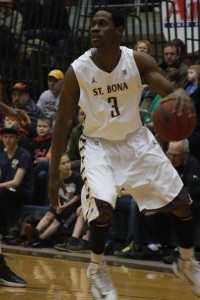 Multiple times this season, St. Bonaventure held late-leads before collapsing at the end due to an inability to make shots on the offensive end. Against Duquesne, Andell Cumberbatch had the opportunity to put Bona ahead by four with mere seconds left, but missed both, helping set up Derrick Colter's winner.
Then, Bona allowed a 13-point lead slip away at UMass after connecting on just three field goals over the final 9:49 of action while turning the ball over eight times to find themselves on the losing end.
It was the same story, different chapter at Richmond.
During St. Bonaventure's final four possessions, there was a shot-clock violation, a missed Wright corner 3-pointer, a missed Charlon Kloof point-blank attempt and no shot was released as time expired on their seventh road loss of the season.
"We're just not finishing," Schmidt said while visibly frustrated. "On the road you have to play that much better … We're just not getting the buckets when we need them."
And it wasn't just in the final moments, but in most of the second half.
After going a perfect 5-of-5 from the field in the first half, Ndoye missed his last five attempts during the second half of play. Spiders head coach Chris Mooney spoke of the adjustment his team made, specifically closing the paint to Bona's interior players.
"I think we talked about just every guy, kind of like a foot close, everybody a little bit more in the lane, make it more difficult," Mooney said. "They were clearly trying to throw the ball inside and exploit their size and strength advantage. But we just wanted to be as tight as possible and make it difficult when those big guys caught the ball, make them think about some things, and not just have them turn around and shoot easier shots."
Yet, it wasn't just Ndoye, but even Wright missed his final four shots on a 17-point effort on 6-of-10 shooting from the field. All of it adds up to a team that continues to produce, but can't find a way to win in the end.
And while Bona has captured big wins this season — defeating La Salle, UMass and Richmond in the friendly confines of the Reilly Center — they have suffered through heart-breaking finishes in each of their four Atlantic 10 Conference road losses.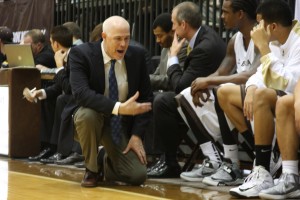 "No, there's no consolation," Schmidt said defiantly of his team being in games. "We want to win those games. It's one thing to be competitive, it's another thing to pull them out … We lost four games on the road that have all been right down to the wire."
Much like their losses, Bona's season is also down to the wire. With just eight games remaining — four of them on the road — the Bonnies need to find a way to overcome their road woes or an unfavorable A-10 Tournament match-up awaits.
 Ryan Lazo is the Sports Editor at The Hopewell News, covering eight high schools, Virginia State University and Richard Bland College. You can follow him @ByRyanLazo.