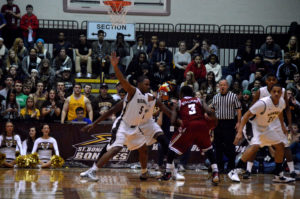 By Taylor Nigrelli
ST. BONAVENTURE, NY — 14.
That's how many years it had been since St. Bonaventure had beaten a ranked opponent before they defeated UMass last night.
24.
That's how many chances the Bonnies had to accomplish the feat since 2000. They failed every time.
Six.
That's how many times St. Bonaventure lost by six points or less this season, including a five-point loss to the same UMass squad just over two weeks ago.
But none of that mattered Wednesday night. The Bonnies tossed aside their history of struggling against elite teams and recent issues closing out games to capture a 78-65 victory over #21/19 UMass.
Not since the days of J.R. Bremer and Jim Baron had the Bonnies upended a ranked opponent. Not during the Andrew Nicholson era, not with last year's talented senior class. But this year, with a senior class of non-superstars.
Matthew Wright, Charlon Kloof and Marquise Simmons aren't the most flashy or skilled players. They won't put up 30 points in multiple games or draw interest from NBA teams. But they lead a deep, mentally-tough group with a ton of chemistry.
Their legacy likely won't be winning an Atlantic 10 Championship, but they've done something no senior class in the past 14 years has done.
"We talk about two years ago and last year, those are in the past," Head Coach Mark Schmidt said. "These three seniors (Kloof, Wright and Simmons), this is their team and this is their legacy."
College basketball players are likely never without motivation, but, according to Schmidt, the team had a little extra pep for this game. The Bonnies took on UMass on the road Jan. 11. The Bonnies led for most of the game but fell apart in the closing minutes, losing 73-68.
"I put on the black board before the game: one minute and thirteen seconds," Schmidt said. "That's how much time was left in the game when we were leading at UMass earlier this year. I told the guys we were good enough to beat those guys for 38 minutes, 47 seconds, all we need to do is find that minute, thirteen seconds."
Defense dominated the game early as the teams combined to shoot just 14-55 in the first half as the Bonnies went into the locker room with a 26-25 lead.
Things began to open up in the second half as, according to UMass Head Coach Derek Kellogg, the Minutemen attempted to play at a faster pace to generate more offense. However, the Bonnies success on the offensive glass (20 offensive rebounds) didn't allow this to happen.
"One of the biggest factors was that they were getting offensive rebound put-backs," Kellogg said. "So, we could never get our transition game going to a certain extent.
"We kind of loosened up a little bit because we were trying to press a little more and get the game going a little faster."
Another factor in the win was the Bonnies holding star UMass guard Chaz Williams to 11 points on 3-10 shooting before fouling out in the final minutes of the game.
"They were getting on him pretty good and being pretty physical," Kellogg said. "They did a good job on him. He did get a little frustrated.
The Bonnies erupted for 52 points in the second half on 16-30 shooting (53.3%) while making a total of 30 free-throws over the course of the game.
The scoring remained balanced as five Bonnies reached double figures but none topped Kloof's 14 points. Freshman Denzell Gregg also added eight points and seven rebounds in 15 minutes of action off the bench.
The Bonnies will have a week off before returning to action at Richmond next Wednesday at 7.