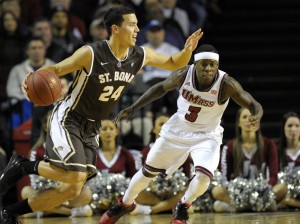 By Paul Gotham
ST. BONAVENTURE, NY – For a university and its fans, it was fourteen years in the making. For the current team it was a matter of 73 seconds.
Five netted double figures as the St. Bonaventure Bonnies snapped a 24-game winless streak against ranked opponents and upended the No. 21/19 UMass Minutemen 78-65 in front of spirited crowd at the Reilly Center Wednesday night.
With the win St. Bonaventure avenged a heart-breaking five-point loss earlier in the month.
"I put up on the blackboard before the game a minute and 13 seconds," St. Bonaventure Head Coach Mark Schmidt stated. "That was the amount of time we had left at UMass that we led. I told the guys we were good enough to beat these guys for 38 minutes and 47 seconds. All we need to do is find a minute 13."
This time the Bonnies turned in a 40-minute effort.
Struggling from the field for the first half, the Bonnies grabbed a lead they never surrendered soon after the break and went on to outscore the Minutemen 52-40 after the break.
"We didn't play a great offensive game especially in the first half," Schmidt continued. "But we defended. We scrapped, and I'm really proud of our effort."
Playing through seven ties and nine lead changes in the first stanza, St. Bonaventure took the lead for good on a Matthew Wright pull-up jumper just inside the free throw circle 1:11 into the second half.
Wright all but sealed the victory later when he drilled his first 3-pointer of the night with 52 seconds remaining for a 72-63 Bona lead.
"I was more just relieved," Wright said of his clincher. "I missed my other three shots. A few of them I felt like they rattled in and out."
Charlon Kloof drew the defense with the dribble and dropped off to Wright curling behind for a catch-and-shoot basket.
"I just knew with the law of percentages one of these has to go in eventually," Wright added. "I was open for a split second. That's all I needed… I didn't think about it. I just let it go."
Bona outscored the Minutemen by six in the first 2:48 of the second half.
Youssou Ndoye got behind the UMass 2-2-1 full-court press for two. Kloof and Ndoye combined on a pass and relocate with Kloof connecting behind the arc, and Wright made it a 35-28 when he followed an Andell Cumberbatch attempt on the break.
For the time being the win helps the Bonnies put recent losses behind them including their most recent setback to Duquesne on the road.
"I thought it was the best effort of the year," Schmidt said. "Being able to beat that team by 13 points coming off a tough game at Duquesne speaks volume about the character of our players."
St. Bonaventure pushed the lead to nine midway through the half. Ndoye and Kloof created a turnover when they double-teamed Chaz Williams, and Denzel Gregg sprinted into the open floor finishing with a thunderous one-handed jam.
The Bonnies frustrated Williams throughout the night as the Atlantic 10's top point guard eventually fouled out with 11 points, six assists and four turnovers.
"They did a great job," UMass Head Coach Derek Kellogg said of Bona's effort on Williams. "They did a nice job of building a wall and sloughing off a few kids."
Williams went to the bench with his fourth foul, and the Minutemen trailing by nine at 47-38 with 12:20 remaining.
Trey Davis took over from there as UMass cut the deficit to one.
The sophomore guard hit a pull-up jumper inside the free throw circle. He followed with a layup on the break. Sampson Carter nailed a deep three from the left corner, and Raphiael Putney stepped in a passing lane for a steal and finished at the other end with a hammer dunk.
After Dion Wright converted a pair of free throws, Davis drilled a 3-ball, and UMass trailed 55-54.
It was as close as they would get.
Cumberbatch responded with a pull-up 3-ball off the backboard as the shot expired.
"That gave them a boost," Kellogg said. "We had a lot of momentum going, but from that point on we never came back and got over the hump."
"That was a lucky shot," Schmidt said. "Sometimes in this game you need luck."
Marquise Simmons posted a game-high nine rebounds as the Bonnies controlled the glass 45-35.
"They really beat us up on the boards," Kellogg commented. "We really had the game flowing the way we wanted to for a little while there."
SBU converted 17 UMass turnovers into a 20-10 advantage in points off turnovers.
The Bonnies (13-8/3-4) improved to 9-1 at home this season.
"We play with a chip on our shoulder," Schmidt said of his team's ability to pull off the upset. "We're the little school up north. We play with that attitude."
Twice previous this season the Bonnies had chances to take down a ranked opponent but lost to then No. 19 UMass, 73-68 and then No. 24 St. Louis, 66-60.
J.R. Bremer nailed a three from the corner when Bonaventure beat then No. 20 Temple, 57-56 in 2000.
"We don't want to be a program that gives guys good games," Schmidt stated. "We want to be a program that wins those big games. This was a great statement tonight."
Less than three weeks after losing a 13-point second half lead at Amherst, the Bonnies knocked off UMass by 13.
"I tell the guys all the time, 'you want to get respect,'" Schmidt stated. "Then go out and beat a team of the talent that UMass has. That's how you get respect. You don't get it in the newspaper.  You get it by going out there and playing well and beating these teams, and that's what we did."
Kloof paced Bona with 14 points and four assists.
Dion Wright netted 12. Matthew Wright added 11. Ndoye had 12 and Simmons scored 10.
Davis scored a game and career-high 18 for UMass. Williams and Cady Lalanne had 11 apiece. Carter and Putney each had 10.
St. Bonaventure plays at Richmond on February 5th.
Paul Gotham is the founder, owner, editor and lead writer at Pickin' Splinters. Paul is the Communications and Media Director of the New York Collegiate Baseball League.  He is a contributor at USA Today and member of the USBWA. You can follow Paul on Twitter @PickinSplinters