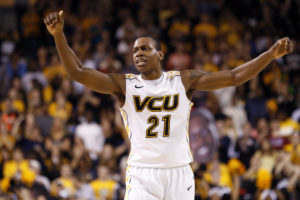 By Paul Gotham
Shaka Smart called plays for Treveon Graham 24 times in Virginia Commonwealth's 97-89 double overtime defeat of La Salle last Saturday.
VCU's future opponents can expect more of the same.
Graham, the Rams leading scorer with 16.1 a game, netted a game-high 34 on 11 of 21 shooting from the floor and 10 of 16 from the free throw line in 44 minutes played.
And that only tells part of the story.
"To be honest with you, our best play is him with the ball in his hands out on the perimeter with some space, driving and trying to create," Smart said during the weekly Atlantic 10 Coaches Tele-Conference. "We need to continue to put the ball in his hands and give him opportunities. He's done a nice job this year when he has those opportunities."
Graham created plenty for the Rams (16-4/4-1) during the road win. The junior guard regularly used the dribble late in the shot clock and got to the basket and scored or put the ball on the rim for teammate Juvonte Reddic to take advantage.
"That was our offense at La Salle down the stretch," Smart said of Graham's work with time running down in a possession. "Juvonte Reddic going after the rebound if he happens to miss or if he (Graham) kicks out to a teammate and they happen to miss."
Graham sets up the drive with his work behind the arc where he is connecting 31.7 percent (32-101) of the time. According to Hoop-Math.com of Graham's 32 makes from long range, 30 have had assists. But when the junior guard gets inside the arc, he creates for himself and others.
Graham has made 47 of 70 shots taken at the rim. He has received assists on 10 of those buckets. Of the 28 2-point jumpers he has hit, Graham needed assists on five.
Graham averages nearly two dimes per game – many from penetrate and pitch opportunities for teammates on the perimeter. That number does not include the helpers when he gets in the lane and Reddic converts rebound and putback opportunities, or when the 6'9″ forward corrals a shot attempt from a perimeter player who received a Graham lead.
Of Reddic's 66 makes at the rim, 36 have had assists. The remaining 30 occur when the senior gets on the glass and finishes.
"Sometimes, coaches tend to over-complicate things," Smart added. "I need to make sure that scenario I just mentioned happens as often as possible."
VCU made school history this year when they appeared in the top ten for the first time. The Rams dropped two of three the next week.
VCU has won eight of their last nine with their only setback coming at George Washington.
"If they keep doing what they're doing, they're going to have a great season," Dayton Head Coach Archie Miller said. "How special they have a chance to be."
Same as it ever was
Much has been made about rules interpretation and the subsequent calls on contact fouls. Some expected VCU, with their Havoc defense, to struggle. But not much has changed. As Around the Horns explains the Rams still have a turnover rate above 28 percent, while increasing their steals from 11.7 to 12.7 per game. At the same time, fouls per game (19.7) have remained the same.
"I just told our guys we have to adjust to the way the game is being called. Our guys have done a pretty good job of that over the course of the season," Smart explained. "You just got to adjust and figure it out. Our guys have done a better job this year than in past years of refraining from fouling way back in the full court."
They said it
Dayton's Archie Miller on Briante Weber: "If Briante Weber isn't the nation's best defender or the best defensive player in all of college basketball, then somebody in our marketing in the league or somebody at VCU probably needs to get a little bit of a foot up their butt. I have never seen a guy be that destructive on our home floor."
Paul Gotham is the founder, owner, editor and lead writer at Pickin' Splinters. Paul is the Communications and Media Director of the New York Collegiate Baseball League.  He is a contributor at USA Today and member of the USBWA. You can follow Paul on Twitter @PickinSplinters.