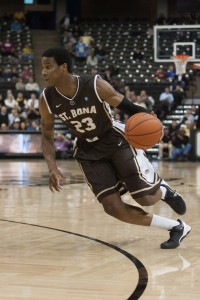 By Taylor Nigrelli
It doesn't take long for junior guard Andell Cumberbatch to describe the opportunities he had to play Division I basketball coming out of high school.
"I had none at all."
The New Jersey native didn't generate much buzz coming out of East Orange High School in 2011. So, like many others have done, he chose to play for a junior college in an attempt to get noticed by a D-I school.
His journey took him all the way to Barton Community College in Kansas. Playing at the college level, even the junior college level, took some getting used to for Cumberbatch.
However, he began to display a better work ethic, and that started to show his sophomore season as he earned "most improved player" status on his team. He more than doubled his scoring average and nearly tripled his rebounding average.
All the while, Cumberbatch played with thoughts of eventually earning a Division I scholarship.
"As I headed to Barton, I wanted to play D-I ball," Cumberbatch said. "I worked hard my freshman year, and during my sophomore year, I eventually started to get noticed."
St. Bonaventure Head Coach Mark Schmidt was one of those who began to take notice of Cumberbatch. He watched the 6'4 guard at a workout in early 2013 and convinced him to come to St. Bonaventure.
"I started to hear from Coach Schmidt during the spring of 2013," Cumberbatch said. "He contacted me and saw me work out. He liked my work ethic, so he told me to come to this school."
Schmidt wasn't just impressed with Cumberbatch's work ethic watching him play, he saw a near-perfect basketball player.
"When I went down and saw him at Barton, he was a kid with a good feel, athletic and good skills," Schmidt said. "He was a good kid, really enjoyed basketball. He's a winner, he played at Barton and they won. He's coachable. Everything you're looking for in a player, he had."
Despite the difference in talent level between junior college and Division I basketball, Cumberbatch was able to step onto the floor and contribute almost immediately.
After starting the season by serving a two-game suspension for violation of NCAA rules regarding pick up games over the summer, Cumberbatch stepped into the rotation and became a go-to scorer. He's led the team in points in three games this season (Iona, Wake Forest and George Washington), and he's third on the Bonnies at 10.8 points per game and fourth at 26.1 minutes per contest.
While he may have been an unknown to Bonaventure fans just a few months ago, his coach is not at all surprised by his ability to step into such a prominent role right away.
"With junior college kids, you can't tell how fast they're going to learn the offense, but you're bringing them in to play," Schmidt said. "And our hope was he could play and do the things he's done. And he has for the most part. He's still learning the system. He's not all there. At the same time, he's been very successful, and we wouldn't be where we are without him."
Cumberbatch counts his increased ability to shoot and rebound as his two greatest improvements since beginning junior college. His shooting is somewhat to be expected as he often finds himself with open looks. His rebounding numbers are a tad more surprising.
Despite standing at just 6'4, Cumberbatch is tied for third on the team with 4.9 boards per game. He credits this to desire to get the ball and his role above footwork and fundamentals.
"Rebounding is the desire to go do it," Cumberbatch said. "That's all it is. Coach tells me to crash the boards all the time, so that's what I do most of the time."
While Cumberbatch may be somewhat raw and certainly isn't perfect, he's added a scoring and energy dimension to this team many didn't think would exist before the season. Essentially, he's exactly what any coach would want out of a junior college transfer.
"Those are the types of guys we get – he's not fully there, but there's potential," Schmidt said. "He's got to continue to improve, but we're happy with what he's done so far."