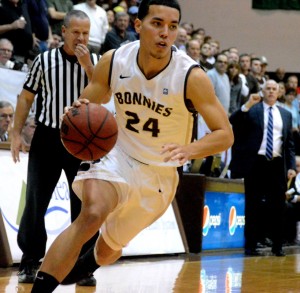 By Paul Gotham
ST. BONAVENTURE, N.Y. – Perhaps a reference to grains of sand slipping through the hour glass leans too much on the sentimental. But you get the point.
Matthew Wright, St. Bonaventure's senior guard, turned in a performance Saturday night against Big 4 rival Canisius which delicately balanced patience with force. And his motivation comes from the feeling one gets when timing is running out.
Wright tallied a career and game-high 27 on 10-of-14 shooting. He finished in traffic, hit pullup jumpers and fed passes to teammates all night.
It was just the type of game from to which head coach Mark Schmidt referred in the pre-season. When looking ahead to the season Schmidt knew he needed consistency from Wright who has shown flashes of brilliances in the past.
He scored 22 on eight-of-eleven shooting including four-of-four behind the arc when the Bonnies beat Temple Owls, 81-78 last year. He followed that with an 18-point night in SBU's 73-64 triumph at St. Joseph's Hawks.
That was his junior season. Now with his number of games in brown and white dwindling, Schmidt put Wright's effort against the Golden Griffins in perspective.
"Seniors are desperate," Schmidt said. "It's their last chance and as we talked about before the game, it's their last chance to play Canisius. When you're desperate, and you understand it's your last go around, you're going to give everything you got. Matthew has done that."
He scored the game's first points when he took an inbound pass, went opposite a Youssou Ndoye ball screen, found a seam in the defense and used a scoop shot to finish off the glass. Moments later, Wright took an Ndoye feed into the open court and sent home a two-handed slam.
By the end of the first half, Wright had 15 points on five-of-eight shooting, all baskets coming inside the arc.
"Before the game it's not like I'm going to shoot today or I feel like driving today," Wright said. "You take what the defense gives you."
And take he did.
His steal and layup followed on the next possession by a well-timed pick-and-roll with Ndoye led to a dunk, and St. Bonaventure led 40-31 late in the stanza.
Wright was a contributor to Bonaventure's 2011-12 team which won the school's first Atlantic 10 championship and advanced to the NCAA Tournament. His shot at the end of regulation helped the Bonnies to a double overtime win over those same Hawks and clinched a first-round bye in the conference tournament.
Wright was also part of last season's squad which faltered to 7-9 in the conference and 14-15 overall. Now with his career measured in games rather than seasons, Wright looks to end his career on a positive.
"Coach is right," noted the Toronto, Ontario native. "For every senior this is it. There's a lot riding on this season. We had a bad year last year. This is it. This is [my] last year of college basketball. This is my last year playing Canisius. It's desperate, but you just have to go out there and play as hard as you can."
The Bonnies are off to a 3-0 start for the first time since 2000. All five starters Wright and Ndoye along with Jordan Gathers, Charlon Kloof and Marquise Simmons have registered double-digit nights on the offensive end. Mix in some desperation , and the possibility is there for the Bonnies to do something special.
Paul Gotham is the founder, owner, editor and lead writer at Pickin' Splinters. Paul is the Communications and Media Director of the New York Collegiate Baseball League.  He is a USA Today Contributor and member of the USBWA. You can follow Paul on Twitter @PickinSplinters.