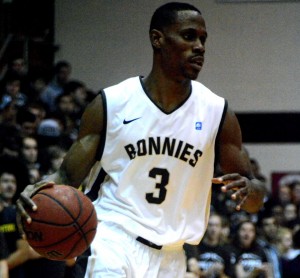 By Taylor Nigrelli
ST. BONAVENTURE, N.Y. — Saturday, the St. Bonaventure Bonnies took the court for its first regular season game action since Mar. 9.
That day the Bonnies were faced with the task of defeating the Fordham Rams – they of a 2-13 conference record – for an opportunity to secure a spot in the 2013 Atlantic 10 postseason tournament.
The Rams earned their third win of the season and their first conference road win in four years, ending St. Bonaventure's season early.
Athletes don't easily forget heart-breaking losses such as these. According to sixth-year senior forward Marquise Simmons, the loss to Fordham played a major role in Saturday's 68-46 win over South Dakota.
"We've all been waiting to play this game today since last year on Mar. 9 when we lost to Fordham," Simmons said. "It's been a sickening feeling in our stomachs all summer. It's just what I thought about when I was working out. Days I didn't want to go to the gym, I made myself go so I could get ready for this game tonight."
The win did not come without some turmoil. The Bonnies had some trouble stopping the Coyotes offense early. Halfway through the first half, they trailed 17-9. Head Coach Mark Schmidt took a timeout and called for his defense to turn the pressure on to force the South Dakota offense into making mistakes.
"We want to get our offense off  our defense," Schmidt said. "We picked up the pressure. We were playing just a lot of half court man-to-man (defense) and they were running a motion offense and we were getting a little stale. We thought we needed to pressure them a little bit and get into them and use our athleticism and length. That's what we did."
From that point on, the Bonnies outscored the Coyotes 59-29, including a 16-2 run to end the first half. Much of this spark came from guard Charlon Kloof. The senior finished the game with a team-high 16 points, seven assists, four steal and no turnovers. After losing his starting job early last season, Schmidt believes Kloof is confident enough to run the point guard position this season.
"This is how we need Charlon to play," Schmidt said. "He's back. He struggled a little bit last year. I think his confidence is back. He's done really well in practice and that carries over."
The game's positives were not limited to Kloof, however. The Bonnies dominated the Coyotes around the basket, outscoring them 38-14 in the paint and outrebounding them 43-28.
"We emphasized (playing down low)," Schmidt said. "Just watching tape of last year – they play their ball screens really soft. We wanted our guards to attack the paint and put the big guys on their heels."
This year's version of the men's basketball team looks to be far more unpredictable than in the past. The team has no dominant players; there are no Andrew Nicholson's or Demitrius Conger's. The team doesn't generally excel in the low post or shooting the three. It appears the team's strengths could change from night to night. According to Kloof, a higher energy level lead the team to victory on this particular night.
"Our energy level – they didn't anticipate that," Kloof said. "I saw guys who never really yell start yelling and screaming and diving on the ball. That was the x-factor. Our energy level was higher than theirs."
The Bonnies will hit Bob Lanier Court again Monday night for a 7 p.m. matchup against Abilene Christian.