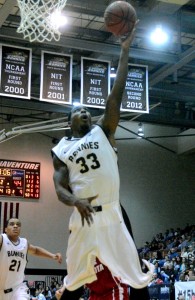 By Paul Gotham
ST. BONAVENTURE, N.Y. — Getting offense from defense, it sounds like a contradiction. If Saturday night is any indicator, the St. Bonaventure Bonnies may spend a season being comfortable with such conflict.
The Bonnies registered an impressive 68-46 triumph over South Dakota, impressive not because of the 22-point margin of victory, but because the Bonnies appeared in control throughout the contest.
This despite falling behind by eight in the early going.
The deficit, if nothing else, served as a quick reminder of last year's shortcomings.
"We talk about last year and what we didn't do well," said head coach Mark Schmidt. "And that was defending and rebounding."
South Dakota nailed three of their first seven attempts behind the three-point arc to take a 17-9 lead with 11:13 left in the first half. The Coyotes connected just one time in 11 attempts from long range for the remainder of the game.
Not only did the Bonnies stop the Coyotes behind the arc, but they converted 17 South Dakota turnovers into 17 points. Bona's eight steals equaled their opponent's total assists on the night.
At the same time, the Brown and White controlled the boards by a margin of 43-28.
As soon as South Dakota grabbed what would be their largest lead of the night, SBU's defense began dictating tempo. First there was a desperation shot with a hand in the face resulting in a rebound, outlet and Charlon Kloof finding Youssou Ndoye ahead of the defense. Then came a shot clock violation. Another possession and the Coyotes committed another turnover.
Bona carried the momentum to the end of half on a 22-4 run.
"We made it more of an emphasis," Schmidt said paying tribute to the words of his mentor, the late Skip Prosser. "'It's not what you teach; it's what you emphasize.' We tried to go back to the basics and tried to emphasize defending and rebounding."
The Bonnies scored 73 points per game last year, up from 71 the season previous. But the increased offense didn't help as the Brown and White stumbled through the Atlantic 10 with a record of 7-9. Instead of a first-round bye in the conference tournament and eventual championship as in 2011-12, Bona's season ended with a crushing 76-72 loss to Fordham in the regular season finale. The school's rally cry of 'No Sleep 'til Brooklyn' turned into the Bonaventure players getting plenty of rest while their conference rivals battled it out at the Barclays Center.
The Bonnies haven't forgotten the feeling.
"We all have been waiting to play this game tonight since last year on March ninth when we lost to Fordham," said senior forward Marquise Simmons. "It's been a sickening feeling in our stomachs all summer. That's just what I thought about while I was working out. Days I didn't feel like going to the gym, I made myself go, so that I could get ready for this game tonight."
Simmons and SBU's interior defense limited South Dakota's pre-season All-Summit League selection, Trevor Gruis to just seven shots on the night.
"He looks to seal you over the top for the most part," Simmons explained. "Our emphasis all week was to keep him out of the paint and not give up the hi-lo pass."
Obviously frustrated Gruis committed four fouls and was limited to 28 minutes of playing time.
The Bonnies surrendered 72 points per contest in 2012-13. Opponents hit 45 percent from the floor and 37 percent from long range. Bona also registered a negative rebounding margin of -1.1. In 2011-12 SBU  held opponents to 65 ppg with a field goal percentage of 41.7 including 32.6 behind the arc and a rebounding margin +5.5.
Saturday night, the Coyotes hit just 33.3 percent (15-45) from the field including 22.2 percent behind the arc (4-18).
"I thought tonight holding a team to 33 percent and 22 percent from threes and outrebounding them by 15, that's how you win," Schmidt added.  "We talk about the trifecta: defend, rebound and take care of the ball. We did a good job in those three areas, and that's why we won."
"We're nowhere near where we need to be, but we're going to continue to improve."
The Bonnies host Abilene Christian Monday night before Big 4 rival Canisius comes to the Reilly Center next Saturday. Both games start at  7 p.m.
Paul Gotham is the Communications and Media Director of the New York Collegiate Baseball League. Paul is the founder, owner, editor and lead writer at Pickin' Splinters. His work has been featured on Seamheads.com, BruceSpringsteen.net and in the 2013 USA Today College Basketball Preview. His book, Everybody On, Nobody Out, chronicles the hope and possibility of the NYCBL.  You can follow Paul on Twitter @PickinSplinters.