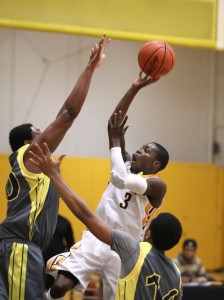 By Paul Gotham
ROCHESTER, NY – Will Arberry (Milwaukee, WI) led a tenacious Finger Lakes Community College squad as the Lakers erased an 11-point halftime deficit en route to a 76-72 victory in NJCAA action on George Monagan Court, Friday night.
Arberry scored 18 of his game-high 23 points after the break hitting both six-of-eight shots from the floor and free throw line.
The 6-4 sophomore forward scored seven straight to cut the Tribune lead to two at 49-47.
"In the locker room coach talked about how we needed to come out with more energy," Arberry said. "If we want it, if we're hungry enough, we just got to come out with more energy, spread the floor and contain them on defense."
Arberry started the run with a pullup jumper just outside the lane. He followed with a turnaround jump hook before hitting one of two free throws. After Arberry finished at the rim, Dylan Verkey (Seneca Falls, N.Y.) knocked down a three from the top of the key to give FLCC its first lead since a 7-6 advantage in the game's opening moments.
"We showed a lot of heart," said FLCC head coach, Richard Jones. "A college game is such a long game especially for the young guys. I keep telling the new guys that 40 minutes is a long time. There are so many ebbs and flows to the game."
Arberry made it 52-49 when he took a high-low pass from Kaleem Edwards (Brooklyn, N.Y.) and converted in traffic at the rim.
Monroe Community College called a timeout and used a barrage of three-pointers to respond with a 9-2 run and regain the lead.
Marcus Gooding (Brooklyn, N.Y) caught a Tashawn Desir (Brooklyn, N.Y.) feed and nailed a catch-and-shoot trey. Desir followed with a pullup three-ball from the top of the key. Isaiah Davis (Elizabeth, N.J.) hit his first of three consecutive threes, and Monroe had a 58-54 edge. By the time the 6-3 Davis connected for the third time from long range, the Tribunes led by nine and looked well on their way to victory at 66-57.
But the Lakers refused to go away.
Arberry connected on a pair of free throws. Edwards used a crossover dribble to get in the lane on the break for a bucket. Nic Cesar (Brooklyn, N.Y.) scored a layup in transition, and Brandon Bullock (Killeen, TX) made it a one-point game when he finished at the cup.
"They played harder than us," said Monroe head coach Jerry Burns. "We looked rattled. That's what I saw out there."
Arberry gave FLCC the lead it never surrendered at 67-66 with a pair of free throws. His pullup jumper with a minute and a half remaining all but sealed the game at 72-66.
"We had no answer for him," Burns said of Arberry. "He could go inside and out. We put a big on him, and he shot from the perimeter. When we put a smaller guy on him, he took him down in the post."
"He played great," Jones said of Arberry. "He's an under-sized post guy to their guys. He got his shot blocked quite a bit in the first half, but again he showed a lot of heart."
Arberry hit the front end of a one-and-one, and Edwards scored FLCC's last three points for the victory.
"I was impressed with our guys that they didn't let things affect them when they went on a run," Jones commented. "To go ahead when you're an underdog, and have the favorite come back and go up nine and to come back again I thought was huge for us."
Bullock added 20 on eight-of-12 shooting and Edwards contributed 14. The duo shared game-high honors with eight rebounds apiece. FLCC won the battle of the boards 41-38.
FLCC changed defenses in the game and gave the Tribunes a couple of different looks. They shifted between man-to-man and zone. Within the zone they used both an odd-front and even-front look.  The tactic created confusion for the young MCC squad which returns just one player, Desir. FLCC caused 19 Monroe turnovers, 13 in the second half.
The Lakers used a man defense in the final five minutes to seal the victory.
"Their man-to-man was excellent," Burns said of FLCC's defense. "We couldn't get by anybody. We didn't have one guy that was able to break anyone down. They've got a good team. They played really well. They were solid. There was nothing easy. Everything was a grind in the second half. It's a credit to Finger Lakes."
Artice Jackson (Owings Mills, MD.)  sparked an 11-0 run midway through the first half as the Tribunes notched their first double-digit lead of the game.  The 6-6 freshman forward took a post feed from Davon Jackson (Odenton, MD.) and finished with a jump hook along the right baseline.  One possession later, Artice Jackson used the rim as a screen to finish a rebound and putback.
Davis  and  Desir combined in transition for a layup.  Gooding  swiped a pass and nailed a pullup jumper for a 25-14 Tribune advantage.
An FLCC timeout did little to stop the Monroe momentum.
The Black and Gold press created a jump ball. On the ensuing possession, Davis converted a rebound and putback.
Al Joseph (Brooklyn, N.Y.) stretched the lead to 13 with a turnaround jumper from the right baseline.
The Lakers trimmed the lead to seven behind a pair of Arberry baskets.
Monroe scored the final four points of the first twenty for a 42-31 lead at half.
MCC used the long ball to grab the lead early in the game. Desir's catch-and-shoot trifecta at the 15:00 mark gave MCC a 12-8 edge.  Gooding took a Desir feed and nailed a trey for 16-8 lead.
Davis led three Tribunes in double figures with 20. Desir added 16, and Gooding chipped in with 11.
Desir led the Tribs with seven rebounds.
Dykweil Bryan (Brooklyn, N.Y.) dished out a game-high seven assists.
Monroe hit 14-of-34 behind the arc to Finger Lakes going 5-of-15 from long range. The Lakers cashed 15 of 21 free throws while Monroe made just 4 of 14 from the charity stripe.
Monroe came into play ranked third in the nation, but Finger Lakes was able to get revenge for a 35-point drubbing in last year's meeting between the two teams.
"We were the underdog by far," Arberry noted. "Nobody thought we were even going to be close in this game. This is big for us."
The Lakers host Niagara County Community College on Tuesday night. Tip-off is slated for 7:30 pm.
Monroe travels to Herkimer County Community College on Wednesday before hosting the Murph Shapiro Tournament next weekend. The Tribs play Hagerstown CC, Saturday night at 8 pm. Monroe follows that with 3 p.m. contest against Cecil College on Sunday.
Paul Gotham is the Communications and Media Director of the New York Collegiate Baseball League. Paul is the founder, owner, editor and lead writer at Pickin' Splinters. His work has been featured on Seamheads.com, BruceSpringsteen.net and in the 2013 USA Today College Basketball Preview. His book, Everybody On, Nobody Out, chronicles hope and possibility in the NYCBL.  You can follow Paul on Twitter @PickinSplinters.