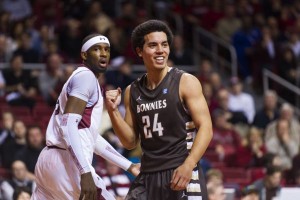 By Paul Gotham
Matthew Wright should have been named Philadelphia Big 5 Player of the Week. The then junior guard knocked down eight of eleven shots from the field including all four of his attempts behind the arc for a team-high and career-best 22 points as St. Bonaventure's Bonnies downed the Temple Owls 81-78 on January 19th. Four days later, Wright hit six of nine from the floor (4-6 long range) to lead the Bonnies past St. Joseph's 73-64.
Wright went a combined 14-23 (8-10 behind the arc) in back-to-back games in the City of Brotherly Love. He handed out six assists while committing just three turnovers and also gathered two steals as the Brown and White stemmed a six-game slide and won for the first time at Temple in their last trip to North Broad Street as Atlantic 10 rivals.
Wright scored in double figures nine times as a junior, the games in Philly representing the only back-to-back occurrence.
Must have been the cheesesteak.
Truth be told, while Wright's accomplishment happened in consecutive games, it did not occur in the same week. Bona's victory over Temple took place on a Saturday while the triumph near Boathouse Row occurred the following Wednesday. Philly's Big 5 announcement took place during the intermediate Monday.
It doesn't matter. The Reilly Center denizen was not eligible for nomination.
But it does show what Wright is capable of doing. If the Bonnies are to reverse their fortunes from last year, Wright will need to reconnect with the spirit he had last year in Philadelphia.
No one knows this better than SBU's head coach Mark Schmidt.
"We beat St. Joe's and Temple because Matthew Wright played his butt off," Schmidt said during the recent Atlantic 10 Media Day at the Barclays Center. "He's not going to shoot it like that all the time, but he has to shoot it consistently well."
Bona slipped from 10-6 in A-10 play during 2011-12 to 7-9 a year ago. The difference could be summed up in three one-possession losses: back-to-back overtime setbacks to La Salle (69-66) and Richmond (83-80) along with losing to Xavier 66-64 – three games being the difference between a first-round bye and eventual title and not qualifying at all for the conference tournament last season.
Wright is the team's leading returning scorer with 7.3 points per game. He will need to make strides in the manner which former teammates Chris Johnson and Eric Mosley progressed. Johnson went from 6.4 ppg in 2011-12 to 12.6 last season.  Mosley climbed from 6.6 to 13.2 points per game.
"It's almost like those role guys have to take that next step," Schmidt added. "Two years ago, you would look at it and ask can Chris Johnson and Eric Mosley take that next step? And they did, offensively. We scored the ball better last year than we did two years ago. Those veteran guys have to go from role guys to go-to guys. Now, we need somebody who can take that next step."
Wright has established himself as a facilitator.  He led the Bonnies with 90 assists as a sophomore. Last year, hampered by a torn planar fascia in his left foot, he still averaged a pair of helpers per contest. Now he will need to become the trigger man more often than in the past.
"We need Matthew Wright not to get seven points, but to get 14 points," Schmidt explained. "How do you do that? You got to be aggressive. You got to be smart too. It's not like you can force things."
The senior guard is ready for the opportunities ahead.
"Everyone wants to be the main guy. Everyone wants the ball in their hands for the last shot of the game," Wright said recently after practice. "I feel like I'm comfortable and confident enough to step up be that this year. I want it. You put in the work in the summer not to just be a facilitator. I've paid my dues, and it's about time for me to step up and take ownership of the team."
Schmidt knows it will take more than Wright to make up for the loss of offensive production provided by Johnson, Mosley and last year's leading scorer, Demitrius Conger (14.3 ppg).
Jordan Gathers (3.5), Charlon Kloof (5.3), Youssou Ndoye (6.9) and Marquise Simmons (6.2) will all be expected to increase offensive production.
"They are smart guys. They understand what they need to do for us to be successful. We lost a ton of scoring. Those guys are guys who can put the ball in the basket. They just have to do it on a consistent basis. Not take crazy shots and be selfish, but they have to be aggressive.  In practice when they have that opportunity to shoot the ball and they don't, my job is to stop and make sure they understand what we need from them."
SBU hosts an exhibition against Mansfield on November 2nd. Tip time is 3 p.m. The official start to the season is a week later, November 9th, when South Dakota visits the Reilly Center for a 7 p.m. start.