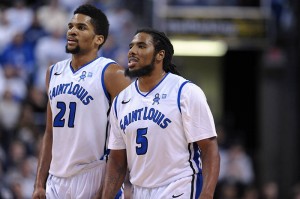 By Paul Gotham
BROOKLYN, NY — Maybe it takes a guy from Normal, Illinois to identify something out of the ordinary.  At least that's the case with Jim Crews and the reigning Atlantic 10 champion St. Louis Billikens.
Crews has spent more than three decades in coaching, 25 as a head coach, yet when asked about one of the most basic aspects of a winning team, the second-year Billiken skipper can only shrug his shoulders.
That's how Crews responded when questioned about who provides the leadership for the Billikens.
Not that Crews can't recognize leadership. After all, he spent seven years at West Point guiding the Army Black Knights, and he played on the last college team which went undefeated.
It's just that these Billikens possess uncanny leadership which is tricky to pinpoint.
"I've never been around anything like it before," Crews said Tuesday during the Atlantic 10 Media Day held at the Barclays Center. "Every team I've ever been around has had one or two or three guys who have been the leaders. The last two years I really have not noticed guys jumping out like that."
There's no questioning SLU's ability to find direction and move with combined effort. A year ago, uncertainty surrounded the program with the passing of former coach Rick Majerus. Rather than flounder, the Billikens rattled off a school-record 28 wins under then interim coach Crews.
Paced by Seniors Kwamain Mitchell and Cody Ellis along with Dwayne Evans, Jordair Jett and Mike McCall Jr., SLU defeated VCU in the Atlantic 10 championship and earned a No. 4 seed in the NCAA Tournament.
"Most non-judgmental group I've been around in my life. I'm not just talking about kids. I'm talking about people," said Crews who played forward and started on the '75-'76 Indiana University team which finished 32-0.
Those Billikens blended seamlessly always making the right play at the right time. Crews noted the shared wisdom among the players which was evident in their ability to adjust during the flow of the game to different situations, matchups and tweaks.
"We played fast when we needed to play fast," Crews explained. "We shared the ball. We scored in a variety of ways."
It is those subtle attributes which makes it tricky to pinpoint the source of leadership.
Tricky, too, is handling SLU's defense which ranked first in the A-10 and 16th in the nation allowing just 58.2 points per game.
"I only looked at the statistics once last year which is very abnormal. But, really, statistically I don't think you can find all these things. The sum of the parts made it fun."
SLU won 11 straight in 2012-13 en route to a 13-3 mark in the A-10, and the school's first outright league title since the 1956-57 club won the Missouri Valley Conference.
They succeeded as Crews points out by "focusing on the input and not on the outcome."
Five seniors return from that team. Evans, Jett and McCall, Jr. combine with Rob Loe and Jake Barnett for 482 career games making them one of the most experienced teams in the country.
The lineup has changed slightly, but the mystery of leadership remains.
"It's been an enigma. I don't know if they pick subjects or what to lead on. I can not explain it. We encourage leadership big time. But we're not saying you need to lead the team; you got to lead the team. We want everyone to kind of lead the team."
One question has been answered since last season. Crews is now the head coach. St. Louis removed the interim tag last April.
Evans averaged 14 points and 7.7 rebounds last year. He elevated those numbers to 21 and eight-plus in five post-season games.  Jett scored nine a game and handed out 3.2 assists.  McCall Jr added 9.3 and 2.7 helpers.
After sitting 2012-13, Austin McBroom joins the Billikens lineup. McBroom last played for Central Michigan. He scored 10.9 points and dished a team-best 2.7 assists in 30 starts as a freshman for the Chippewas.
St. Louis opens at home on November 8th against Southeast Missouri.