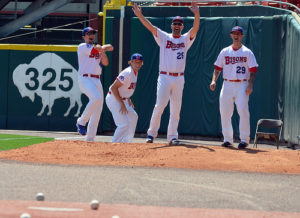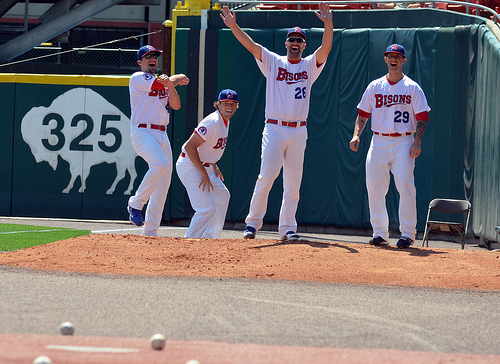 By Rocket Man
On closing night at Coca Cola Field, some Bison loyalists must have felt like witnesses to a wedding in which a victim married her kidnapper. In between the mascot race and the bus-token toss, Buffalo and Blue Jay suits signed an agreement maintaining the Herd's role as prisoner of Toronto through 2016.
About 300 feet back stood three guys who were elsewhere three weeks earlier, drawn by the great sucking sound of Buffalo's entire outfield being called across the border, the Herd in the midst of a playoff run, Toronto an also-ran.
It was almost as surreal as the play the previous evening, when one of those fledgling outfielders failed to realize he hadn't actually caught a flyball after all, leaving it lying on the warning track while he and his wing men fled as if it were a live grenade lobbed over the fence by Al Quaida.
And now Buffalo steps forward and, before nearly 17,000 fans, goes for four more years, and not at gunpoint, either. Why were these men smiling?
"It's just the way baseball is," one Bison executive said. "We're here at their service and probably even now, it's happening to somebody else. It's life in Class AAA."
A season-ticket holder whom Rocket Man admires seconded the motion. He spoke of how quickly Toronto moved to find replacements, "rather than leaving us short-handed, as a lot of other affiliates have." Actually, the promotion of Brad Glenn from a level below worked well – he homered on his first swing here and drove one out every time Rocket Man attended, twice one night, even.
The guy who lost the ball, Blake Gailen, is another matter. It's one thing to gain a late-season promotion, quite another to find yourself a hamstring away from "The Show" after a career in leagues that stay just one step ahead of the sheriff. Even if Gailen never plays another game at this level, his presence was an inspiration, lowlight-reel blunder aside.
Certainly Toronto provided a buzz not heard here since 2005 or so. Marty Brown's antics vs. the umpires kept us in a limelight, of sorts, and he kept most of the players interested long after the might have been jousting for seats on the bus.
Attendance was up, a lot of it blue-clad. Despite a league-high five rainouts, including the lucrative Kids' Day, crowds averaged far higher than those in 2012, fourth in the league, ahead even of Scranton/Wilkes-Barre with its Yankee affiliation and brand-new ballpark.
So there stood the stripped-down Bisons, with no more chance than Celery in the Mascot Race, beaming at the prospect of four more years. Let the games begin regardless of, as Costello might say, who's on first.
Fire back to Rocket Man via pollyndoug@hotmail.com