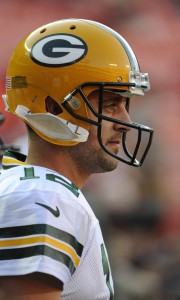 By Taylor Nigrelli
If you're a football fan, there's a good chance you've read a few dozen pieces ranking NFL quarterbacks. Instead of feeding you the same garbage you've probably become bored of, I decided to break up the quarterbacks in a different way.
There's no shortage of greatness among starting quarterbacks right now. In 2012, four first-time starting quarterbacks burst onto the scene and put up some of the most impressive numbers ever recorded by rookies all while future Hall of Famers Tom Brady, Peyton Manning, Aaron Rodgers and Drew Brees continued to play as well as ever.
There has never been this much quarterback talent in the league at the same time before; just as there has never been as many quality television programs as are currently airing now. In fact, there are plenty of similarities between current NFL quarterbacks and contemporary television.
Each quarterback who I believe will be their team's starting quarterback was given a comparison show. So, without further ado…
The "Breaking Bad" Division: Peyton Manning and Tom Brady
Breaking Bad is the greatest show I have ever watched by a sizable margin. Sadly, its remarkable run will come to an end after this season.
While Peyton Manning and Tom Brady are inarguably the two best quarterbacks I've been witness to, their respective finales haven't yet been scheduled. Both are still as productive as ever (they were the most efficient passers according to a few Football Outsiders metrics) and both are signed through the next few seasons. But Manning will enter this season at 37 while Brady is already 36. There are very few quarterbacks in NFL history who have remained at the superstar level after the age of 36. Brett Favre had two great seasons after 36, Warren Moon had a few, Rich Gannon had his only great seasons between the ages of 35-37. But, for the most part, quarterbacks tend to decline at this point in their career.
Like I am with Breaking Bad, I will cherish the finals days of Brady and Manning as much as possible. Because it's unlikely I'll ever watch anyone like them again.
The "Game of Thrones" Division: Aaron Rodgers, Drew Brees, Matt Stafford, Carson Palmer, Eli Manning
In all honesty, I've only seen four episodes of Game of Thrones. But those four episodes, along with the national conversation surrounding the show have given me a good idea of what it's all about: you never know what the heck is gonna happen in any given episode. These quarterbacks are on here for different variations of that reason.
Rodgers's unpredictability lies in his ridiculous efficiency. Do you realize that over the last two seasons, Rodgers has 84 touchdowns and 14 interceptions? That's exactly a six-to-one touchdown to interception ratio. It's hard imagine him improving on that; but we're far past the stage of doubt when it comes to Rodgers.
Brees has thrown for 89 touchdowns and over 10,600 yards the past two seasons. He hasn't thrown less than 30 touchdowns since 2007 and hasn't passed for less than 4000 yards since his last season in San Diego in 2005. Mind-blowing, video game stats have become the norm for Brees.
Stafford has led the NFL in attempts the past two seasons with 1390. This overuse allowed him to put up over 10,000 yards the past two seasons; further causing him to be somewhat overrated. Think about this: Stafford is averaging over 5,000 yards per season the last two seasons and very likely isn't one of the league's best quarterbacks. Traditional passing standards have been turned on their heads. Stafford has the sixth and seventh highest single-season passing yards totals of all time and is one of only seven quarterbacks ever to throw for 40 touchdowns in a season. But he's only slightly above-average. How insane is that?
I don't feel like Carson Palmer's inclusion in this section warrants an explanation. Perhaps Manning's doesn't either, but here's something to consider:
2006: Started 6-2, finish 8-8, lose in the Wild Card Round
2007: Struggled to make the playoffs, defeated Tampa Bay, Dallas (13-3) and Green Bay (13-3) en route to upsetting the Patriots (16-0) in the Super Bowl.
2008: Started 11-1, Plaxico shot himself, they finished 12-4, lost in their first playoff game
2009: Started 5-0, finished 8-8, missed playoffs
2010: Started 6-2, finished 10-6, missed playoffs
2011: Started 6-2, finished 9-7 with a negative point differential, defeated Matt Ryan's Falcons, MVP Aaron Rodgers' Packers and the 13-3 49ers en route to defeating the Patriots in the Super Bowl a second time.
2012: Started 6-2, finished 9-7, missed the playoffs.
So, for the record, they're 8-2 in the playoffs since 2006 with two Super Bowl wins and three playoff misses. This team makes no god damn sense.
Eli Manning is the perfect representative of this team. They generally ebb and flow with him. So here's to another late-season collapse or impossible Super Bowl run in 2013; I can't wait.
The "Newsroom" Division: Tony Romo, Jay Cutler, Cam Newton
Much like Aaron Sorkin's newest creation, Tony Romo and Jay Cutler are somewhat flawed on the field while Cam Newton has been accused of having some personality/off-the-field issues.
While all three are worth of at least a little bit of criticism, they all receive far too much of it. Like, yeah, Cutler has a few terrible games every year and looks like a bratty 12-year-old kid, but he's a good quarterback.
Romo is one of the best quarterbacks of this generation. That's not sarcasm. Since debuting in 2006, Romo has a 55-38 record with a 64.3% completion rate, 25,373 yards at 7.9 yards per attempt and 171 touchdowns to only 91 interceptions. He's had a few late-game meltdowns, especially late in the season or in the playoffs. But that's nothing Joe Montana, Tom Brady and Peyton Manning haven't done.
Newton is not two years removed from, what was at the time, the most productive rookie season any quarterback has ever had. And it's not like he really regressed. He fell just short of 4000 yards and 20 touchdowns while remaining the NFL's most dangerous running quarterback. Oh, and the rest of his offense is a freakin dumpster fire. Get off this guy's back.
The "Walking Dead" Division: Andy Dalton, Ryan Tannehill,
This admittedly is the biggest stretch so far, but bear with me. Walking Dead is a relatively new show that has played to very good ratings, especially recently. But it doesn't have the intense cult following of a Breaking Bad or Mad Men. People generally don't consider it to be a great show while some critics don't even think it's a good show.
The connection to these quarterbacks is simply a similarity in quality, not popularity. Both the show and the quarterbacks are relatively young and have had some mild early success; albeit not as much success as young shows/players around them.
The "Mad Men" Division: Joe Flacco, Matt Ryan, Matt Schaub
Good, classic, not too flashy, not all that controversial. This describes Mad Men as well as these three quarterbacks. Mad Men is one of the best current shows just as Matt Ryan is one of the best current quarterbacks. The analogy falls somewhat short after that. Flacco and Schaub aren't anything more than average. However they do fit the other adjectives quite well.
Mad Men will be under immense pressure heading into their final season to finish strong and cement their place in history with Breaking Bad, The Sopranos and The Wire. These quarterbacks enter their respective seasons with their own type of pressure.
Ryan enters his sixth season with the (somewhat unfair) stigma of the great regular season quarterback who just can't "get it done" in the big game. Fair or not, Ryan will get the Peyton Manning treatment until he gets through a January without losing to a lower seed.
Flacco is under pressure not only to live up to his contract, but also to the role of franchise quarterback that has been forced upon him. The Ravens lost five starters from what Football Outsiders considered to be the league's 19th best defense in 2012. In addition, Flacco lost his two favorite targets in Dennis Pitta (injury) and Anquan Boldin (trade). This will be the most dependent the Ravens have ever been on Flacco; how he adapts to his new role and these changes will define his legacy in Baltimore.
Matt Schaub is under pressure to "win now". The Houston offense is already a little old and their Championship window is closing. They'll need better playoff performances out of Schaub this year if they wish to take advantage of the impossibly-weak AFC.
The "American Horror Story" Division: Matt Flynn, Josh Freeman, Phillip Rivers Alex Smith
This refers to the first season of American Horror (each season is an independent storyline). The first season of AHS was somewhat scary and totally ridiculous. Each episode was crazier and less plausible than the next as though they were trying one-up each other. While the show was quite entertaining, it was too unbelievable even for fiction. That's how all of these quarterback's careers have played out so far.
Matt Flynn's career so far:
2008: Drafted in the seventh round to compete for the back-up spot with Brian Brohm
2010: Relieved Aaron Rodgers for a game and a half after the Green Bay starter was injured. Flynn struggled in a loss to the Lions but then nearly led the Packers to an upset of the (eventually 14-2) Patriots in his first start.
2011: He didn't see much action until that Week 17 shootout win over the Lions where he threw six touchdowns.
2012: Traded to the Lions. He lost the job to some rookie third-round pick named Russell Wilson in training camp and watched from the sideline as the NC State/Wisconsin product tied the rookie passing touchdown record.
2013: Traded to the Raiders. May lose his job to Terrelle FREAKIN Pryor.
That's unbelievable. It's not to be believed.
And the numbers really say it all for Freeman.
2010: 10-6 record, 25 TD 6 INT, 61.4 % completion, 95.9 rating
2011: 4-11 record, 16 TD 22 INT, 74.6 rating
2012: Week 1-14: 25 TD 8 INT Week 15-17: 2 TD 9 INT
Not exactly a normal or stable career arc.
The Alex Smith and Phillip Rivers stories have been hashed and rehashed. Suffice it so say it was strange for San Francisco to stick with Smith for seven years while he was below-average only to watch him blossom and become one of the league's more accurate passers; then have him lose to his job to one of the most impressive young quarterbacks in recent memory. Sorry, Alex. And for Rivers to go from a perennial MVP candidate to a poor man's Jay Cutler would have been incomprehensible two years ago.
The "Dexter" Division: Ben Roethlisberger
Both Roethlisberger and Dexter burst onto the scene at roughly the same time. Early in its run, Dexter garnered some "greatest show of all time" talk while Roethlisberger became the youngest quarterback ever to lead a team to the Super Bowl.
Both have had their ups and downs since then. Roethlisberger has been suspended, injured and accused of sexual misdeeds on multiple occasions. Dexter, for all intents and purposes, has lost the collective reverence of TV critics and analysts.
Many still consider Dexter to be a good show just as most still consider Roethlisberger a very good quarterback. But just as newer quarterbacks have made people forget about Roethlisberger, the other shows mentioned on this list have made America forget about Dexter.
The "Big Bang Theory" Division: Brandon Weeden, Mark Sanchez, Blaine Gabbert, Christian Ponder, Nick Foles/Michael Vick, Jake Locker
The Big Bang Theory is awful. These quarterbacks are awful. But both are somewhat entertaining to watch in a train wreck sort of way.
In all honesty, Weeden isn't a terrible quarterback. It's just funny that Cleveland (everything they do is funny) decided their quarterback of the future will be a guy who'll be 30 by Week six of his second season. So even though he wasn't terrible last year, he was below-average. And how much improvement do quarterbacks tend to make after their 30th birthday?
Yeah, Sanchez brought his team to two consecutive AFC Championships and beat Peyton Manning, Tom Brady, Phillip Rivers and Carson Palmer in the playoffs. But, then, this happened.
Poor, poor Blaine Gabbert. He never wanted any of this. Three years ago he was just your run-of-the-mill, 16-touchdown, Missouri quarterback. Then he started shooting up draft boards, with some even calling for him to be taken over Cam Newton.
Christian Ponder and Jake Locker might be in the most unfortunate positions this season because it seems very likely that they'll end up ruining the potentially very good offenses. The Vikings signed Greg Jennings and Jerome Simpson in the offseason then drafted Tennessee product Cordarrelle Patterson. Plus, they still have that reigning league MVP at running back. But this offense will likely end up in the bottom half of the league again as a result of Ponder's inadequacy. Tennessee will most likely suffer through much of the same despite the talent of offensive trio Kenny Britt, Chris Johnson and Delanie Walker.
 The "Homeland" Division: Sam Bradford
Homeland earned a fair amount of praise (and Emmy attention) after its first season but has received plenty of criticism and doubt from the ensuing season. This is strikingly similar to the career arc of Mr. Bradford. After being named Offensive Rookie of the Year in 2010, Bradford put up awful (2011) and pedestrian (2012) numbers in the past two seasons. There is enormous pressure on both to not only get back to the level of their first season but also to build on it.
While many have their doubts about Homeland (which I have never actually watched), I'm more worried about Bradford after losing his top two targets in Danny Amendola and Brandon Gibson.
The "House of Cards" Division: Andrew Luck, Robert Griffin III, Russell Wilson, Colin Kaepernick
This analogy is pretty simple: House of Cards, like all these quarterbacks, had a great first season. Kevin Spacey, like these quarterbacks, is absolutely at the top of his field and a pleasure to watch. (Netflix the show, it's worth jumping on the train early.)
Luck was obviously the least efficient of the four but was still incredible by normal rookie standards. He's the only one of the three without a real chance at the Super Bowl this year. His development will be worth keeping an eye on to say the least. In fact, they all will be. This type of situation is unprecedented. It's only a matter of time before one of these guys wins an MVP trophy or lifts up the Lombardi.
The "Girl Meets World" Division: EJ Manuel
Stay with me here…
"A spin-off from 'Boy Meets World'? About time."
"The Bills are taking a quarterback? About time."
"Girl Meets World? What the…? That's THE WORST IDEA EVER! WHY ARE THEY RUINING MY CHILDHOOD?!"
"EJ Manuel?! WHO? WHAT? WHAT THE… IS AN EJ MANUEL?"
Flash forward several months…
"I can't wait for 'Girl Meets World' to start."
"I can't wait for the season to start; EJ looks great."
That's that for the quarterback power rankings. I hope you enjoyed it. Stay hungry, my friends.