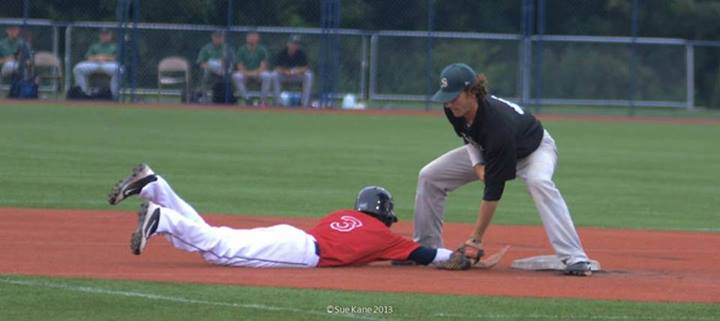 The comings and goings pf NYCBL players past, present and maybe future.
Gunkel (Oneonta '11) wasting no time making pro impact
PHILADELPHIA (CBS) – Looks like pro baseball agrees with former West Chester University hurler Joe Gunkel.
It has taken him just nine games to make his first all-star team.
The right-hander was a late addition to the American League roster for Tuesday night's New York-Penn League All-Star Game.
"It's been quite a journey so far," Gunkel tells KYW Newsradio. "A lot of success
 in a short amount of time."
Gunkel, 21, has been dominant out of the bullpen for the Lowell (Massachusetts) Spinners, the Class-A short-season affiliate of the Red Sox. In eight games with the Spinners, Gunkel is 3-0 with four saves and he has yet to allow a run in 11 1/3 innings of work. He's only been touched for three hits and he has struck out 16 batters while walking just three.
Recuperating Rassi (Webster '09) wants to come back to baseball
Lincoln Rassi can't do much with his right arm right now so he's using his left to push a saw or swing a hammer.
Rassi, the Northridge High School graduate and former University of Toledo baseball pitcher, is recovering from right shoulder surgery to fix issues with his rotator cuff and labrum and clean up bone spurs (June 3) while he is doing his best to help his family build a log cabin to replace the Goshen area house that burned down a few years ago.
Kemmer (Olean '12) has great showing before hometown fans
A good number of folks from the Clarion community, including family members, friends, former high school baseball and football coaches and teammates and fans made the hour and a quarter, trek to Eastwood Field, in Niles, just outside of Youngstown.
Who wants a day off when you're hitting .325? 
MOBILE, AL — For the first time since July 17, the Mobile BayBears do not have a game on their schedule today. For outfielder Justin Greene, the game streak goes back an extra day, because on the BayBears' previous open date, he was winning the MVP award at the Southern League All-Star Game.
Injured Martinez (Saratoga '08) plans on playing winter ball 
HOUSTON — Astros outfielder J.D. Martinez can take a glance around him and understand he's going to have to open some eyes to be a part of the team going forward. Players like Robbie Grossman, Brandon Barnes, L.J. Hoes and Chris Carterwill be pushing for playing time, along with Minor League standout George Springer.
Holle (Saratoga '08) finds inspiration in his father's professional career
HUNTSVILLE, Alabama — The Huntsville Stars' busiest pitcher is sitting in the Stars' dugout after batting practice, the PA system playing its convoluted medley of classic rock and current rock and modern country.
While the Stars hitters were taking their hacks, Greg Holle and fellow reliever Eric Marzec, the 5-foot-11 blond polar opposite to the dark-haired, 6-8 Holle, were idly talking about family and baseball.
Zach Lutz (Hornell '07) interview

Carroll (Hornell '02) enjoys staying on his grind
ROCHESTER, NY – More than a decade has passed since Brett Carroll roamed the fields of the New York Collegiate Baseball League.
Time hasn't erased the memories.
The veteran of ten years in professional baseball, including parts of six seasons in the majors, has played 180 games in the bigs, hit a home run off a future hall of famer, but still keeps a memento from his summer in the NYCBL.
Simmons (Watertown '10) called up
Former Watertown Wizards closer Shae Simmons was recently called up to the Atlanta Braves' Double A affiliate in Pearl, Miss.
Simmons, who played for the Wizards — now known as the Rams — in 2010, has pitched in four games for the Mississippi Braves after being called up from Class A Rome. He pitched in 39 games for Rome with 24 saves and a 1.49 ERA.
Bostick wearing the retro stirrups as the Snappers lead it 3-0 in the 4th https://t.co/DhDO4dTPu1

— Beloit Snappers (@BeloitSnappers) August 27, 2013

Logan (Amsterdam '08) hurls six shutout as Red Wings take over Wild Card lead
Logan Darnell was on cruise control
 with the Double-A New Britain Rock Cats the first half of this season. But he had been stuck on neutral since his promotion to the Red Wings one month ago.
Tucson Padres put trust in 'lights out' Mikolas (Saratoga '08)
Tucson Padres manager Pat Murphy believes his bullpen has been the team's strong point this season and he calls it one of the best in the Pacific Coast League.
A big reason is right-handed closer Miles Mikolas.
Before Monday night's 4-3 win to Salt Lake at Kino Stadium, Tucson (56-52) was 50-3 when leading after seven innings and 45-0 when ahead after eight.
Rojas, Jr. (Amsterdam '09-'10) delivers big for Curve
Two of the Curve's best young prospects hit big solo home runs, the second tying the game in the 11th inning, and Mel Rojas Jr. ended a long night of baseball with the first walk-off hit of his career in the 12th inning Wednesday night.
Lamm (Saratoga '07) doing well in the minors
Monday musings: Former Loretto High School and Vanderbilt standout baseball player Mark Lamm is in the midst of an excellent season as an Atlanta Braves farmhand.
Lamm, in his second full season in the minors, is playing for the Braves' Double A affiliate, the Mississippi Braves. He's 3-3 with a team-high 10 saves and sports a nifty 2.47 ERA.
Romero (Glens Falls '08) slams way into Tacoma Rainiers history
ALBUQUERQUE, N.M. — Stefen Romero picked a good moment to do something that nobody had done in nearly 54 years of Tacoma professional baseball.
Romero snapped a tie with a grand slam in the seventh inning, leading the Rainiers to a 6-2 win over the Albuquerque Isotopes in the opener of an eight-game trip.
Have any NYCBL news to add? Please hit the cutoff with a comment.