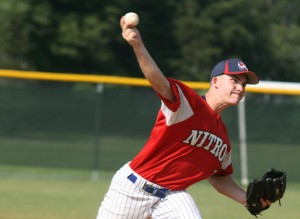 Courtesy of HornellDodgers.com
HORNELL, NY — The Hornell Dodgers and Wellsville Nitros pitching staffs kept hitters off balance all day as the two teams battled 13 innings before the Nitros earned a 3-2 victory. The game played at Maple City Park in Hornell due to wet field conditions in Wellsville.
The Dodgers got on the board first in the second inning when Jake Kenney (Genesee CC) lifted a sacrifice fly to score Michael Simmons (Montevallo).
The Nitros scored their lone two runs of regulation in the third when Scott DeJong (Felician) connected on a long triple to score Cody Trinch (Thiel) and then scored on a sacrifice fly by David DeWolfe (Francis Marion).
Hornell tied it up in the seventh, when Anthony Renz (Mansfield) drilled a single to right center with two outs to plate Kenney with the tying run.
Each team had multiple chances in the last few innings of regulation and in extra innings but neither could come up with the clutch hit until the bottom of the 13th. In the 13th, DeWolfe walked with one out and went to third on a single by Aaron Brill (Felician). After a strikeout, Shane Barley (St. John Fisher) hit a infield single off the glove of the Dodger third basemen that allowed DeWolfe to score the winning run.
Chance Ducharme (Francis Marion) earned the victory for the Nitros with 6.2 innings of relief work. He allowed four hits and one walk while striking out three. Wellsville starter Kyle Zambanini (Indiana) tossed the first 6.1 innings allowing seven hits, two runs, and two walks while striking out five.
The Dodgers got excellent pitching as well as Stephen Stoklosa (Monroe CC) tossed seven solid innings. He allowed five hits, two earned runs, and a walk while striking out three. Jeff Beall (Urbana) took the tough loss tossing 5.2 innings. He allowed four hits, one run, and two walks while registering eight strikeouts.
Kenney was 2-for-4 with a RBI, Aaron Haag (Southeast Louisiana) was 2-for-5, and Simmons and Spencer Scorza (Monroe CC) were each 2-for-6 for the Dodgers.
Barley was 2-for-5 with a RBI while DeJong and Brill were each 2-for-6.
The Dodgers and Nitros continue their three game set on Wednesday when they faceoff at 7 p.m. at Maple City Park. Any fan wearing or bringing an American Flag will receive free admission while any active or retired military personnel will be admitted free.
Game Notes: The Nitros were the home team in the game. The game took 3:05 minutes to complete. Hornell stranded 12 runners on base while Wellsville stranded nine.