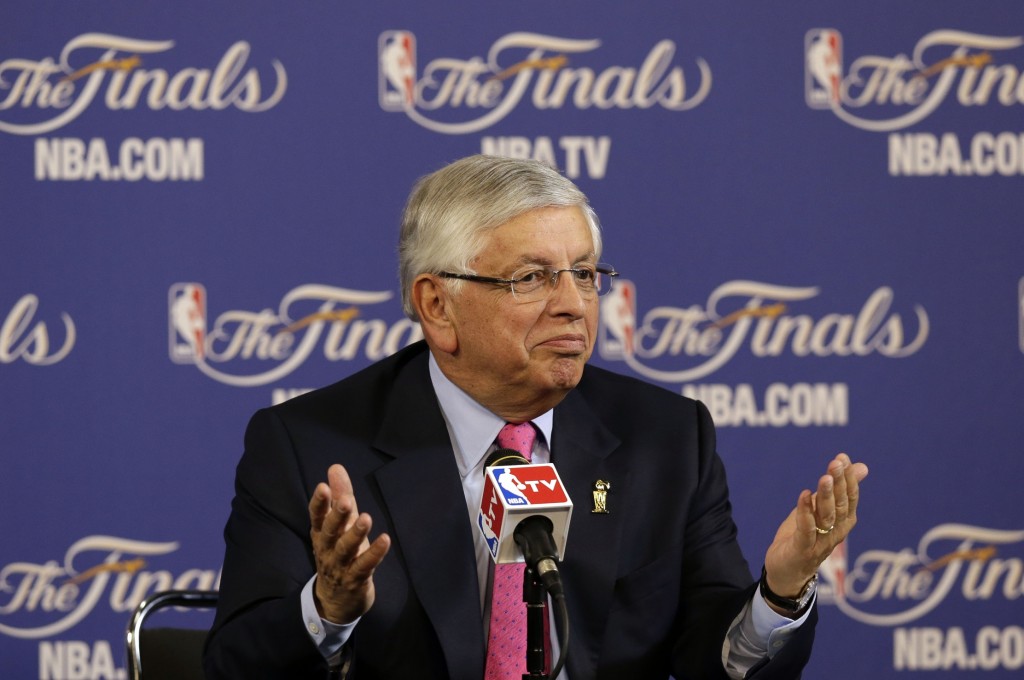 By Joe Manganiello
In an attempt to save space, you can check out my thoughts on the exhilarating NBA finals and the upcoming off-season in the year's final Shootaround podcast with Dave Holcomb.
With the NBA draft on Thursday, I'm attempting a unique spin on the typical mock lottery draft. Here are my guidelines:
1. I am the general manager of every team. Therefore, every pick is based squarely off what I would do and nothing else. Rumors and presumed picks in real life have no weight in my mock draft, so Nerlens Noel better prepare to be disappointed.
2. Every move affects each subsequent move. For instance, if I deem the best move for the Wizards to be trading the No. 3 pick, then I will create a fair trade for all of teams involved, and pick accordingly for each team in their new spot.
3. I can also make reactionary moves. If a potential lottery pick falls lower than projected, I reserve the right to trade up with a team looking to grab the player.
And so without further ado, I give you the Joe Mags 2013 Mock Lottery Draft.
With the No. 1 overall pick in the 2013 NBA draft, the Cleveland Cavaliers select Alex Len.
Look, this is not a perfect situation. This is the least valuable No. 1 overall pick since 2006, when the Raptors took Andrea Bargnani one pick ahead of LaMarcus Aldridge and seven picks ahead of Rudy Gay. (For the record, the Bulls turned around and traded Aldridge for Tyrus Thomas – apparently, nobody knew what they were doing that year.) If I'm the Cavaliers, I would have started shopping this pick the moment they were chosen.
If they are bound to the No. 1 pick, Cleveland has no choice but to go big. My No. 1 player on the board is Ben McLemore. (I'm not nearly as skeptical about a 19-year-old freshman shrinking in a few nationally televised games as some of my peers; honestly, I think that's to be expected from young basketball players.) McLemore's got game and might be the best shooting guard prospect since Evan Turner in 2010 (depending on what you think of Bradley Beal), but Cleveland has Dion Waiters coming off a promising rookie season at the same position, and if you factor in that their franchise player is a point guard, Cleveland isn't drafting a guard in the top five of the lottery three years in a row, no matter how remedial the selection of big man is this year.
And you know what, I'm not nearly as low on Alex Len as a lot of others are. He's huge, very athletic and fits the mold of the modern NBA center. He's light years safer at No. 1 overall than Nerlens Noel, who screams and shouts "Bust." With Anderson Varejao and Tyler Zeller already on roster, the Cavs can bring Len along slowly, while continuing to trust Kyrie Irving, Waiters and Tristan Thompson with the bulk of the offense. Five years from now, we won't remember that "Len or Noel" was a serious question.
Sidebar:
This is how bad the top of the draft is this year: the 2010 version of Evan Turner would be the runaway top selection in this draft. In his defense, some people thought Turner was a better prospect than John Wall at the time, that's how great his final season at Ohio State was. Imagine looking back on a draft and seeing Evan Turner as the No. 1 pick. Now imagine looking back on the 2013 draft and seeing Ben McLemore's name at the top. Exactly. This top pick has to be a big man, because McLemore doesn't scream "You Can Afford To Pass Up A Seven-Footer With All-Star Athleticism For Me" with the top overall pick. End sidebar.
With the No. 2 pick in the 2013 NBA draft, the Orlando Magic select Ben McLemore.
The Magic are quietly huge winners in this year's draft. Why? Ironically, because they lost the lottery. The last time Orlando won the lottery, they had to decide between Dwight Howard and Emeka Okafor, which following Connecticut's championship run that April, was a much harder choice to make. If Orlando "picked wrong," we'd still be laughing at them to this day. (Although we found plenty of other things to laugh at them about over the past decade, namely trading away Howard after months of negative press for a package that did not include any blue chippers in return.) This year, it's Cleveland's turn to evade "picking wrong." In 2011, they picked correctly (Kyrie over Derrick Williams), but it's five times harder to figure out what the right decision will be this year. The difference between drafting Len, Noel, McLemore or trading the pick could absolutely be the difference between being employed in two years or not for the current Cavs administration.
Orlando, meanwhile, gets to wait and see who falls to No. 2 (in this case, Ben McLemore), and make effortless PR-friendly quotes like "He's who we wanted all along" or "We're so glad Cleveland made the mistake of the draft not taking this guy." All the while, nobody knows Orlando merely twirled their thumbs until Cleveland made their choice, and simply took the guy that fell.
Oh, and why is it McLemore? In short, he's the best offensive player in this draft; Orlando has no offense; and if Aaron Afflalo is still the team's starting shooting guard by the start of next season, something went wrong this off-season for Orlando. There are too many contenders who would be willing to pay Afflalo $7.5 million per year through 2016 to be a "Tony Allen with scoring" type for Orlando not to move him for assets, and besides, I'd rather have McLemore in year one than Afflalo. Period.
The Washington Wizards trade the No. 3 pick and Jan Vesely to Minnesota for Derrick Williams and the No. 9 pick. With the No. 3 pick, the Minnesota Timberwolves select Victor Oladipo.
Wizard's writer Ben Standig beat me to the punch on this concept, but this move makes too much sense not to happen.
Let's list all the reasons why:
The Wizards need to keep John Wall happy
The Wizards need an athletic DTA (defense, threes, athleticism) forward to compete in a conference dominated by Miami
Derrick Williams is a DTA with huge upside (Career per 36 minutes: 16.4 ppg and 8.0 rpg)
The Timberwolves don't play him (2 seasons: 23.2 minutes per game)
The Timberwolves largest need is shooting guard (see: Martel Webster, Wayne Ellington and Wesley Johnson) and can't upgrade the position with the No. 9 pick
The Timberwolves want Victor Oladipo, who will be available at the No. 3 pick
Nobody who the Wizards would take at No. 3 is better than Derrick Williams
The Wizards wanted Derrick Williams originally in 2010
The Timberwolves are the closest thing the NBA has to an international team, so Vesely will fit right in
I rest my case.
The Charlotte (Hornets) trade the No. 4 pick, Ramon Sessions and Tyrus Thomas to Utah for Al Jefferson (sign-and-trade) and the No. 14 pick. With the No. 4 pick, the Utah Jazz select Trey Burke.
(Continue on to Page 2)