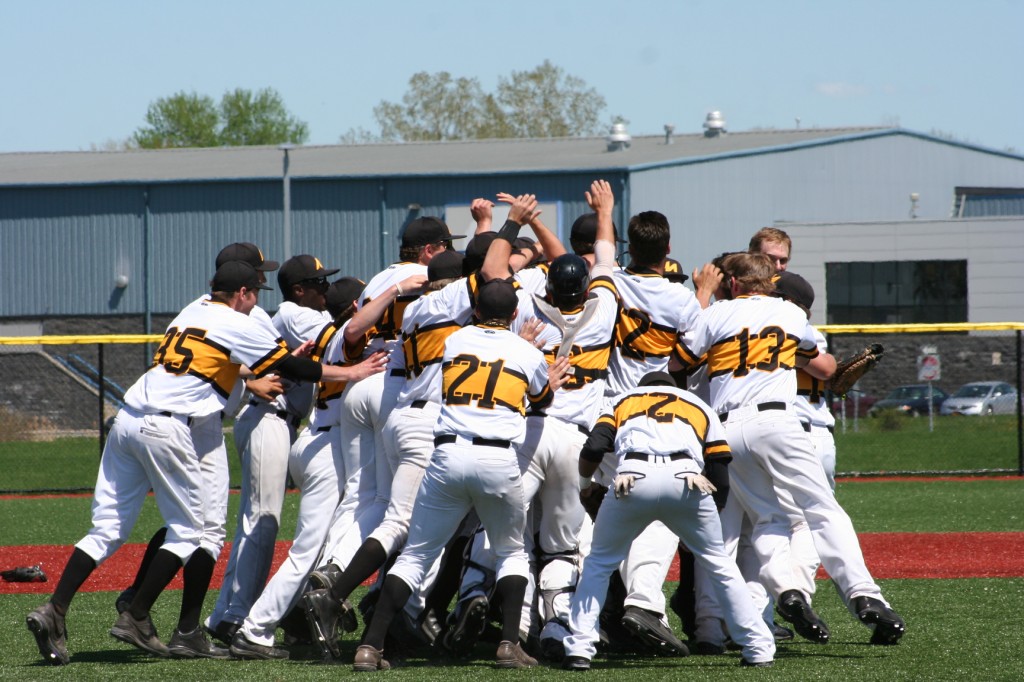 By Paul Gotham
ROCHESTER, NY – Cass Roberts (Canandaigua, NY) hurled seven-plus innings while tournament Most Valuable  Position Player, AJ Kehlenbeck (Oakfield, NY/ Oakfield-Alabama) paced the offense as the Monroe Community College Tribunes never trailed in claiming the Region III Division II championship with a 6-5 victory over  the Mercyhurst Northeast Saints, Sunday afternoon on Tribunes Field.
Roberts struck out six and worked out of pair of jams guiding Monroe to its 23rd Regional crown and fifth under six-year head coach Mike Kelly.
"Six (innings) out of Cass was all I was asking for; all that I wanted," Kelly commented. "He would get into trouble, but he'd get out of it. We had the luxury of having the lead or being tied, so I didn't have to go out and get him."
The freshman allowed five runs (four earned) on nine hits in seven and a third innings of work.
"I felt like they weren't really hitting me," Roberts explained. "I was just trying to keep the ball down and look to our infield to make plays."
Robert was at his best in the third when he got out of a bases-loaded, no outs situation.  Mercyhurst's Collin Mayda (Brooklyn, OH) led with a bounding ball just over the head of Roberts. Garret Rammelt (Westfield, NY) reached when he was hit by a pitch, and Kyle McCray (Saegertown, PA), looking to move the runners with a bunt reached on a single.
It appeared the right-hander escaped the inning when he induced a ground ball. First baseman, Spencer Scorza (Penfield, NY/ Penfield), fielded it cleanly, fired to Kehlenbeck at home and returned to the bag for the throw which looked to beat the runner. But Joe Fontana (Nesshannock, PA) was called safe, and the Saints had a second life.
Rather than giving into frustration, Roberts shifted his focus and looked to minimize the damages.
After a full-count walk to score a run, he got the second out of the inning on strikes. An infield single scored another before the freshman retired the side with a ground ball.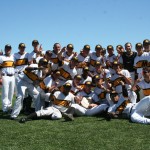 "In that situation if they go up, I probably bring somebody in from the 'pen," Kelly recollected. "Who knows? It could have screwed things up. Cass is a pitcher they haven't seen all year. We've played them 10 times. They haven't seen him once. It was another gutsy performance. He's a really tough kid, and there's not a lot that phases him."
"Working out of trouble was the name of the game," Roberts added. "We were up and it was about minimizing."
Monroe's bats took over from there scoring three runs on three hits in the fourth to grab a lead they never surrendered.
Jalen Dennis (Rochester, NY/ Aquinas) started the rally with a walk and moved to third when Kehlenbeck went with an outside pitched and slapped it into right field. Danny Mendick (Pittsford, NY/ Pittsford Mendon) brought home Dennis with a sacrifice fly. Angel Rosario (Bridgeport, CT/ Bullard Havens) singled through the right side of the infield, and Rayshelon Carolina (Willemstad, Curacao/ St. Jozef Secondary) loaded the bases with a hit through the left side.
Brad Kaczka (Pittsford, NY) plated Kehlenbeck with a single, and Vinny Bomasuto (Dunkirk, NY/ Dunkirk) delivered with a sacrifice fly to deep center scoring Rosario.
Batting out of the nine hole, Rosario had three hits on the day including a bloop single in the second staking MCC to an early 2-0 advantage.
"He is a very pesky hitter," Kelly stated. "He frustrates pitchers. Usually, you look at a lineup and you go seven, eight, nine okay. With us that doesn't mean a thing."
Rosario plated Dennis and Kehlenbeck for the early lead.
Dennis went up the middle with a one-out hit, and Kehlenbeck drilled a shot off the third baseman's glove. Mendick put the runners in scoring position with a sacrifice bunt.
"Coach has a lot of confidence in me," Rosario said. "Runners on first and second, he bunts them over with two outs that helps my confidence at the plate."
Bomasuto came on with runners on the corners and one out in the eighth. The right-hander got the last five outs of the game for his first save of the season.
"Same as Cass, they hadn't seen Vinny this year," Kelly said. "It was important for me to use those two guys. You see so many at bats or pitches from one guy and it's easier to know what they're going to do."
Mercyhurst threatened in the ninth when Kyle Brooks (Akron, OH) led with a single, but Bomasuto got a ground ball that the Monroe infield converted into a 4-6-3 double play.
"Those guys can spin it up," Roberts said of the infield. "I've said it before, those guys can do it. I knew Vinny had it. I wasn't worried."
The Saints scored a run in the sixth when the first two batters reached. They had runners on second and third with an out when Roberts fanned a pair to get out of the inning.
Carolina and Kehlenbeck collected two hits apiece.
Dennis and Kehlenbeck both crossed home plate twice.
Bomasuto and Rosario each drove in two.
Dylan Sheffer (Penfield, NY/ Penfield) earned Most Valuable Pitcher honors.  The freshman scattered six hits and stranded 12 base-runners for his fourth win of the season in Monroe's 7-0 victory over Genesee on Friday.
After losing to Mercyhurst on Saturday, the number one seed Tribunes needed to win just one game to claim the title.
Monroe hosts the Northeast District finals next weekend. Twice, 2008 and 2009, Mike Kelly-led Tribune clubs have won the Districts and advanced to the NJCAA World Series.