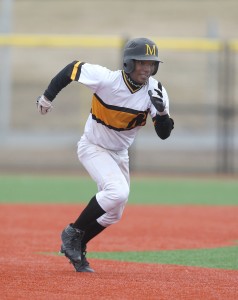 By Paul Gotham
ROCHESTER, NY – The Mercyhurst North East Saints scored three runs on three hits in their final at bat and went on to defeat the Monroe Community College Tribunes, 9-7 in Region III D2 tournament action at Tribunes Field, Saturday afternoon.
Gianmarco Concepcion (Bayamon, PR) brought home Kyle Brooks (Akron, OH) with a sacrifice fly, and Austin Alonge (Westfield, NY) plated Wyatt Montgomery (New Castle, PA) with an RBI single. Angel Martinez (Bayamon, PR) capped the inning when he scored on a Garrett Rammelt (Westfield, NY) ground ball as the Saints staved off elimination.
Monroe sent nine to the plate in the first inning scoring four times.  Rayshelon Carolina (Willemstad, Curacao/ St. Jozef Secondary) singled up the middle and scored from first when a Brad Kaczka (Pittsford, NY/ Pittsford Sutherland) double was mishandled in the outfield. Vinny Bomasuto (Dunkirk, NY/ Dunkirk) followed with a ground ball bringing home Kaczka.
Spencer Scorza (Penfield, NY/Penfield) restarted the rally when he slashed a single to center. Angel Diaz (Humacao, PR/ Geneva) reached on a fielder's choice, and Jalen Dennis (Rochester, NY/ Aquinas) delivered with an opposite field triple to right. AJ Kehlenbeck (Oakfield, NY/ Oakfield-Alabama) made it a 4-2 when he reached on an error scoring Dennis.
But the lead was short-lived.
Mercyhurst touched Monroe starter Zack Melino (Rochester, NY/ Gates-Chili) for four runs in the third. Kyle Brooks (Akron, OH) sparked the Saints with a bases-loaded double scoring Kyle McCray (Saegertown, PA) and Roman Salinas (Struthers, OH).
Melino got past the rough patch and gave the Tribunes a chance to recover. The right-hander set down 12 straight before giving way in the eighth to Jimmy Gutowski (Rochester, NY/ Gates-Chili)
Monroe pushed a run across in the sixth.  Kehlenbeck and Danny Mendick (Pittsford, NY/ Pittsford Mendon) slapped back-to-back one-out hits, and Angel Rosario (Bridgeport, CT/ Bullard Havens) singled up the middle to make it a 6-5 game.
The Tribs tied the score in the bottom of the ninth. Kaczka doubled with one out and moved 90 feet when Mercyhurst shortstop Angel Martinez (Bayamon, PR) tried to throw him out at third on a ground ball by Bomasuto. Scorza followed with sacrifice fly to deep center.
Monroe loaded the bases without an out in the eleventh, but only scored one run.
Carolina had a hit, a walk and scored two runs.
Kaczka scored twice on two doubles in five trips.
Scorza had two hits and an RBI on a sacrifice.
Kehlenbeck went 2-5 with a run scored.
Dennis tripled, walked, scored a run and drove in one.
With all three teams losing one game in the round robin portion of the tournament, Monroe advances to Sunday's championship. Mercyhurst defeated Genesee CC in Saturday's second game and advances to play Monroe. First pitch is scheduled for noon at Tribunes Field.