Tip off at high noon from the Barclays Center in Brooklyn, New York. Four games to decide the Atlantic 10's Final Four.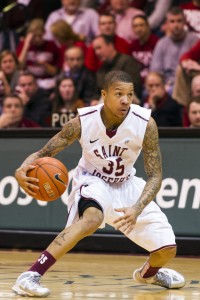 No. 1 St. Louis (13-3/24-6) vs. No. 9 Charlotte (8-8/21-10)
Dwayne Evans (12.9) leads four Bills in double figures followed by Kwamain Mitchell (10.2), Cody Ellis (10.1) and Mike McCall Jr. (10.0).
DeMario Mayfield (11.7) paces the 49ers. Chris Braswell (11.6) and Pierria Henry (10.5) follow.
Ellis scored 18 off the bench as SLU topped Charlotte 76-58 earlier this season.
St. Louis leads the A10 holding opponents to 61.3 points per game. The Bills have a defensive rebounding percentage of 71 percent.
Charlotte gets on the offensive glass to the tune 36.5 percent – good for fourth in the conference.
No. 4 La Salle (11-5/21-8) vs. No. 5 Butler (11-5/25-7)
Ramon Galloway scores 17 a game for the Explorers with Tyreek Duren chipping in 15 and Tyrone Garland adding 12.7 and Jerrell Wright getting 10.2.
Rotnei Clarke (16.8) leads four Bulldogs in doubles with Andrew Smith (11.2), Roosevelt Jones (10.2) and Kellen Dunham (10.1) adding to the good.
Clarke leads the conference in free throw percentage (93.9) and threes made per game (3.3).
La Salle leads the conference in three-point defense holding opposing shooters to just 28 percent from long range.
The Explorers will be playing the tournament with sophomore forward Steve Zack.
No. 2 VCU (12-4/24-7) vs. No. 10 St. Joseph's (8-8/18-12)
Treveon Graham leads VCU with 17. Juvonte Reddic (14.5), Troy Daniels (12.2) and Rob Brandenburg (10.6) add to the total.
Tay Jones scores 14 for the Hawks with Langston Galloway adding 13.3 along with Ronald Roberts Jr (11.4) and C.J. Aiken (10.8).
VCU's turnover of +7.3 is by far the best in the league. St. Louis is second at 4.2.
The Hawks lead the way with nearly six blocks per game. Aiken shares the conference lead with 2.5 Return to Senders per contest.
No. 3 Temple (11-5/23-8) vs. No. 6 Massachussetts (9-7/20-10)
Conference player of the year, Khalif Wyatt (19.9) leads the Owls through their last trip to the A10 tournament.  Scootie Randall adds 11.8 and Anthony Lee chips in 10.3.
Chaz Williams scores 15 for the Minutemen with Jesse Morgan adding 13.4 and Terrell Vinson tallying 12.6 per contest.
Temple's 7.5 threes made per game is good for third in the conference.
UMass tops the A10 handing out 15.7 assists per game.