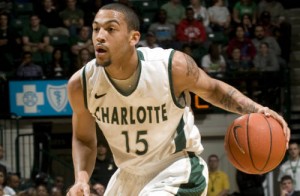 By Ryan Lazo
BROOKLYN, N.Y. — Move over, Big East.
The Atlantic 10 Conference opened up their tournament this afternoon with an No. 8, No. 9 match-up between the Richmond Spiders and the Charlotte 49ers at the Barclays Center and it was a thrilling debut.
After Richmond's Cedric Lindsey made two clutch free throws to put the Spiders up by three with just 5.9 seconds remaining, Richmond decided to foul Charlotte's Pierrria Henry. Henry made his first free throw but on the rebound, Richmond's Derrick Williams threw an elbow and was immediately whistled for a technical, inciting an unbelievable chain of events.
Henry made his now two more free throws to both tie the game and put the 49ers up. Then, Henry was fouled on an inbounds play in which he threw the ball into the air and the referees immediately called for a three-shot foul.
Richmond head coach Chris Mooney lost his cool and was whistled for two technical fouls, making three technicals called in the game's final four seconds. Charlotte converted their free throws and literally stole a victory from the hands of the Spiders, 68-63, in the opening round of the A-10 Tournament.
"I thought it was a hard fought victory, probably the hardest fought win I've been a part of," Charlotte coach Alan Major said. "It was an absolute war. They came out guns blazing and I thought they weren't going to miss a shot."
And Richmond did come out hot, grabbing an early 8-2 advantage when Williams opened up the scoring near his hometown of Harlem, N.Y. with a 3-pointer and Darien Brothers followed up with one of his own.
The Spiders continued to make themselves comfortable in the first half, playing up to their Giant Killer moniker for them playing big in big-time games. Charlotte entered the game averaging 35 points per game in the paint, outscoring 24 of their 30 opponents this season.
However, Richmond was up to the challenge and trailed the points in the paint battle by just two, 14-12 after the first half.
But Major made a halftime adjustment, finding a weakness in the Spiders' defense which led directly to a 12-0 Charlotte run.
Dribble-drive penetration from Henry and others opened up the paint for easy lay-ins under the basket. In fact, Charlotte's 12-0 run in the early stages of the second half gave the 49ers a short-lived 37-35 lead.
And the 49ers did not stop there.
They completely dominated the paint the rest of the way, finishing the game with a 44 to 16 advantage in the paint, out-rebounded the Spiders by a 43 to 22 margin and won the second-chance battle, 21-3.
"That's what we try to do. We stay with it," Major said of his team's interior success. "A lot of the time you don't get too much, but fortunately we had success."
The key for the 49ers? The play of Chris Braswell.
The senior forward was keyed on during the game's opening 20 minutes and was held to just two shots for no points. But he came alive in the second, scoring 12 points on 4-of-7 shooting, including grabbing five offensive rebounds.
However, Richmond coach Chris Mooney said his team still had a chance to win it.
"I am shocked. I don't think we played great, but we did do some things real well. It's a pretty devastating way to lose the game," Mooney said. "I was upset. Probably too upset. I can't take it back right now. I certainly wish I could."
And Mooney's right.
Richmond was in the driver's seat for most of the game because of the play of Lindsey.
The junior guard dropped in a team-high 19 points on 5-of-10 shooting, including hitting four clutch free throws in the final 30 seconds which seemed to seal Richmond's fate. Instead, the Spiders are left to wonder what if, while Charlotte captured their third win in a row.
"Nothing is guaranteed," Major explained. "You are successful when you have a successful act and now that it's over you need to do it again. It's a good time of the year to have three in a row, but we're facing a top 15 team in the country tomorrow."
Waiting for Charlotte is top-seeded Saint Louis in the Quarterfinal round. While the odds may be against Charlotte, many wouldn't have pegged them to have a chance when they were down by three with just 4.7 seconds remaining.
Welcome to March Madness.
Ryan Lazo can be reached on Twitter @RMLazo13