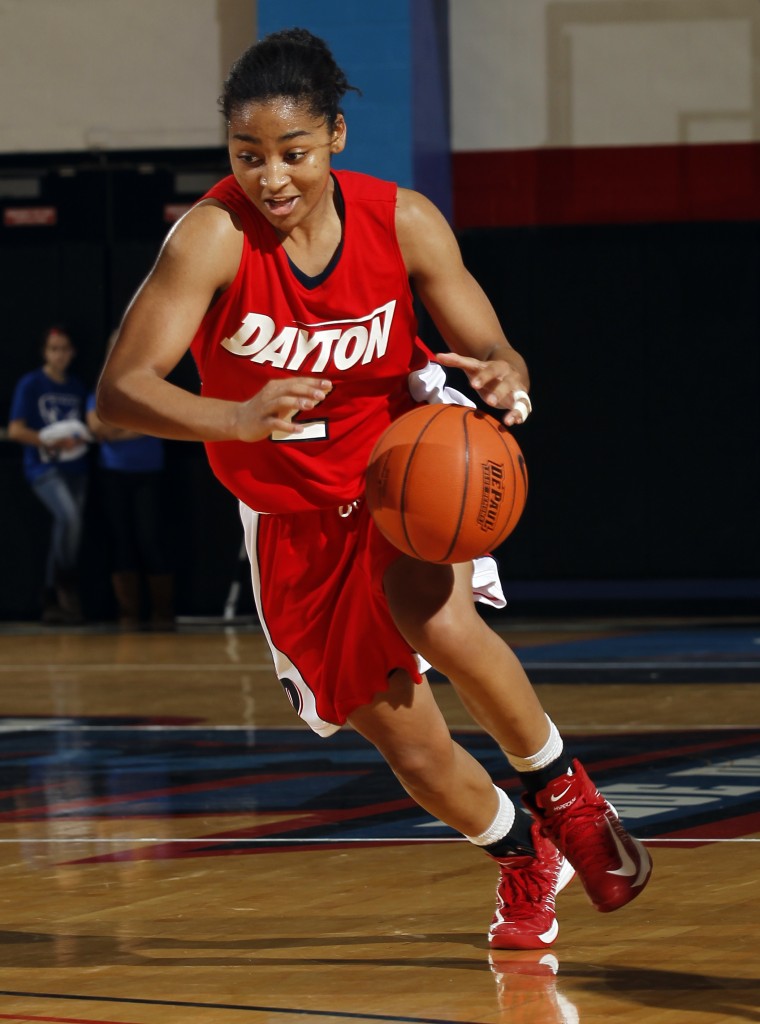 By Aaron M Smith
Philadelphia, PA – Offense wins games, defense wins championships. Whether that is true is an argument that many have waged and few have agreed upon. On Saturday, the Dayton Flyers briefly won that argument utilizing a stingy defense to defeat George Washington in Atlantic 10 conference quarterfinal action, 74-49.
Entering the postseason, the Flyers have been allowing just 57.4 points per game and limiting opponents to 35.4% shooting from the field. That team defense was on full display against the Colonials.
Yet it was George Washington that struck first when Tara Booker grabbed the offensive rebound off a miss by Shi-Heria Shipp for the easy put back and a 2-0 lead.
Dayton quickly responded when Andrea Hoover hit a short jumper to tie the game at 2.
Both teams settled into the rhythm of the game until Samantha Mackay took a pass from Kelly Austria and drilled a triple from the corner to give the Flyers a 14-11 lead with 15:06 to play in the first half.
A steal by Olivia Applewhite on defense led to a pair of the free throws for the senior forward, giving Dayton a 16-11 lead.
Swarming on defense, contesting the dribble, doubling down on the post and getting into passing lanes, the Flyers would hold the Colonials scoreless over the next 5 minutes until a field goal by Anjaleace White stopped the drought for George Washington. During that stretch, Dayton outscored the Colonials by a 12-0 margin to extend its lead to 23-11.
"I thought they (Dayton) did a great job and we knew what was coming," Coach Jonathan Tsipis admitted. "I thought they did a great job of double teaming on the ball screens. I felt like there was times even when we got it out of there, that we were still playing too fast. Instead of catching and looking, we just catch and fire it somewhere else, and at times that is where the turnovers occurred. I thought their interior defense was really good as well."
A block by Cassie Sant led to a jumper by Mackay for a 25-15 Dayton lead.
In the first half, the Flyers held George Washington to just 25% (8 for 32) shooting from the field and forcing 10 Colonial turnovers. Dayton would cash those baker's delights for 10 first half points and lead at the end of the first stanza, 43-21.
"I felt that our defense intensity was right on point," Coach Jim Jabir confirmed. "I think it dictated the game and I was really pleased with our intensity. I think it created a lot of offense for us."
Dayton's defensive intensity continued in the second half when Amber Deane, who sat most of the first half with two fouls, intercepted a pass and drove the length of the floor for the easy lay-up, 45-23.
On the ensuing possession a steal by Ally Malott lead to another Deane lay-up, putting the Flyers up for good, 47-23.
For the game Dayton forced 23 George Washington turnovers, and held a 21-10 advantage in points off turnovers.
George Washington shot 32.2% from the field for the game and was 3 for 11 from behind the three point line.
Flyers freshman Jodie Cornelie had five blocks in just 17 minutes of playing time.
#1 seed Dayton faces #4 seed Saint Joseph's Atlantic 10 semi-final action on Sunday. Tip-off is scheduled for 1:30 pm.
Aaron Smith can be reached on Twitter at @PicknSplinters.