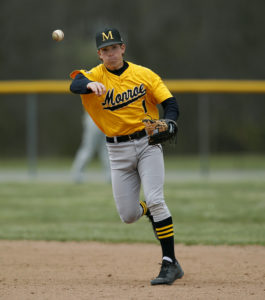 By Paul Gotham
ROCHESTER, NY – With a new field and a new lease on life, the Monroe Community College baseball team looks forward to the start of the 2013 season. The Tribunes will be on the tarmac Thursday morning heading to Arizona. There, three time zones away, the Tribs' season will take flight.
MCC opens against the Malone University JV team on Friday, March 8th. It will be the first of fourteen games in nine days.
"It's going to be good," said sophomore Spencer Scorza (Penfield, NY/ Penfield).  "I'm looking forward to it. We go out there and it's beautiful for ten days."
The Tribunes follow the season opener with a tilt against the Marian University JV before playing both the University of Arizona club team and Miles Community College on Sunday.
"It helps us get even closer than we are now, commented sophomore infielder Brad Kaczka  (Pittsford, NY/ Pittsford Sutherland) We're working a lot now. We're spending a lot of time together now, but it's nothing like Arizona."
The Arizona trip includes contests against several teams familiar with the national rankings.  On Wednesday, March 13th the Black and Gold square off with Scottsdale CC (no. 3 D2) and Cochise College (no. 3 D1).
"We go to Arizona and play teams that are really good," explained Danny Mendick (Pittsford, NY/Pittsford Mendon).  "Maybe we'll get torn up a game or two, but we're going to bounce back."
Monroe's trip to the Grand Canyon state is the third in as many years.  This time it's a little different.  The Tribunes open this campaign as hunter instead of the hunted.
The denizens of East Henrietta Road fell 8-4 to Mercyhurst NE in the Regional finals last May.  After a seven-year stranglehold on the Regional title, the Tribs came up short.
Something that doesn't rest well with the returning players.
"Coming out of last year, we were definitely disappointed," Mendick stated.  "I definitely learned how to lose. I took it in a good way and sorta bounced back from it. It taught me a lot. I feel like this year is definitely going to be a great thing."
Monroe posted a mark of 20-24 in 2012. Twelve of those losses occurred in Arizona. When the Tribs, minus their starting catcher, Brian Dixon (East Amherst, NY/St. Joseph's), and short on pitching, struggled out of the gate.
"It hurt us last year," sophomore pitcher Jimmy Gutowski said of the trip.  "We had to struggle just to get back to .500 after that."
This year the Tribune pitching staff is healthy.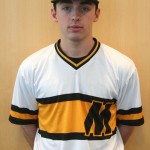 "We are much deeper (than last year), but we don't have two front line guys," explained head coach Mike Kelly. "Ever since I've been here I don't have a one, two, three or four. I just have 12 pitchers. If their arm is rested, and I need outs, they might have to go out and do it. Do we have guys who are better than others? Yeah. But it's all going to be based on who we're playing and what we need to do and accomplish.
Backing up that staff, Kaczka, Mendick and Scorza return to solidify the infield, and former Gold Glove winner A.J. Kehlenbeck (Oakfield, NY/Oakfield-Alabama) will make a comeback to the lineup.
"We're excited that he's back," Scorza said of Kehlenbeck.  "He's a leader on and off the field."
Kehlenbeck joined former Cory Brownsten ('07, '08) as recent Tribune catchers to claim the NJCAA Division II Rawlings Gold Glove Award. The 6-1, 205 pound back stop threw out 22 of 49 potential runners for Mike Kelly's 2011 club.
"Having a guy that can completely shut the running game down allows everybody to relax," noted Kelly, the sixth-year head coach.  "He can throw a guy out on a breaking ball."
Mendick knows the value Kehlenbeck adds to Monroe infield.
"Having him out there you know he's going to throw out 98 percent of the guys. It's pretty nice to have that. He knows what's going on at all times. He will keep everyone in line.
In one word Kehlenbeck described Monroe's infield.
"Awesome."
Jalen Dennis (Rochester, NY/Aquinas) and Joe Mesi (Orchard Park, NY/ Orchard Park) will share duties at the third to shore up the infield.
"Guys that click in the infield, especially right up the middle, it's everything," Kehlenbeck added. We work well as a team as a whole, one through nine. As long as we can swing it like we've been swinging it, I think we should do real well."
Caribbean import, Rayshelon Carolina (Willemstad, Curacao/St. Jozef Secondary) bolsters that up-the-middle defense. The speedy outfielder will roam center field for the Tribunes.
Monroe hosts Mercyhurst on March 21st in a re-match of last year's Regional final.  One week later on March 28th the Tribsl officially unveil their new field with a ribbon-cutting ceremony when Finger Lakes CC comes to town.
It's the first of nine double-headers scheduled on MCC Field this spring as the Tribunes seek to re-establish themselves as the team to beat in the Western New York Athletic Conference.
"I really want to prove to everyone that it was just a fluke year, and that we're better than that," Kaczka stated.  "I want other schools to be afraid of playing MCC."
Kaczka played 38 games last summer for the Sherrill Silversmiths of the the New York Collegiate Baseball League. He hit .280 with four home runs and 20 RBI.
Genesee Community College visits East Henrietta Road on Tuesday, April ninth and Thursday, April 25th with Mercyhurst returning on Thursday, April 11th.
"We'll definitely be better this year," Scorza added.  "I can guarantee you that. It's really about having more arms to keep us in games longer."
In all Monroe has 26 scheduled games between the time they return from Arizona and the end of April. The spring ledger ends with a twin dip against the Ontario Terriers on Saturday, April 28th. Then it's on to the Regionals.
Celebrating the new field, the Tribunes will don throwback uniforms on special days. These unis will hearken back to the 70s when MCC Hall-of-Famer Dave Chamberlain skippered the club.
Brownsten along with teammate Patrick Urckfitz led Monroe to a third-place finish in the 2008 NJCAA World Series. The duo along with Tim Redding ('97) are the three current Tribunes playing minor league baseball.
In all, the Tribs have earned 29 draft selections in the program's 48-year history. This number does not include players like Greg Keagle and Brownsten who went on to four-year schools before being drafted.
Keagle finished his college career at Florida International before the San Diego Padres made him a sixth-round pick.  He made 23 starts and 46 appearances over three seasons for the Detroit Tigers.
During a seven-year span in the 70s, a dozen Tribunes earned 14 draft picks. Peter Castle led off for Monroe when the Pirates chose the right-hander in the sixth round of the June 1970 draft. Two years later, the reigning World Series champion Bucs took Al Dreschler in the seventh round. Charles Steffen heard his name called twice the following year — first in January by the Bucos and then in June by the New York Mets.  The denizens of Three Rivers also took Bill Muoio in the 11th round of the January selection.
The Tribs made a splash in 1974 when four MCC diamond men were taken. The Pittsburgh nine chose John Pilato (4th round), Robert Harold (5th), James Del Re (6th) and Randy Law (10th) in the January draft.
In 1976, the Cincinnati Reds chose Tom Dimino (17th), and the Cleveland Indians took James Johnson (11th).
Ken Lelek accounted for three of those draft picks. The Montreal Expos tabbed the right-hander in the 1975 January draft. The Chicago Cubs took Lelek in June of that same year. Pittsburgh chose Lelek the following June.
Former MCC assistant coach Dave Brust signed with the Atlanta Braves in 1989 and played three years in the organization including two for the Durham Bulls under the direction of head coach Grady Little.