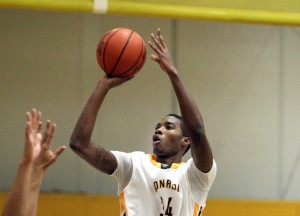 By Paul Gotham
ROCHESTER, NY – Jonathon Velez-Rivera is no longer a secret. After spending much of the season in relative quiet on the bench, the sophomore guard has become the focus of the MCC Tribune offense.
The challenge now for opponents is to keep Velez-Rivera's teammates from getting him the ball.
Velez-Rivera (Bayamon, Puerto Rico/Seneca Valley) paced a stout offense as the Monroe Community College Tribunes defeated the Eric Community College Kats, 98-89, Sunday to claim the 2013 Region III D2 title.
Velez-Rivera connected on eight-of-11 attempts from behind the arc en route to a team-high 26 points.  His three with 13:10 remaining in the game pushed the MCC lead to nine at 69-60 and forced an Erie timeout.
"That was the difference," said Monroe head coach Jerry Burns. "It put us in the right direction."
Velez-Rivera started the play on the defensive end when he grabbed a loose ball and led Jahvari Josiah (Brooklyn, NY/ Beach Channel) into the open floor. As Josiah drove into the paint, Velez-Rivera spotted up in front of his team's bench. Josiah drew the defense and kicked it to the wing for the wide open trifecta.
"I thought that was the turning point in the game," Burns continued. "They had to call a timeout.  The crowd got into it , and everyone was going insane."
"Everybody knows he's a good shooter," Josiah commented. "Coach always drills it into our heads that we got to make the extra pass…It was natural."
Coming out of the timeout Monroe pushed the margin to double digits when Ta-Quan Zimmerman (Waterbury,CT/Holy Cross) found Greg Williams (Cincinnati, OH/Priceton) open under the basket for a lay-in.
Reuben Berry (Bronx,NY/Danbury) scored at the rim. Velez-Rivera nailed two more bombs, and Monroe was on its way with a 79-68 lead.
"He's a perfect example of taking advantage of the opportunity," Zimmerman said of his teammate, Velez-Rivera. "He's coming from the first half of the season and not playing much at all to when he got his chance, he took advantage. Now, he brought his minutes from three to 20-plus minutes. A lot of teams play zone, so once he gets going and shoots teams out of zone, they have to go man up. Then it's pretty much over."
As it has been for the last eight games, Velez-Rivera triggers the momentum from long range, and Arnold Fripp, Jr. (Brooklyn, NY/Brooklyn Collegiate) capitalizes on the interior.
"Once he started to get his confidence up, coach started to play him more minutes," said Fripp, Jr., the tournament Most Valuable Player. "He knocks 'em down, and defenses send two people at him. That leaves the post open for me. Coach said 'feed him and go to work.'"
Fripp, Jr. tallied four of his 17 points on consecutive trips with less four minutes left on the clock. The sophomore finished at the rim then took a Tashawn Desir (Brooklyn, NY/Nia Prep) dish off on the next trip for a lay-up, and a 95-84 Monroe edge.
"Just a typical Fripp game," Burns commented. "When we go spread, he's a very difficult person to defend. He's got good hands. He can finish. He's a good free throw shooter. When we go out-of-bounds, we roll him back to the basketball, he gets fouled. He can make his free throws."
Monroe had 25 assists on 35 field goals.
"That's been the nature of our play all year," Burns stated. "Unselfish. We did not have one guy make the All-Region first team. Not one.  Our guys have sacrificed. They share the ball."
Zimmerman had a game-high nine assists while committing just one turnover.
"He played 31 minutes," Burns explained. "You must control the game, and that's not in the stats. They trapped him. He made the right pass. He took care of the basketball, knew when to pull it out."
Zimmerman finished with five points and five assists.
"Stats don't say he played a great game," Burns added. "But he played a great game."
Monroe's defense held Erie to five-of-16 (31.3 percent) shooting behind the arc including just one-of-12 in the second half.
"We gave up a lot of points," Burns explained. "But they were tough baskets. That's what we wanted to make them do."
Velez-Rivera sparked a 14-5 run to close the first half as the Tribunes took an eight-point lead into halftime.  The sophomore guard, known for his three-point threat, went into the post and hit a turnaround jumper.  After Josiah converted one-of-two free throws, Velez-Rivera got back to his comfort zone and nailed his second three of the first 20. On the next possession, Erie's defense extended, and Velez-Rivera responded with a deep trey for the 48-40 count at the break.
Erie jumped to an early six-point edge. Devon Elliott (Brooklyn, NY) finished a tap in and hit a free throw line jumper for a 6-2 lead. Keron Briggs (Buffalo, NY) went end-to-end for a layup and an 8-2 EEC lead.
Malcolm McNair (Jacksonville,FL/Samuel L. Wolfson) cut the margin in half with a pull-up three.
Isaiah Jefferson (Buffalo, NY) pushed the lead back to six with a 3-ball from the left corner.
Erie took their largest lead of the half when Emanuel Hutcherson (Milton, MA) scored on a tap in for a 22-15 lead.  Jefferson hit another three for a 25-18 lead.
The Tribunes responded from there. Feeding the post, Monroe took advantage at the free throw line. Reuben Berry (Bronx, NY/Danbury) connected four times from the charity stripe. His fourth tied the game at 31.
Monroe took its first lead of the affair when Josiah curled off a screen into the lane and drew contact. One of two free throws later and MCC led 32-31.
Velez-Rivera hit nine-of-12 from the field. For the first 17 games of the season he had moderate success.  He crashed the scene on January 17th when he hit eight-of-nine in a 106-58 drubbing of Genesee CC.
McNair hit five-of-nine behind the arc and added 19 points.
Josiah chipped in 15.
Along with his 17 points, Fripp, Jr. tied for the game-high with nine rebounds.
Elliott led all scorers with 30. Jefferson followed with 17. Briggs added 14, and Rayshawn Sumlin had 11.
Josiah and Velez-Rivera joined Fripp on the All-Tournament team.
Elliott and Jefferson represented Erie CC.
Niagara County CC's Ethan Baker (Wilson, NY) also grabbed All-Tourney honors.
It was the fourth meeting of the season between the two teams with Monroe claiming victory in three of those contests.
The title was the 10th in MCC program history and ninth under Burns. The Tribs have claimed the title six times since 2005.
Monroe will host the Community College of Rhode Island next Saturday for the District 2 Championship. Game time to be announced.