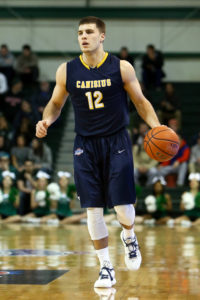 By Paul Gotham
BUFFALO, NY – He has shown himself as a more than adept playmaker. With five-plus assists per game, Billy Baron leads the Metro-Atlantic Athletic Conference in that category.
For 35-plus minutes Thursday night, the junior point guard continued in that endeavor with just moderate success.  It's not that Baron wasn't getting the ball into the hands of his teammates. He was, but the Golden Griffins struggled to find any consistent rhythm. Their largest lead to that point consisted of just four points.
Five minutes remained in regulation, and the 10-win Griffs trailed the three-win St. Peter's Peacocks.
Billy Baron shifted gears. Instead of making plays for others, he made plays.
Baron carried the Griffs tallying 13 of his team's final 21 points in a 77-65 overtime triumph.
With Canisius in the double bonus, Baron scored on back-to-back drives in the extra period to stake his team to an eight-point lead.
"He put pressure on the defense, said Baron's teammate, Harold Washington. "They were a little tentative to foul him. He got to the rim and made plays."
Baron used a Chris Manhertz pick at the top of the key, eluded a defender with a crossover dribble and weaved through traffic before kissing the ball off the glass for a 71-65 lead in extra time.  One possession later, he found the slightest of openings and used a quick burst of speed from the wing to get to the rim for the deuce.
"The difference in the game was Baron," said St. Peter's head coach John Dunne. "He's just a very good player. He knows how to play. He knows how to take it over when he needs to."
Baron scored the final five points in regulation for the Blue and Gold. He leaned into contact on a jump shot getting to the foul line where he converted twice.
He followed that with a pull-up three to give a Canisius a short-lived 61-58 edge. Coming out of a timeout, Baron dribbled off a stagger screen created behind the arc by Manhertz and Josiah Heath. With the defense expecting Baron to feed his teammates, he let it fly.
"The thing about him is he makes the right plays," Dunne continued. "If the pass is what he needs to do, the pass is what he does. As a coach you're always trying to preach to your team to make the right play. He makes the right plays."
Baron finished with a game-high 23 on seven-of-13 shooting from the floor including two-of-five behind the arc seven-of-nine at the free throw line.  He iced the triumph with a pair of charity tosses in the final minute of overtime.  He handed out four assists without committing a turnover.
"He made plays," Canisius head coach Jim Baron said of his son and star point guard. "They (St. Peter's) were very physical, very aggressive, and he made some terrific plays to the bucket. I couldn't be more proud."
With the win, Canisius improved to 11-6 and sits deadlocked in a three-way tie with Rider and Loyola one game behind first-place Niagara in the hotly contested MAAC race.
"This is what we came here for," Billy Baron said when asked about the possibility of claiming the MAAC title. "This is why we came together. This is what we've been talking about every single day. Obviously, you want to win the MAAC championship, but along the way we want to win that regular season title. A lot of things have to go our way…Niagara is a great team. You know they're going to bounce back."
The scenarios to decide the top of the MAAC number as many aas Kardashian trysts. Canisius needs to win its final regular season contest against Rider. The Broncs visits Canisius Saturday afternoon. A 2 p.m. tip time is scheduled at the Koessler Athletic Center. The Broncs are coming off a 68-59 triumph over Niagara.
"I hope we can sell the place out," Jim Baron commented. "I went to the student body right after the game to thank them because they've been terrific all year. We hope that we can really get this place humming because they're (Rider) coming off a great victory over Niagara."