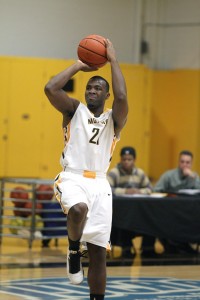 By Paul Gotham
ROCHESTER, NY – More than 300 miles separate the campus at Monroe Community College from Westbury, Connecticut. Gerry Burns learned the route not too long ago when he made the round trip…twice.
With the opportunity to sign a prized recruit the head men's basketball coach headed east on the New York State thruway. He returned to MCC just long enough for Ta-Quan Zimmerman to tour campus and complete the necessary paperwork before heading back to the Constitution State.
For Zimmerman, the nearly 700 miles travelled in less than 24 hours couldn't have seemed like much. In just a few short years, the young man has gone from southern Connecticut to the northeastern part of the state, to Brooklyn and on to West Burlington, Iowa before returning home and finding his way to Rochester, New York.
It's a trip of more than a thousand miles, but a journey taken to reach hardwood dreams. A trek rerouted by more than a couple of setbacks.
"We spent way more time on the road than we did on the campus here," a smiling Zimmerman said when thinking back to his first visit to Monroe.
He wasn't supposed to play Junior College basketball. After a successful high school career at Holy Cross in his hometown, Zimmerman went north to play a year in prep school at Putnam Science Academy.  He seemed on track when he earned a spot as a partial qualifier at Long Island University-Brooklyn in the Northeast Conference. He was to spend a year practicing with the team and getting acclimated to college life.
A spot in the Blackbirds regular rotation was well within his reach when Zimmerman tore the meniscus in his left knee. His role with LIU which was certain at one time turned tenuous. Zimmerman had second thoughts.
"They told me I was going to be the guy. I really don't blame them. They thought I wasn't going to be able to get back to where I was at before I went down."
The LIU-Brooklyn coaching staff brought in another guard. Zimmerman got the feeling the staff's priorities changed.
"It was just a setback. It slowed me down, but it wasn't going to stop me."
He made a decision to transfer.
There was no way of knowing what the future held for him.
He headed to Iowa where he found a spot on the Southeastern Community College team. Things started well. The Blackhawks won 10 of their first 12 games.  Zimmerman had the attention of a few four-year schools – Bradley and Northern Iowa to name a couple. He looked forward to the conference season when the Division 1 schools would get a better chance to see him play.
Semester break hit, and Zimmerman's path took another detour.
On the night before he was to leave campus and head home for the holidays, 12 of his teammates were caught on tape breaking into the campus bookstore. When he returned, eager to play, Zimmerman found his season taken away. The 12 teammates were removed from the team and school. The season cancelled.
"It was very hurtful," Zimmerman said when thinking back to the experience.  "I got something taken away from me, and I didn't do anything. I wasn't part of it, but there was no basketball team, so we couldn't play. As far as transferring, I wouldn't be able play in any games. I was only able to practice. It was like the season was just stripped away from me."
"It hurt the community," Zimmerman continued. "There were 700 people who had season tickets. They had to give them all their money back. It was very disappointing to the whole town."
As far as being recruited?
"They were waiting for me to come back from the break," Zimmerman said. "It suddenly just stopped."
He returned home, took classes at nearby Nagatuck Valley CC and waited, but he didn't feel sorry for himself.
"I have a dream that I want to accomplish," Zimmerman explained "That is to play Division 1 college basketball. Basically, I'm going to do whatever it takes until I play."
It is a dream young Ta-Quan expressed to his father, Duval, before the elder Zimmerman passed away when Ta-Quan was just nine years old.
"That's one thing that has been in my heart. That's why I have never given up."
As a youngster, Ta-Quan "Tootie" (the nickname given to him by his aunt) Zimmerman carried that dream with him on the streets of Waterbury. Just an hour north of New York City, the city with a population of 110,000 has some of the highest crimes rates in Connecticut.
Basketball became "Tootie's" vehicle to steer away from those trappings and temptations.
Currently, he is tied with Arnold Fripp, Jr. (Brooklyn, NY/Brooklyn Collegiate) for Monroe's team lead with 11.3 points per game. His 6.1 rebounds per contest top the Tribs while 3.1 assists follow only Kenny Johnson(4.0) (Philadelphia, PA/Abington Friends) and Tashawn Desir(3.2) (Brooklyn, NY/Nia Prep).
"For me it's not really the stats," Gerry Burns explained. "It's just the maturity that he brings. He is one of those kids, and it's such a hard thing to teach, he is willing to make the sacrifice."
That sacrifice was on display last week as Monroe clinched the top seed in the upcoming Regional tournament.  The 6-2 guard took just two shots (made both) while grabbing five rebounds in 18 minutes of playing time as the Black and Gold dismantled Jamestown CC, 77-58. He followed that with an 11-assist, seven-rebound and four-point performance in a 97-75 win at Mercyhurst.
The team's leading scorer was willing to let his teammates take over.
"That's what makes him so valuable because he is willing to sacrifice," Burns continued. "In this day and age, there aren't a lot of kids who want to do that."
That sacrifice breeds confidence among his teammates. In Tuesday's victory over Jamestown, Zimmerman caught a pass with his back to the basket. A defender and nine feet stood between him and the basket. It could have been a turnaround, upfake and step through for a deuce. Instead, "Tootie" glanced over his shoulder and saw Reuben Berry (Bronx, NY/ Danbury) standing at the opposite block. When Berry cut across the lane, Zimmerman hit him in stride with a behind the back pass. A quick flick of the wrist from Zimmerman, and his teammate went to the free throw line.
It was a play that only happens when teammates trust each other.
For Burns, Zimmerman's presence goes beyond the court.
"Besides the basketball, I want, and I tell my son this, I want good players, good, quality kids. I want my son to see and be around those guys. I don't want him to be around a kid who is going to show him bad habits."
Next stop on the journey for "Tootie" and his teammates is this weekend's Region III Tournament on George Monagan Court.
"We worked hard for it all season."
A 1 p.m. tipoff is scheduled Saturday as Monroe (26-3) hosts Mercyhurst (15-14).
"Tootie" and the Tribs will look to advance to Sunday's final.