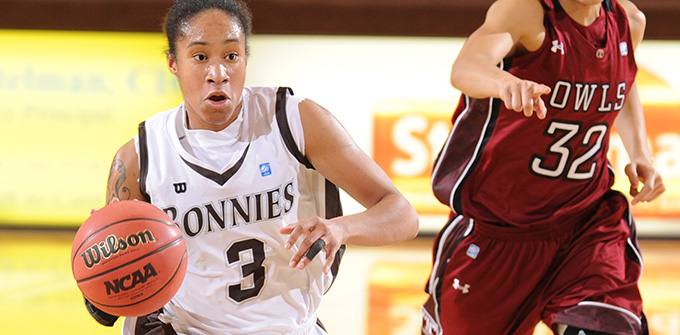 By Aaron M Smith
ST. BONAVENTURE, NY – Statistics.  The mere mention of the word in a classroom would make most cringe and run for cover.
For sports enthusiasts it is a connection to our sport, our team. Chose your sport it doesn't matter, we use it to justify our team signing a free agent or an athlete's career.  How many points did they score per a game? How many rebounds a game do they average?  How many assists did they have in their career? In the end, we use statistics to benchmark players to help determine whether they belong in the Hall of Fame. Everywhere you turn, sports and statistics go hand in hand.
Yet there are athletes on every team that mean more then what the statistics tells us. Whether it is doing the little things on the basketball court, the dirty work, how they practice, how they lead on and off the court, their passion – the list goes on.  One such player has called St. Bonaventure home for the past four years, guard Alaina Walker.
At first glance the Pomona, NY native's career numbers are respectable – 760 career points, 595 rebounds, 190 assists and 107 steals. During her four years, Walker has played in 125 games, starting in 91 of them , including an impressive 81 consecutive starts streak that was snapped on January 13th against Temple. The senior was named to the 2011-12 Atlantic 10 All-Defensive team and is a favorite to earn that honor again this season.  Yet if you ask anyone in the Bonnies program, they will tell you that her value to the Bonnies extends beyond the numbers.
Did Coach Jim Crowley know what he was getting when he recruited the 5'9" guard?
"We knew we were getting a guard with really good size, really good athleticism and played really hard, "Crowley recalled. "We have always had good guards but we have never had one with that combination of size, athleticism and effort.  So we were really excited to be able to get someone like Alaina with those qualities, thought she would be a pretty good player for us and certainly she has exceeded our expectations with what she has done in her career."
As part of the recent success of the Bonnies' program, it has been well documented regarding the system put in place by Coach Crowley and his staff. Predicated on offensive efficiency, a large emphasis is placed on tough defense and limiting the opposition's scoring chances. Turnovers created on defense lead to easy offense.  During her four years, Walker has often taken on the task of guarding the opposing team's best player, and making her assignment work for every single point.  You can make the argument that the senior has been the prototype player in Coach Jim Crowley's system.
"I talk to her (Walker) all the time about how at the point (position) you need to have winning intangibles," Coach Kate Achter stated. "Those are the things aren't necessarily measured on the stat sheet. Alaina is not going to give us 20 points a night but she will go get us six, seven, eight rebounds and she is going to play defense as hard as she possibly can.  She is going to bring us energy and she is going to be the first person to pick her teammate off the floor. Those are the things we have needed more than anything this year."
 But before the Brown and White take the floor for a game, Alaina Walker has made her presence felt in practice and during the off-season workouts. Just ask former St. Bonaventure star, Jessica Jenkins:
"She (Walker) probably had as much effect on my progression as an offensive player than the work I put in during the off-season,"  Jenkins admitted. "Seeing the league's best defensive player (and she is) day in and day out in practice makes games so much easier because no one on the other team has Alaina Walker to guard you.  Because she doesn't take any plays off, you can't either and that became extremely important for us, last year especially."
Coach Crowley quickly agreed, "That is a great value of Alaina and something we are probably going to miss next year. More than anything other than game day is what she does every day on the practice floor. There is not a day off. Every day, every drill she is going full speed and challenging people and demanding that you work very hard."
Even during a season of transition, that work ethic has been vital to the growth and development of the six freshmen on this year's team. Walker has been quick to embrace the role of mentor for her young teammates, passing along the standards and expectations set within the program.
"She (Alaina) has been a great leader on and off the court," freshman Emily Michael confirmed. "She is always asking me, directing me and telling me what I need to improve on going forward. She is just a great leader."
Junior forward Doris Ortega added, "She is energy, even when she is not even on the court, even when she isn't playing.  That is something she has brought to the program and the freshman who came in – she is picking them up every day in practice. She is a great leader."
There won't be a post season this year for the St. Bonaventure women's basketball team. Many who have watched this year's team agree that the future is bright. Yet Sunday's home game against LaSalle marks the final game in Alaina Walker's St. Bonaventure career.  Tip off is scheduled for 1 p.m. and be sure to be there to show your appreciation for both this Bonnies team, but also for Walker. While the sun may be setting on her career at Bonas, it will never set on what she has meant to this program.
Aaron Smith can be reached on Twitter @Picknsplinters