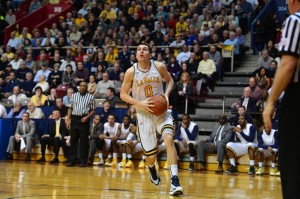 By Ronak Patel
PHILADELPHIA — LaSalle's sophomore center was not like most players coming from the high school ranks to the college game.
He was honestly expecting to redshirt his freshman year. But as is the case in today's game, players come and go with the same frequency as reality TV shows.
So when talented big man Aaric Murray transferred out of LaSalle in 2011 after two productive seasons, there was a massive opening on the Explorers' frontline.
Last season, LaSalle ended up winning 21 games, the most the program has won since the famous 1989-90 team led by Lionel "L-Train" Simmons that were victorious 30 times against just two defeats.  Zack played in 32 games off the bench and averaged 1.4 points and 2.3 rebounds a game.
While his sophomore interior teammate,  Jerrell Wright — the talented performer from Philly's Dobbins Tech, the same high school that produced college legends Bo Kimble and the late Hank Gathers — was garnering playing time and performing at high level last year (9.8 points, 5.6 rebounds), Zack knew he had to go to work over the summer to become a bigger piece of LaSalle's performance this season.
"Coach (John Giannini) worked me out a lot over the summer," Zack said. "I know more was expected out of me this year."
And as this season heads into bubble-busting banter time across the country, Zack is having an enormous impact on his team's play. Zack has started 18 out of the team's 25 games and his averages have jumped to 6.5 points and team-leading 6.5 rebounds a game while playing 23 minutes per contest. A far cry from the nine minutes he averaged last year.
LaSalle is also enjoying potentially its finest season since the Simmons' bunch as they sport an 19-7 overall record and 9-4 record in the Atlantic 10, good for third-place tie with Butler and one game behind VCU (10-3).
"I think the biggest improvement you can look for in a player is from his freshman season to his sophomore season," Dr. John Giannini said. "We really expected Steve to make a big jump."
Giannini also mentioned that Zack, who played prep ball at Red Land High School in New Cumberland, Pa., had to adjust to playing against players his own size in college after having his way against smaller players in high school.
"He's a guy who was pre-judged by a lot of people," Giannini said. "They looked at him as a freshman and playing against guys his own size for the first time, they though 'he's just ok' — well, he's better than ok."
The Explorers have one of the country's best guard arsenals, led by senior Ramon Galloway (17.3 points, 3.8 assists), junior Tyreek Duren (14.6 points, 3.4 assists), junior Tyrone Garland (12.1 points) and feisty junior guard Sam Mills (7.9 points).
But with an improved Zack and Wright continuing to play at a high level as a sophomore (9.8 points, 6.2 rebounds), the Explorers are a well-rounded team that can play effectively inside as well.
Zack's new-found confidence in his game was no more evident than in last Saturday's 76-64 victory over Big 5 rival St. Joseph's at the Palestra. Zack, despite committing five turnovers, played an effective 25 minutes and made all four of his shots for eight points and snared five rebounds.
Most importantly, his defense along with Wright's play (10 points, 7 rebounds) offset St. Joseph's vaunted frontline of CJ Aiken (8 points, one rebound) and Robin Roberts, who despite scoring 13 points was pestered all afternoon by Zack and Wright.
"Before the national anthem, I told them their guys think they are better than us, period," Galloway said. "(Steve and Jerrell) stepped up in a huge play, with extra plays, extra rebounds, blocked shots, and they've done that all season."
Zack said his knowledge of the game is much advanced now than coming in as a freshman. Also, by playing last year, he was able to work out the kinks and know what he had to work on over the summer. From his post positioning to his ability to set screens and roll to the basket, Zack has become an efficient member of the team on both offense and defense.
"I would say it's the general knowledge of the game," Zack commented on what he has improved on most. "In high school, I could stand under the basket and do whatever i wanted."
Zack continued, "In college, you have to learn all the fundamentals and learning to move without the ball and find the spot where your teammate can get you the ball or setting the right screen. And on defense, you have to have good box out technique and getting in proper position to make a play on the ball without fouling."
The sophomore started the season on a high note scoring 19 points and collecting 8 rebounds in the opener against Delaware, a 73-66 win. He's collected four double-figure rebound games as well.
"Steve is always in the right place at the right time," Giannini said.
Zack was in the right spot when Murray transferred and for LaSalle, it couldn't have worked out any better.