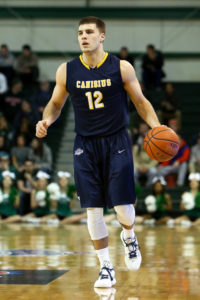 By Paul Gotham
LEWISTON, NY – "Daddy's Boy! Daddy's Boy! Daddy's Boy!"
The chant rained down from the Niagara University student section.
"Daddy's Boy! Daddy's Boy! Daddy's Boy!"
Barely audible for much of the first half as the Canisius Golden Griffins built a 16-point lead and carried an 11-point advantage into the break, the chant gained momentum in the second stanza.
First came a rumble as the Niagara Purple Eagles turned the double-digit deficit into a single-possession game. Rumble reached crescendo when NU went ahead in the game's final moments.
Then, just as soon as it reached an apex, the chant and Niagara's momentum, came crashing back to earth with a thud as loud as Billy Baron hitting the floor after a made layup.
Billy Baron posted a career high as the Canisius Golden Griffins (16-9/10-5) avenged an earlier defeat with a 77-70 triumph over the Niagara Purple Eagles (14-11/10-4) in Metro-Atlantic Athletic Conference action Sunday afternoon at the Taps Gallagher Center.
After falling behind for the first time since the 17:34 mark of the first half, Baron tallied nine of his game-high 33 points as the Golden Griffins kept pace in the frenzied MAAC.
Two weeks after surrendering a double-digit lead in a one-point loss at home, Billy Baron made sure of victory this time.
"He was pretty upset," Canisius head coach Jim Baron said of his son. "He played so hard to try to finish that game. He's a competitor, and I couldn't be more proud not only what he did there, but he rebounded, he made his free throws and played very good defense as well."
Billy Baron's layup in traffic broke a 64-all tie and gave Canisius the lead for good. The 6-2 guard finished at the rim and was sent to the floor in front of that Niagara student section on a clean but hard foul by Devon White.
"You got to bring it especially in a game like this," the younger Baron said. "We understood the importance of this game. They're a first place team. I guess Canisius hasn't won here since '02. We felt that we were capable coming in here to get this win."
Trailing by 13 with less than 15 minutes remaining, Malcom Lemmons came off the bench and sparked the Purple Eagles.
The junior guard finished a layup in transition when Juan'ya Green hit him with a pass ahead of the defense.  At the other end, Lemmons got a steal and tapped it ahead to Green for a basket.
After a pair of Green free throws, Lemmons drove the baseline. When the defense rotated to take away his lane to the basket, Lemmons dished to Tahjere McCall in the paint for an easy deuce. Niagara trailed 46-42.
Baron sandwiched an Ameen Tanksley three with a pair of drives to the basket. On both occasions, Baron caught the Purple Eagles overplaying and looking to double-team the ball on the screen. Instead, he alertly went away from the defense and got into the lane for baskets.
"We talked about that, and I showed him the Las Vegas game," Jim Baron explained. "They hedged on the ball, and he went the other way. I said Bill you're just going to have to read it. No matter what you do, they got to guard you. I think he's understanding that little by little."
Lemmons followed with a trey of his own from the right corner.  McCall ran down a rebound and finished the putback to tie the score at 52 with 7:30 remaining.
The lead changed hands five times over the next four minutes before Baron followed an Isaac Sosa pull-up jumper with the layup which sent him to the hardwood.
Jordan Heath put Canisius up four with a thunderous dunk on a rebound and putback.
"They did everything they had to down the stretch," said Niagara head coach Joe Mihalich. "Whether it was make a foul shot, make a shot, force a turnover, defend. Whatever they had to do in those last few minutes, they did, and we didn't. Credit to them. It's a great win for them. Tough, tough loss for us. We had opportunities. We had chances. We can't change what happened today."
T.J. Cline nailed a pair of threes to give Niagara a chance in the final 30 seconds.
Canisius sealed the victory at the line hitting seven-of-eight in the last minute. Baron nailed two while Josiah Heath went four-of-four. Reggie Groves hit one-of two.
Baron keyed a 22-9 run as the Golden Griffins grabbed their largest lead in the first 20 minutes. His layup in transition from Harold Washington capped a 6-0 run to give the Blue and Gold a 16-9 edge and fetched a timeout from the Purple Eagle bench.
Niagara responded with a pair of baskets from Devon White, but the Griffs stretched the lead from there.
Chris Manhertz gave Canisius an 18-13 edge when he corralled the rebound and scored hit the putback on Washington's three-attempt late in the shot clock.
Baron used a pair of ball screens to get to the rim for a basket.
On the next possession, Baron's layup found iron, and Manhertz was there for a putback dunk.
Alshwan Hymes led Baron to the bucket during a three-on-one break for a 24-13 lead.
Washington connected on a runner from the wing. Baron nailed a pull-up three. Canisius doubled up Niagara, 32-16 when Baron went end-to-end for a basket and free throw for the traditional three-point play.
Ameen Tanksley and Juan'ya Green cut the lead to single digits with back-to-back threes.
Baron ended the scoring in the half with a long trey off a Manhertz ball screen.
The chant which intended to distract the junior guard seemed only to fuel his motivation.
Baron hit 11-of-22 from the floor including four-of-eight behind the arc and seven-of-eight from the charity stripe.  His previous high was 30 points at UNLV on December 22nd.
"Funny part about it. You talk about daddy's boy," the elder Baron noted. "I remember we came in here for the NIT with Rhode Island and my other son, Jimmy. And they were yelling out 'Daddy's boy,' too. He called me before the game from Russia. He said 'dad, I hope you guys pull this out, and I hope Billy has a heckuva game.' Just can't make you more proud as a father."
Washington added 18 hitting six-of-sixteen.
Jordan Heath notched a game-high 12 rebounds.
Green led Niagara with 21 going six-of-15 from the perimeter.
Cline, Tanksley and White chipped in 12 apiece.
Marvin Jordan, who scored 23 when the teams met on January 27th, was held scoreless.
The Purple Eagles were without the services of leading scorer Antoine Mason who injured his ankle during Niagara's loss to Loyola. Mason, who averages 18.9 a game, sat out Thursday's loss to Rider.
Billy Baron injured his ankle late in the game.
Niagara will look to hold on to first place when they travel to Marist Friday. The Red Foxes are coming off wins over Loyola and Iona.
Canisius travels to Loyola to take on the Greyhounds. Loyola and Canisius are tied with Iona for second in the MAAC.