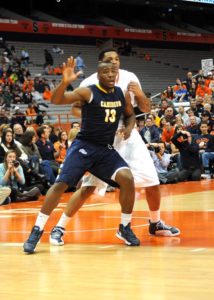 By Paul Gotham
BUFFALO, NY – If only Canisius head men's basketball coach Jim Baron could take Saturday's performance and place it in a bottle and cap it for future use. What a weapon to have. Baron could keep the container on the sideline and strategically open it from time to time and remind his Golden Griffins of their potential.
Baron's starters played a combined 120 minutes against the Siena Saints in Metro Atlantic Athletic Conference action at the Koessler Athletic Center and accounted for 55 points in a 76-44 Canisius win. The first five pulled down 24 rebounds, handed out 10 and committed 0 turnovers.
Yes, that's right. Zero. Zip. Zilch. Nothing. Nada.
"Let's bottle that," Baron quipped after his team's fifth conference win. "Let's take that with us the rest of the season, so we don't have to work at Dunkin' Donuts or Tim Horton's."
Don't worry coach. After 401 college victories, you won't have to worry about waiting counters. Not that this is an unworthy occupation or anything.
It's important to note upfront that the Saints lineup is depleted. The team's second-leading scorer, Rob Poole, has missed the last four games with complications of the flu. Rakeem Brookins sat out the second half with an ailing back.  Ryan Oliver missed his second straight with a knee injury.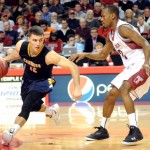 Still, a team can only beat the opponent it faces on the court, and that is what the Golden Griffins did. Eight days after relinquishing a 13-point advantage in a 57-54 loss to Siena at the Times-Union Center, the Griffs raced to a double-digit edge less than minutes after the tip and never looked back.
Isaac Sosa connected on a trio of first half 3-pointers. Billy Baron, Jordan Heath and Harold Washington all added a trey as the Blue and Gold built a 42-19 margin at the break.
"First half we only had one turnover which is unbelievable," Baron commented. "Our guys really shared the basketball."
The deluge continued into the second stanza with the Griffs a 30-point bulge on a play that was just as much subtle as it was emphatic.
Billy Baron grabbed a defensive rebound, made one dribble, looked up court and caught Washington ahead of the play on the right wing. Baron zipped a frozen rope ahead to his teammate. Meanwhile Sosa ran the left wing and Jordan Heath filled the lane. The ball traveled foul line to foul line, cross court and Jordan Heath finished the play with a two-handed slam to the delight of the 2,000-plus in the KAC.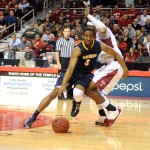 Not to be lost in the celebration is a play which involved four teammates in step with one another. Washington, Sosa and Heath have full confidence that if they run the floor, Billy Baron will feed them. Four teammates looking for each other.
The effort on the defensive end was just as cohesive. Eight days ago, Evan Hymes had his way with Canisius. The pint-sized point guard deftly used ball screens to the tune of a game-high 20 on eight-of-12 shooting from the floor including four-of-six behind the arc.
Saturday, the Griffs hedged hard on those ball screens. Hymes found little room to roam.  The sophomore hit just one field goal in nine attempts and turned the ball over nine times with just five assist.
"You learn from the first time we played against him," Baron said. "We said we're going to have to buckle it up against him. We're going to have to stay in front of him, and make him put it on the floor. We did a much better job of defending the inside as well as the guards. That was one of our best defensive efforts with guys understanding what we needed to do."
Canisius forced 20 Siena turnovers while allowing just 16 field goals.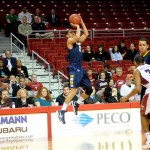 For the second game in a row, Canisius took care of Siena's OD Anosike.  The senior power forward entered play last Friday tops in the nation with 11 double-doubles and second in the country with 12.5 rebounds.
Facing the likes of Jordan Heath, Manhertz, Josiah Heath and Freddy Asprilla, Anosike managed nine points and seven rebounds last week. The 6-8 senior accounted for eight and nine on Saturday.
"Our guys really hone in on him," Baron explained. "It's good having four post players because we can offset it a little bit. We can put a little bit quicker guy on him and put a little bit more physical guy on him. I thought Freddy did a good job with him.
With Canisius continuing to dispense heavy doses of threes, the play of Manhertz provides balance in the paint. His 8.9 rebounds per game ranks second in the MAAC. Manhertz registers a total rebound percentage (the estimate of available rebounds a player grabbed while on the floor) of 18.8 (tops in the MAAC) and a defensive rebound percentage of 24.7 (also number one in the conference).
The 6-6 junior scored 12 and pulled down 11 boards including eight on the offensive end. In seven MAAC contests he has pulled down double-digits rebounds in six.
"Eleven rebounds, you don't even think about it anymore," Baron said. "Eleven rebounds, twelve points that's tremendous against the guys he's playing against. He really took it strong at them. Eight offensive rebounds is significant because you got to work against the two players he went against today."
He took over midway through the first with back-to-back baskets.
Manhertz made a shoulder fake middle to set up a baseline drop step and a reverse layup to elude Anosike for two.  On the next possession, Manhertz corralled one of three offensive boards in the half and finished with a jump hook over Anosike and a 37-16 Canisius lead.
"He's a good player, a physical player," Anosike said of Manhertz. "He's obviously developed over the years. He's just a tremendous rebounder. He really puts pressure on you to box him out. The thing about him is he continues to come for forty minutes. He's play extremely hard, and he really battled tonight."
Baron won his 400th career game Thursday night a 64-60 triumph over Manhattan.
"We got two games this week that are going to be very, very challenging – one on the road at Rider and then coming back with Niagara. We got to take 'em one game at a time."